What Happened To Target's E-Commerce Business?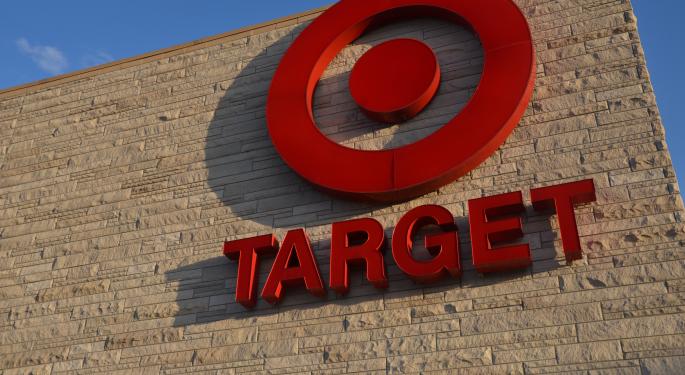 E-commerce has taken the retail world by storm to the extent that it has pushed the brick-and-mortar operations of many traditional retailers to the brink. To survive the online onslaught, some retailers with a physical presence have ventured into the e-commerce space, though not many could replicate the same degree of success of pureplays like Amazon.com, Inc. (NASDAQ: AMZN).
Big box retailers such as Wal-Mart Stores Inc (NYSE: WMT) and Target Corporation (NYSE: TGT) have made a really hard push into the digital space and have tasted varied degree of success.
Dissection Of Target's Digital Operation
Target's digital sales accounted for 3.4 percent the total sales in 2015, up from 2.6 percent in 2014 and 2 percent in 2013. Digital channel sales rose 30 percent year-over-year in 2015, contributing to 0.8 percentage points to comps sales growth of 2.1 percent.
The company's recently released fourth-quarter results showed that fourth-quarter digital comparable sales jumped 34 percent, contributing 1.8 percentage points of comparable store sales growth. This helped to the mitigate the 3.3 percent drop in store channel comparable store sales. Digital sales accounted for 6.8 percent of the total sales.
Related Link: How Store Counts Of America's Biggest Retailers Changed Since 2007
Target's Lackluster Q4 Show
Target's fourth-quarter adjusted earnings per share from continuing operations fell to $1.46 from $2.31 on a 4.3 percent drop in sales. Looking ahead, the company forecast a low-to-mid single digit decline in comps for the first quarter and low-single-digit comp decline for 2017. The fourth-quarter results and the forward guidance were disappointing.
"Our fourth quarter results reflect the impact of rapidly-changing consumer behavior, which drove very strong digital growth but unexpected softness in our stores," said Brian Cornell, chairman and CEO of Target.
Though one could say the digital sales performance was better than Wal-Mart's and Amazon's, it was just not strong enough to compensate for the rotten state of affairs at its brick-and-mortar stores. This elicited some sour comments from industry experts. Rahul Sharma from Retail Guru sees Target's digital attempts as lame.
Target 'fessing up to new retail 'era' just lame. Model looks as challenged as Macy's on nearly 50% higher multiple $TGT $M

— Rahul Sharma (@Retail_Guru) February 28, 2017
Sharma highlighted Target's plight in another tweet, suggesting that it is strangled between Wal-Mart and Amazon and is not finding its mojo either in food or non-food sales. Amazon's U.S. sales rose 22 percent in the recent fourth quarter.
$TGT caught in headlights between $WMT & $AMZN. Not enough food to keep store traffic up, not enough non-food wow to compensate

— Rahul Sharma (@Retail_Guru) February 28, 2017
Wal-Mart Reaping Benefits Of Online Push
Meanwhile, rival Wal-Mart reported U.S. e-commerce sales growth of 29 percent, with gross merchandise volumes up 36.1 percent. In comparison, Wal-Mart's overall revenues rose a mere 1 percent. The strong e-commerce performance was the result of the company's thrust into the digital arena, with its recent acquisition of Jet.com and its push into online groceries.
Boosted by its strong e-commerce showing, the company reported U.S. same-store sales gain of 1.8 percent, the strongest performance since July 2012. Earnings per share came in ahead of estimates, though revenues were a bit light.
Target has a tall order before it if it has to meaningfully grow its online sales to counter its weak store sales. This would mean huge investments in technology and marketing, which could prove a near-term negative for the stock. Will investor be sympathetic to its cause?
Image Credit: By Mjs92984 (Own work) [CC BY-SA 4.0 (http://creativecommons.org/licenses/by-sa/4.0)], via Wikimedia Commons
Posted-In: e-commerce Jet.comEarnings News Guidance Movers Tech Trading Ideas Best of Benzinga
View Comments and Join the Discussion!