What Might Be Expected When Target Reports Q4 Earnings Before The Bell?
Target Corporation (NYSE: TGT), the big-box general merchandise retailer unwraps its Q4 results ahead of the bell Tuesday.
Target already warned Wall Street that its results would be lower than originally expected because holiday sales missed forecasts. Same-stores sales, an industry measure of stores open longer than one year, slid 1.3% in the November-December period, typically the most important shopping season for retailers. For the quarter, Target said it expected comparable-store sales to be down 1% to 1.5%.
The culprit was slow traffic into the stores and deep discounting—two issues that many department-store retailers faced during the holiday-shopping period, according to Target's chief executive Brian Cornell, who also noted that online sales were robust but not enough to overcome the sales declines in the bricks-and-mortar stores.
"While we were pleased with Black Friday sales, December digital sales growth of more than 40%, and continued strength in our signature categories, these results were offset by early-season sales softness, and disappointing traffic and sales trends in our stores," Cornell said. Toy sales were stronger than expected, but sales in the electronics and entertainment division, as well as the food and essentials division, both tumbled.
Online sales in the November-December period were higher by 30%. Total sales fell 4.9%, but that also reflected year-over-year comparisons that included revenues from Target's pharmacy and clinic businesses, which it sold to CVS in December 2015.
As a result, Target said it expected earnings per share to fall in a range of $1.45 to $1.55 compared with an earlier forecast of $1.55 to $1.75 a share.
Cornell noted in the press release that Target has made "substantial progress" in improving the shopping experience both in stores and on Target.com. Some analysts may want to know more about that progress. Others may be more interested in the new-store formats that Cornell said were in the works to reach consumers "in dense urban and suburban markets." Target has looked at several ways over the years to modify its big-box footprint to better fit into tighter neighborhoods.
The consensus revenue estimate from third-party Wall Street analysts is $20.75 billion, 4% below the $21.63 billion it reported a year ago, according to the Earnings Analysis* tab on the thinkorswim® platform from TD Ameritrade. The per-share earnings consensus is $1.50, a shade below the $1.52 it reported a year ago, and right in the middle of Target's forecast range.
The options market has priced in an expected share price move of just under 4% in either direction around the earnings release, according to the Market Maker Move™ indicator on the thinkorswim® platform.
Call options trading has been heaviest at the weekly 68 strike and the monthly 67.5 strike. Puts have been active at the weekly 64 strike and the monthly 65 strike. The implied volatility sits at the 69th percentile. (Please remember past performance is no guarantee of future results.)
Note: Call options represent the right, but not the obligation, to buy the underlying security at a predetermined price over a set period of time. Put options represent the right, but not the obligation, to sell the underlying security at a predetermined price over a set period of time.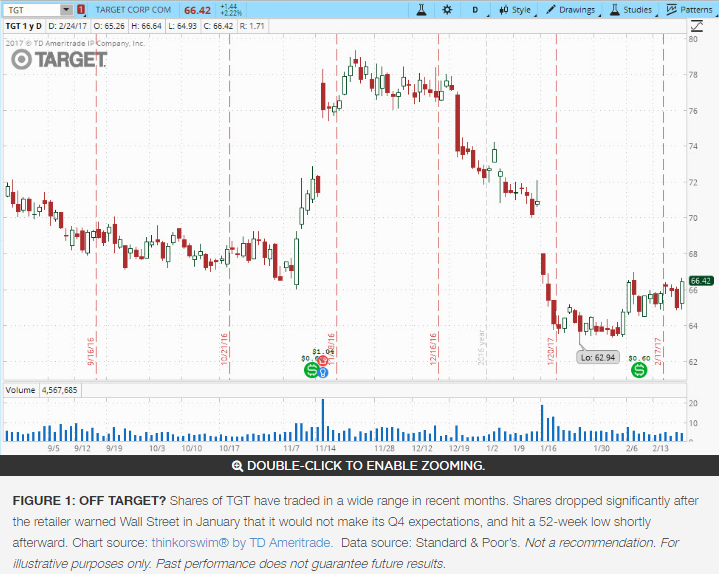 Posted-In: Earnings News Guidance Previews Trading Ideas General
View Comments and Join the Discussion!