Nerves Start To Fray Ahead Of Election As Investors Scramble For Protection
Pre-election jitters may finally be making their way onto the Street with a week to go until the vote, and trading activity has begun to reflect that.
Volatility has increased five days in a row; the options market reflects stronger hedging activity as investors look to protect themselves from possible losses; gold is on the rise, and the S&P 500 Index (SPX) fell in October for the third-straight month, though it moved a bit higher early Tuesday. Throw a Fed meeting into the mix, and it's easy to see why investors might be nervous, though chances of a Fed rate hike this week are almost non-existent, according to futures trading.
The CBOE's VIX index, which measures volatility, rose 5% Monday and remained above 17 early Tuesday, the highest level in about two weeks. That increase likely reflects nerves ahead of next Tuesday's presidential election. Until recently, the election hadn't seemed to have much impact on trading, but now, the feeling among investors seems to be there's no sure thing here, and hedging activity started rising. One traditional vehicle for protection is the gold market, and gold rose $14 early Tuesday to $1,287, its highest level in nearly a month.
October ended up being another down month in the markets, and marked the third-straight monthly decline for the S&P 500 (SPX). The index last declined three consecutive months last December through February. The Nasdaq index also fell in October, but that followed a three-month stretch in which the index had risen.
Part of the current pressure might be from oil, which stumbled to one-month lows below $47 a barrel on Monday amid more concerns about whether the OPEC production freeze deal could get accomplished this month. Production levels remain extremely high, as do U.S. stockpiles. Oil ticked a little higher early Tuesday, but remained near those one-month lows.
There's little help from overseas, as European stocks were trading lower Tuesday for the seventh-straight day.
The Fed begins its meeting today, but chances of a rate hike are extremely low, around 7% according to CME Group futures. It's widely thought that the Fed wouldn't want to risk influencing the U.S. election. Over on the other side of the Pacific, the Bank of Japan left interest rates unchanged earlier Tuesday, and lowered inflation forecasts as the economy there continues to struggle.
The main thing worth watching as the Fed meets is for any indication of its plans for the December meeting, when there's widespread expectation of a hike, with chances at around 72%, according to CME Group futures.
On the earnings front, Pfizer Inc. (NYSE: PFE) reported third-quarter adjusted profit of 61 cents a share, missing analysts' estimates by a penny, and lowered full-year guidance. Revenue of $13.045 billion also came in below estimates, and the share price fell in pre-market trading. Before Tuesday, the pharma giant had been consistently outpacing Wall Street's expectations, beating them 14 of the previous 15 quarters, and this was its first miss since 2013.
Oil giant BP plc (ADR) (NYSE: BP), on the other hand, beat Wall Street analysts' expectations, even though earnings fell 50% from a year ago amid continued pricing pressure. Archer Daniels Midland Company (NYSE: ADM) posted mixed results, beating analysts' profit estimate but falling short on revenue.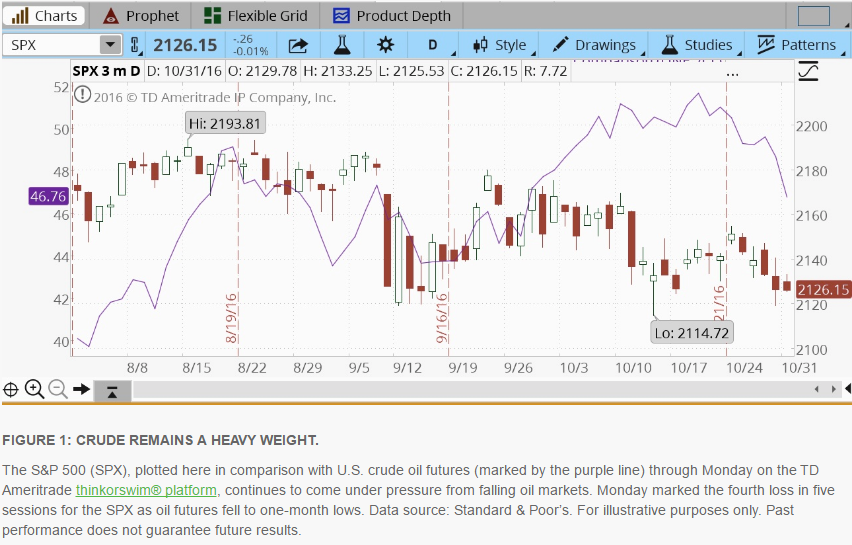 Did Auto Sales Skid Again? U.S. consumers keep hankering for that new car smell, but not at the same frenzied pace as a year ago. Automakers report October light vehicle sales throughout the day Tuesday, and the question is whether auto buying remained slow after September's rather lackluster data. Car sales in September dropped for every major company except Toyota Motor Corp (ADR) (NYSE: TM), which had a small rise. Automakers have recently tried to shift sales into higher gear by offering big discounts and incentives, which can help sales numbers but doesn't necessarily help profits. When the September data came out, auto company executives voiced optimism about Q4, but also expressed worries about the U.S. election possibly contributing to buyer uncertainty. One advantage for automakers: Fuel remained cheap in October. Could that mean more customers gravitating toward pricier trucks and sport-utility vehicles? We'll find out a bit later.
More Industrial Insight Ahead: Two more reports today could shed further light on the state of U.S. industry, with the October Institute for Supply Management's (ISM) manufacturing index and September construction spending both ahead. Consensus among Wall Street analysts for the ISM report is 51.7, according to Briefing.com, a tad higher than the 51.5 recorded in September. Analysts expect construction spending to bounce back to a 0.5% increase after falling 0.7% the previous month, Briefing.com said. Monday's Chicago PMI came in a bit lower than expectations, however, starting things off on a weaker note.
Steel, Biotech, Highlight Afternoon's Earnings Schedule: The heart of earnings may be over, but it's still going to be a busy reporting week, with a plethora of earnings from smaller players this afternoon. One of those is United States Steel Corporation (NYSE: X), a former Dow Jones Industrial Average component whose performance can often be worth watching for insight into the materials sector. Steel has been in the spotlight this year due to the presidential campaign, with both candidates advocating more protectionist trade policy and the Republican nominee talking about getting tough on China for "dumping" steel on the U.S. market. Wall Street consensus for X is earnings per share of 84 cents, a big jump from a year ago. Tuesday afternoon also brings earnings from biotech firm Gilead Sciences, Inc. (NASDAQ: GILD), whose stock, like many other biotechs, has been under pressure this year, in part due to growing concerns about high drug prices. The focus at GILD is the hepatitis C franchise, where it has huge market share but faces growing competition. Consensus from Wall Street analysts is for earnings per share of $2.84.
The preceding article is from one of our external contributors. It does not represent the opinion of Benzinga and has not been edited.
Posted-In: Earnings News Previews Events Econ #s Economics Markets ETFs
View Comments and Join the Discussion!