Tuesday's Market Wrap: Stocks Pullback From All-Time Highs, Close At Session Lows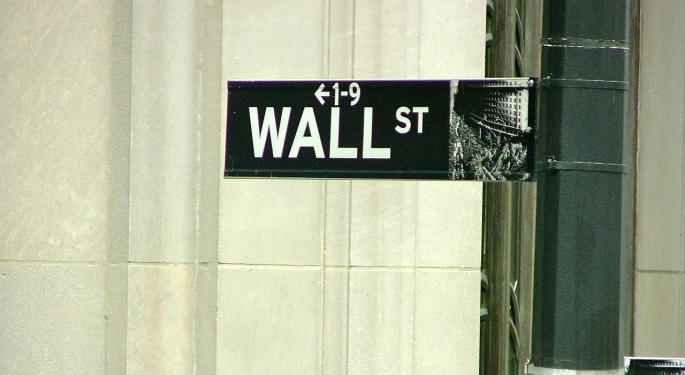 It appeared as if some investors were taking profits on Tuesday after all three major U.S. equity averages closed Monday's trading session at new all-time highs. The market opened lower and never saw positive territory on the day, and after an early morning rally, stocks trended lower throughout the session. The Dow, S&P and Nasdaq all closed at the day's lows.
Notable gainers included Chesapeake Energy Corporation (NYSE: CHK), which added more than 7 percent to $5.91. The move appeared to be related to the arrangement of a term loan facility for the company. Dicks Sporting Goods Inc (NYSE: DKS) traded up around 7 percent on the session after reporting better-than-expected earnings prior to the opening bell. Losers on Tuesday included Hain Celestial Group Inc (NASDAQ: HAIN) which plummeted more than 26 percent after an investigation of accounting irregularities at the company was announced. Verisign, Inc. (NASDAQ: VRSN) lost around 7 percent on Tuesday, possibly due to institutional activity in the name.
Major Averages
The Dow Jones Industrial Average fell 84 points, 0r 0.45 percent, to close at 18,552.
The S&P 500 shed 12 points, or 0.55 percent, to finish at 2,178.
The Nasdaq fell 35 points, or 0.66 percent, to finish the day at 5,227.
CPI
The consumer price index was unchanged for July which was in-line with consensus estimates and down from a 0.2 percent gain in the prior period. The figure shows that inflation continues to be a non-factor in the U.S. economy.
Core CPI, which excludes volatile food and energy costs, recorded a gain of 0.1 percent, less than the 0.2 percent consensus estimate and down from the 0.2 percent gain in June.
Housing Starts and Building Permits
Housing starts in July were 1.211 million, above the consensus estimate of 1.167 million and a gain compared to the 1.186 million starts in June.
Building permits for July were 1.152 million, which was very slightly below the consensus estimate calling for 1.153 million new building permits during the month. This estimate was also in-line with building permits for the prior period.
Capacity Utilization
Capacity utilization for the month of July was 75.9 percent, ahead of estimates of 75.7 percent and also a gain compared to June when capacity utilization was measured at 75.4 percent.
Commodities
The commodity complex was higher on Tuesday despite stock market losses. The Bloomberg Commodity Index added 0.57 percent.
NYMEX crude oil futures rose 1.84 percent and were last at $46.58 while Brent contracts recorded a gain of 1.43 percent to $49.04. Natural gas futures rose a little better than 1 percent on the day to $2.62.
Precious metals were higher on Tuesday. COMEX gold futures were last up 0.70 percent to $1,356.90. The SPDR Gold Trust ETF (NYSE: GLD) added 0.49 percent to $128.47. Silver futures climbed 0.14 percent to $19.87 on the day. The iShares Silver Trust ETF (NYSE: SLV) actually fell 0.05 percent and closed the equity session at $18.82.
In the grains complex, corn and wheat were both marginally higher. Corn futures were last up 0.07 percent to $3.3725 while wheat added 0.29 percent to $4.3950 per bushel. The biggest mover in soft commodities was cocoa which added 1.46 percent.
Bonds
Treasury prices were lower on the day despite the decline in the stock market. At the close of equities, the iShares Barclays 20+ Year Treasury Bond ETF (NYSE: TLT) was down 0.27 percent to $138.39.
Treasury yields were as follows: The yield on the 2-Year Note was 0.76 percent. The 5-Year Note was yielding 1.16 percent. The 10-Year Note was last yielding 1.57 percent while the 30-Year Bond yield was 2.29 percent.
Currencies
The U.S. Dollar was sharply lower on Tuesday. The PowerShares DB US Dollar Index Bullish ETF (NYSE: UUP), which tracks the performance of the greenback versus a basket of foreign currencies, traded down 0.89 percent to $24.49. The closely watched EUR/USD pair fell 0.01 percent to 1.1278 euros.
Volatility and Volume
The CBOE Volatility Index (VIX) was rose in the wake of the market pullback. By the close of trading, the VIX was up roughly 7 percent to 12.64. Despite the jump in the so-called "Fear Index," the VIX remains near 52-week low levels.
The current pattern of very light daily volumes continued on Tuesday as August has traditionally been a month when many investors are on vacation. Around 49 million shares of the SPDR S&P 500 ETF (NYSE: SPY) trading hands versus a 3-month daily average of 92.5 million shares. Trading in the PowerShares QQQ Trust (NASDAQ: QQQ), a heavily traded instrument as it tracks the Nasdaq 100, was also below average with just 13 million shares trading hands compared to a 3-month daily average of just under 23 million shares.
View Comments and Join the Discussion!
Posted-In: Earnings News Sector ETFs Bonds Broad U.S. Equity ETFs Futures Commodities Currency ETFs Best of Benzinga