With Little Else Taking Spotlight, Markets Appear Ready to Follow Oil Lower
Earlier this year, stock markets around the world closely tracked oil. That faded a bit recently, but seems to be the theme again early Thursday.
With little in the way of exciting data or news, markets appeared to be tracking oil futures lower. Nearby crude was down about 1%, falling below $51 a barrel, but remaining near 2016 highs.
The economic calendar looks relatively quiet today, with initial unemployment claims this morning and wholesale inventories due at 10 a.m. ET. Consensus is for a 0.1% rise in wholesale inventories, according to Briefing.com. Also, there's a scheduled auction of $12 billion worth of U.S. 30-year Treasury bonds.
Treasuries continued their ascent early Thursday, with the yield on U.S. 10-year bonds falling below 1.68% and nearing its lows for the year posted back in February. The Chicago Board Options Exchange's (CBOE's) VIX indicator, the widely followed signal of market fears, was up about 3% in pre-market, and it will be instructive to see if VIX continues to rally as the day advances.
Many investors seem nervous, which is normal for the type of trading seen over the last two weeks, with the market making a slow grind higher. Slow grinds can be difficult periods to trade in. That said, fears of a global sell-off are overstated. This is not a global sell-off. Keep in mind that markets remain close to all-time highs.
Fed speakers? They won't be heard from, as the Fed has gone into its blackout period ahead of next week's meeting. Looking ahead to next week, the Fed meeting is the dominant event, but the government also is scheduled to release May retail sales on Tuesday morning, which could give fresh insight into the health of consumers after last week's disappointing May jobs number.
There was some news out of Asia overnight, and most of it appeared to point to economic weakness. South Korea delivered a surprise rate cut, and China reported a May consumer price index (CPI) drop of 0.5%, compared with consensus for a 0.2% slide. Japan reported an 11% dive in April core machinery orders, a far steeper decline than anticipated. Over in Europe, European Central Bank President Mario Draghi stirred up the markets with a speech in which he warned of "lasting damage" that could result from continued subpar growth, according to media reports.
The U.S. dollar fell to five-week lows Wednesday against the yen and euro as rate hike expectations waned. The dollar has been hammered since last week's employment report, but seemed to level off a bit early Thursday.
One thing to watch Thursday may be the market's reaction to comments from influential investors. On Wednesday, the media reported that George Soros is back in the markets, and that he likes gold and other defensive investments. Soros said he's worried about the strength of the European Union and the potential for capital flight from China.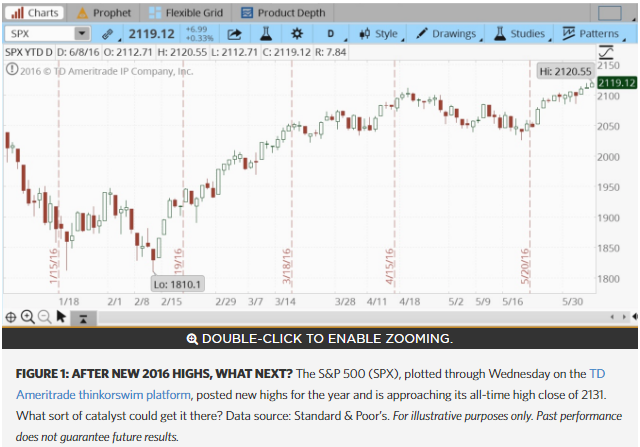 Job Openings Up, But Hiring Slips: Record high job openings may sound positive for the economy, but the pace of hiring actually slowed in April, according to the Labor Department's Job Openings and Labor Turnover Summary (JOLTS) report, released Wednesday. The number of job openings rose by 118,000 to 5.788 million, equaling the highest seen in records going back to 2001 and eclipsing analyst forecasts for about 5.7 million openings. But the actual number of hires slid by 198,000 to 5.092 million. Also, the number of workers quitting their jobs slipped slightly. What does it all mean? Well, it may indicate that companies are having trouble finding qualified workers for openings. And it could also mean that workers are less confident about the economy, because when confidence is high, the number of workers feeling secure enough to quit their jobs tends to rise. The JOLTS report follows last Friday's perplexing monthly employment report that showed just 38,000 jobs created in May. But in the wake of that report, many analysts have noted that monthly employment reports often get significantly revised, and that one number isn't a trend. It will be very interesting to see how the numbers might change in the July report.
Oil Stocks Fall, But Gasoline Stocks Deliver a Surprise: In a similar vein, the Energy Department's weekly stockpiles report delivered a bit of a contradiction, with crude inventories falling more than 3 million barrels but gasoline stocks rising more than 1 million barrels. The crude inventory draw was slightly larger than expected, but the gasoline build was also larger than expected. The U.S. is now in the prime summer "driving season," when crude stocks tend to get drawn down to produce more gas, and data show that U.S. drivers are logging record miles this year. So a large build in gas supplies is a bit befuddling, especially with gas prices still about 40 cents a gallon below year-ago levels. Some analysts think the rise in gas stocks reflects refiners getting a bit ahead of themselves and adding too quickly to gasoline production, The Wall Street Journal reported.
Apres Ski, Anyone? The middle of June seems like the last time people would think about skiing, particularly in the northern hemisphere. But that doesn't mean there's no news from the high country. In fact, Vail Mountain Resorts, Inc. (NYSE: MTN) reported earnings before Thursday's open and has a conference call scheduled for later in the morning. Vail, which operates nine resorts, mostly in the U.S., had a good ski season last winter, with lift revenue rising more than 19% and total skier visits up 13%. Though company itself is relatively small, its results can help give a sense of where high-income consumers are spending their money. Of course, if the snow doesn't fall, that can factor into results as well. Last year happened to be quite a good snow season across much of the western U.S. Is it too soon to start tuning up the edges in preparation for winter 2016-17?
Inclusion of specific security names in this commentary does not constitute a recommendation from TD Ameritrade to buy, sell, or hold.
Market volatility, volume, and system availability may delay account access and trade executions.
Past performance of a security or strategy does not guarantee future results or success.
Options are not suitable for all investors as the special risks inherent to options trading may expose investors to potentially rapid and substantial losses. Options trading subject to TD Ameritrade review and approval. Please read Characteristics and Risks of Standardized Options before investing in options.
Supporting documentation for any claims, comparisons, statistics, or other technical data will be supplied upon request.
The information is not intended to be investment advice or construed as a recommendation or endorsement of any particular investment or investment strategy, and is for illustrative purposes only. Be sure to understand all risks involved with each strategy, including commission costs, before attempting to place any trade. Clients must consider all relevant risk factors, including their own personal financial situations, before trading.
TD Ameritrade, Inc., member FINRA/SIPC. TD Ameritrade is a trademark jointly owned by TD Ameritrade IP Company, Inc. and The Toronto-Dominion Bank. © 2016 TD Ameritrade IP Company, Inc. All rights reserved. Used with permission.
View Comments and Join the Discussion!