High Hopes For Facebook, Disney Earnings This Week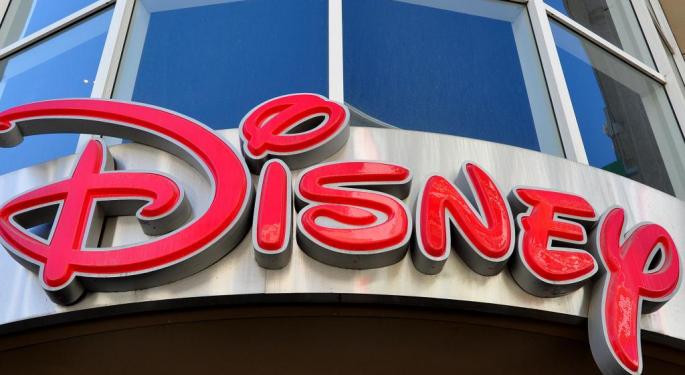 It will be a busy week again on the earnings front, with many blue chip companies reporting.
Results from Facebook and Disney are among the most highly anticipated and forecast to be strong.
Expectations are lower for Sprint, Tesla and Visa, perhaps offering them wiggle room to surprise.
Earnings season rolls on, even as we begin the final two months of the year. Most of the companies that already have shared their latest quarterly results have offered up positive surprises on the bottom line, though fewer of them have done so on the top line.
Among the many companies on tap to report this week, highlights will include Facebook Inc (NASDAQ: FB) and Walt Disney Co (NYSE: DIS). Wall Street analysts expect strong results from the former and solid ones from the latter.
Expectations are lower for Sprint Corp (NYSE: S), Tesla Motors Inc (NASDAQ: TSLA) and Visa Inc (NYSE: V), perhaps offering them some room to surprise investors and analysts.
Below is a quick day-by-day run down of what is expected from these and some of the week's other most anticipated reports.
See also: 2 Big-Cap Earnings Calls To Watch On Monday: Visa And Estee Lauder
Monday
The consensus of 168 estimates from Estimize indicates that fiscal fourth-quarter results from Visa will be earnings per share of $0.66 on revenue of $3.59 billion when it reports early in the day. That would be up from EPS of $0.55 and $3.23 billion revenue in the year-ago period. Note that the Wall Street EPS forecast is just $0.63, but both Wall Street and Estimize way underestimated EPS in the previous period.
Also, Wall Street is looking for earnings growth in Monday reports from Avis Budget, Cardinal Health, Dominion Resources and Estée Lauder, but EPS declines from Allstate and Tenet Healthcare, as well as a net loss from Pioneer Natural Resources. The consensus forecast predicts Sysco's EPS will be the same as a year ago.
Tuesday
Before the regular trading session begins, Sprint steps into the earnings spotlight. The consensus of 14 Estimize respondents calls for net loss of $0.06 and $8.41 billion in revenue for the fiscal second quarter. Note that a year ago the net loss was $0.46 per share and revenue totaled $8.84 billion. Also, revenue fell well short of estimates in the previous two quarters.
Tesla is scheduled to report its third-quarter results late in the day. The consensus of some 236 Estimize estimates has the net loss pegged at $0.49 per share, about same as what Wall Street anticipates. But both see revenue up sharply from the same period of last year. The analysts are the more optimistic with a forecast of $1.26 billion.
Also on Tuesday, look for earnings growth from Office Depot and Silver Wheaton, but smaller bottom line results from Activision Blizzard, Archer Daniels Midland, Cablevision Systems, Devon Energy, Discovery Communications, Emerson Electric and Kellogg, if Wall Street forecasts come to pass. Net losses are expected from Frontier Communications, U.S. Steel and Zynga.
Wednesday
After the markets close, Facebook is scheduled to share its most recent results. The Estimize consensus from 293 estimates calls for EPS of $0.54. That would be a gain of near 20 percent, relative to the third quarter of last year. As far as revenue, Estimize sees it at $4.40 billion, which would be more than 36 percent higher year-over-year.
Also mid-week, CenturyLink, Cognizant Technology Solutions and Prudential Financial are expected by Wall Street to show earnings growth in their most recent quarters, while Allergan, Avon Products, MetLife, Michael Kors, Qualcomm, Time Warner, Transocean and Twenty-First Century Fox are predicted to have lower earnings.
Look for net losses from Chesapeake Energy, Continental Resources and Marathon Oil, as well as EPS flat with the year-ago period at Whole Foods Market.
Thursday
Disney is scheduled to share its results after the markets close, and per-share earnings are expected to have grown from $0.89 in the year-ago period to $1.22. The 131 estimates collected by Estimize also indicate that revenue for the fiscal fourth quarter will be around $13.62 billion, a gain of around 10 percent. Wall Street is a bit more cautious, with consensus estimates of $1.14 per share on $13.55 billion.
Be sure to watch for anticipated earnings gains from Celgene, Duke Energy and Skyworks Solutions, relative to the same periods of last year. However, NVIDIA is projected to have EPS that are lower. Net losses are in the cards for Apache and Windstream Holdings, if consensus forecasts are correct.
See also: Why Facebook Is Worth $105 Heading Into Earnings
Friday
First thing Friday, Humana will offer up earnings growth, while steelmaker ArcelorMittal posts a net loss, if Wall Street forecasts are accurate.
Keep up with all the latest breaking news and trading ideas by following Benzinga on Twitter.
View Comments and Join the Discussion!
Posted-In: disney Facebook SprintEarnings News Previews Top Stories Trading Ideas Best of Benzinga