Morgan Stanley Closes Out Bank Earnings Season: How Everyone Fared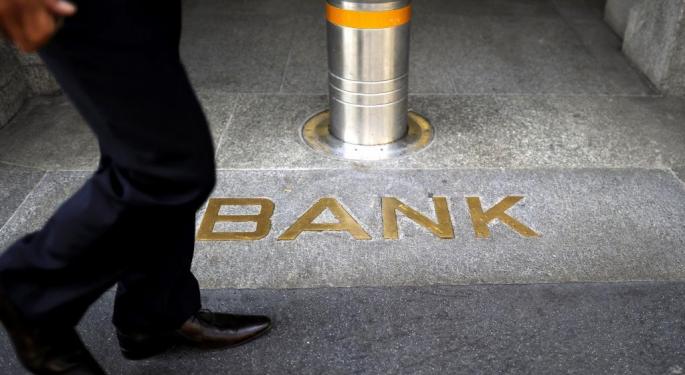 Morgan Stanley (NYSE: MS) was the last of the big banks to report its quarterly earnings this season.
After the company missed estimates on both the earnings and revenue fronts, shares fell 4.83 percent on Monday.
Let's take a look at how the main banks fared this season.
The Losers
On Monday morning, Morgan Stanley reported earnings of $740 million, or $0.34 per share, down from $1.3 billion, or $0.64 per share delivered a year ago. Revenue also fell to $7.332 billion. More importantly, both these figures missed the Street's estimate, which called for earnings of $0.66 per share on revenue of $8.643 billion.
Another bank that fell short of expectations was JPMorgan Chase & Co. (NYSE: JPM), which revealed earnings of $1.32 per share on revenue of $23.535 billion, below experts' consensus estimate of $1.38 per share and $23.819 billion.
The Winners
On the other hand, there's Bank of America Corp (NYSE: BAC), Citigroup Inc (NYSE: C) and Wells Fargo & Co (NYSE: WFC), all of which beat expectations for the quarter.
Bank of America reported earnings of $0.37 per share on revenue of $20.913 billion, versus the Street's consensus of $0.34 per share and $20.749 billion.
Citigroup, for its part, delivered earnings of $1.31 per share on revenue of $18.496 billion – down 8 percent year-over-year. While EPS came in ahead of the Street's projection of $1.28, revenue fell short of expectations, which called for sales of $18.76 billion.
Finally, Wells Fargo reported earnings of $1.05 per share on revenue of $21.875 billion, beating the Street's consensus of $1.04 per share and $21.518 billion.
Disclosure: Javier Hasse holds no positions in any of the securities mentioned above.
View Comments and Join the Discussion!