Cisco, Kohl's, J.C. Penney Highlight Earnings This Week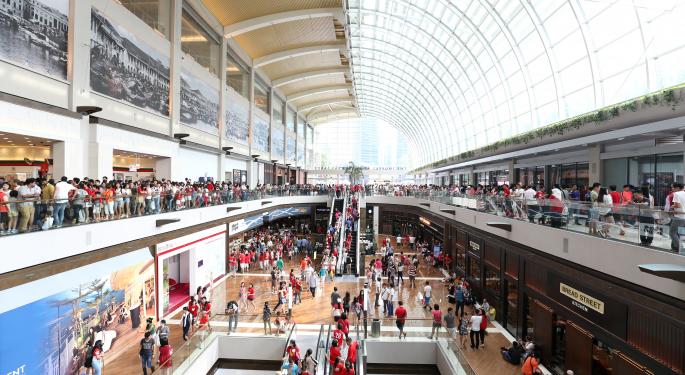 After CVS Health and Office Depot kicked off the retail earnings parade last week with strong and so-so results, respectively, more big retailers take their turns in the earnings spotlight this week. Wall Street analysts are looking for modest growth from Kohl's Corporation (NYSE: KSS) and a smaller net loss from J C Penney Company Inc (NYSE: JCP). But an earnings decline is forecast for Macy's, Inc. (NYSE: M).
Other highlights this week will include the latest quarterly results from Cisco Systems, Inc. (NASDAQ: CSCO) and Applied Materials, Inc. (NASDAQ: AMAT). Analysts on average expect at least some bottom line growth, relative to the year-ago period, from both of them.
Below is a quick look at what is expected from these and some of the week's other most prominent reports.
See also: Here's What This Week's Media Earnings Told Us
Applied Materials
This semiconductor equipment maker will post $0.34 in earnings per share (EPS) for its fiscal third quarter, if the consensus of 10 Estimize estimates is accurate. That would be up from $0.28 per share in the same period of last year. Note that Estimize underestimated EPS by a penny in the past three periods.
Revenue for the three months that ended in July is predicted to have risen from $2.26 billion in the year-ago quarter to $2.56 billion, says Estimize. As with EPS, Wall Street is slightly less optimistic on the top line. Watch for Applied Materials to report after Thursday's closing bell.
Cisco
The fiscal fourth-quarter forecast for this networking calls for EPS to have crept up from $0.55 in the year-ago period to $0.57. Marginal growth in revenue for the three months that ended in July is expected as well, according to 75 Estimize respondents, more than 2 percent higher to $12.66 billion.
For the full year, Wall Street analysts are looking for per-share earnings to be more than 5 percent higher year over year to $2.18 on revenue that is up almost 4 percent to $48.96 billion. Cisco is scheduled to release its results Wednesday after the regular trading session ends.
Kohl's
When it shares its results early Thursday, seven Estimize estimates see Kohl's posting earnings of $1.19 a share. That would be up about 5 percent from the year-ago quarter. The consensus estimate from Wall Street is two cents less, but they underestimated EPS by more than 14 percent in the previous quarter.
Revenue for the three months that ended in July will be around 2 percent higher than a year ago to $4.34 billion, if the Estimize consensus is on target. The year-over-year revenue gain in the current quarter is expected to be even greater, according Wall Street expectations.
J.C. Penney
The consensus of 25 estimates for this struggling retailer calls for a net loss of $0.44 per share and for revenue to total $2.84 billion, when it reports its fiscal second quarter results Friday morning. That would compare to -$0.75 EPS and revenue of $2.80 billion in the same period of last year.
Note that the net loss in the previous period was significantly smaller than both Estimize and Wall Street had expected. And also note that analysts predict stronger revenue growth year over year and shrinking net losses, both in the current quarter and for the full year.
Macy's
This Cincinnati-based retailer will post $0.78 per share earnings for its fiscal second quarter, thinks 13 Estimize respondents. That would be two cents lower than in the year-ago period. Wall Street sentiment has slipped, with the consensus EPS estimate also two cents lower than it was 60 days ago.
The Estimize forecast calls for revenue to be essentially flat, relative to a year ago, at $6.26 billion for the most recent period. Wall Street sees marginal top line growth in the current quarter and for the full year. Look for the most recent report from Macy's before Wednesday's opening bell.
See also: 6 Tips From Famous Investors
And Others
Among the other reports expected this week, Wall Street anticipates EPS gains from AerCap, Kraft Heinz, News Corporation, Rackspace, Sysco and Take-Two Interactive Software.
However, King Digital Entertainment, Nordstrom, Silver Wheaton and Symantec will show earnings declines, if consensus forecasts are accurate. A net loss is forecast for Exelixis.
Retail earnings reports hit their peak the following week, with results expected from Gap, Home Depot, Lowe's, Staples, Target, T.J. Max, Urban Outfitters, Wal-Mart and many others.
Posted-In: applied materials Cisco Cisco Systems J.CEarnings News Previews Trading Ideas Best of Benzinga
View Comments and Join the Discussion!