Data Center REIT Digital Realty Explains How Telx M&A Will Add Value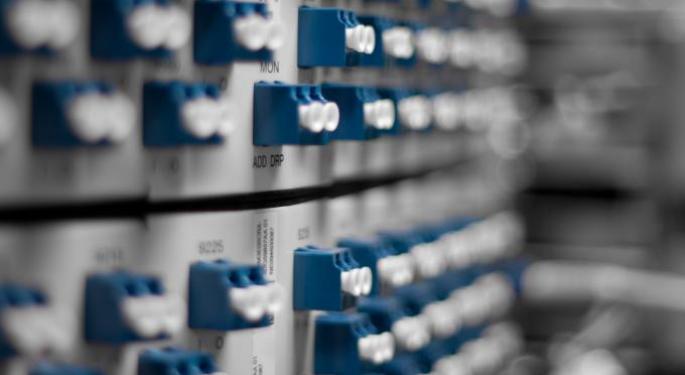 On Thursday after the close of trading, global data center REIT Digital Realty Trust, Inc. (NYSE: DLR) hosted a conference call to discuss Q2 earnings and update guidance in the light of the previously announced Telx Group acquisition.
Over 90 percent of Digital Realty's current revenue comes from legacy Turnkey Flex and Powered Base Building wholesale segments, where customers lease a powered shell or custom data center.
Telx: A Top Digital Customer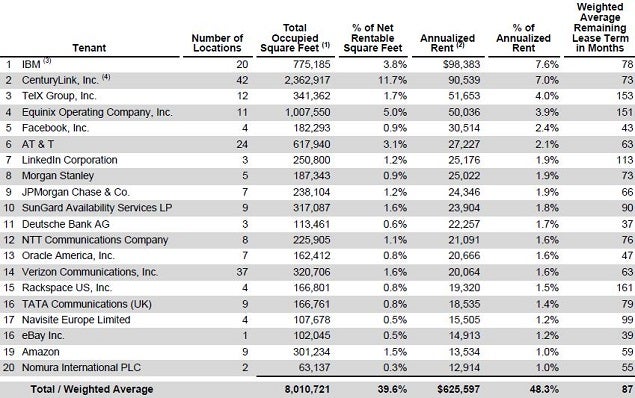 Source: DLR SEC filing - 2Q15
Digital Realty is by far the largest data center landlord based upon square footage and power. Digital Realty's top 20 tenant list is full of some of the biggest names in cloud hosting, telecom, e-commerce, finance and social media.
Digital Realty's Q2 Earnings Highlights
Digital Realty reported another good quarter focused on "The Way Forward" initiatives and increased FY 2015 guidance.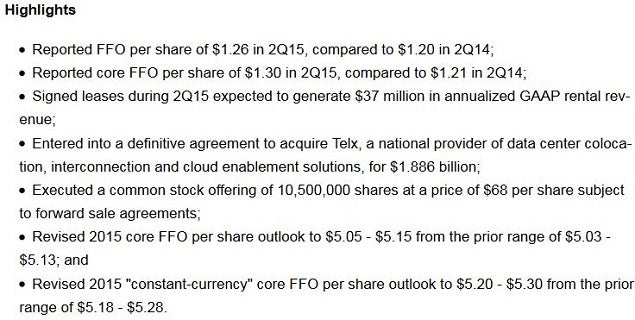 Source: DLR Q2 earnings release
However, the main thrust of the Digital Realty slide-deck presentation and the conference call focus was on the value-add from the strategic $1.9 billion Telx colocation/interconnection acquisition.
Tale Of The Tape: Why Colocation Matters
After Telx, global interconnection leader and $16 billion cap Equinix Inc (NASDAQ: EQIX) is Digital's next largest tenant. Equinix leases space at 11 of Digital's industry leading 130 data center locations as part of its industry leading colocation network, supporting over 6,300 customers.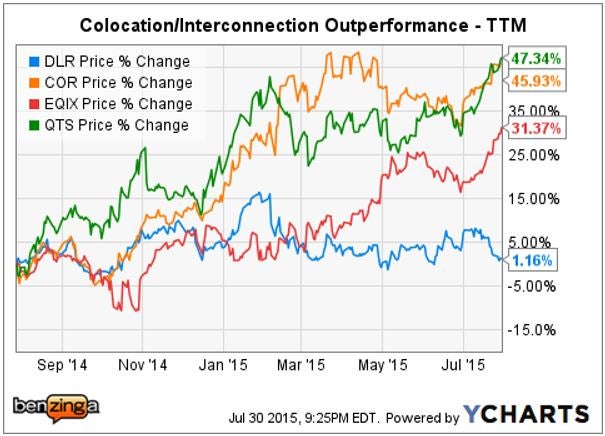 Smaller CoreSite Realty Corp (NYSE: COR) and QTS Realty Trust Inc (NYSE: QTS) also have built up customer dense colocation and cloud services business, which generate much higher monthly recurring revenue (MRR) than the traditional wholesale data center business.
Related Link: CoreSite Kicks Off Data Center REIT Earnings With Record Q2 Leasing
Digital Realty/Telx Synergies
CEO Bill Stein explained, "In essence, we are widening and deepening the economic moat between ourselves and our competitors. There are significant barriers to growing our portfolio of either a global large footprint platform or a colocation and interconnection business, but with all three under the same roof, we believe that the sum of the parts will truly be greater than the whole."
In addition, Stein pointed out, "The properties that make up the physical infrastructure are almost entirely owned by Digital." This aspect of the Digital Realty global moat may play out over many years as customer leases come up for renewal.
Digital Realty's Q2 Presentation: Telx Highlights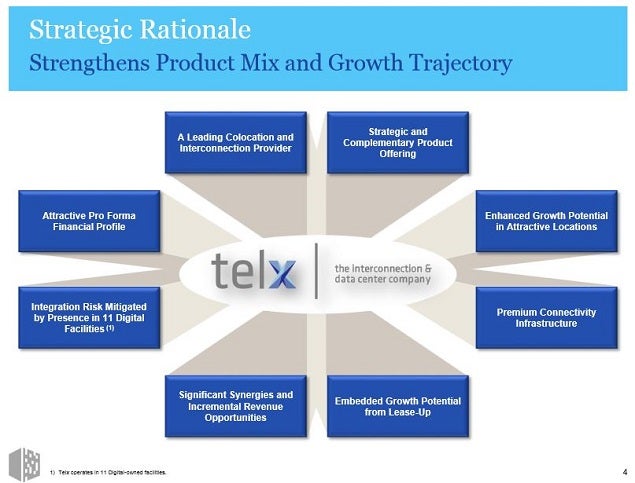 While Digital Realty has focused on "mid-market" opportunities of 300 kW or less, the ability to co-create and roll out a comprehensive product mix will accelerate Digital's efforts to grow this business segment.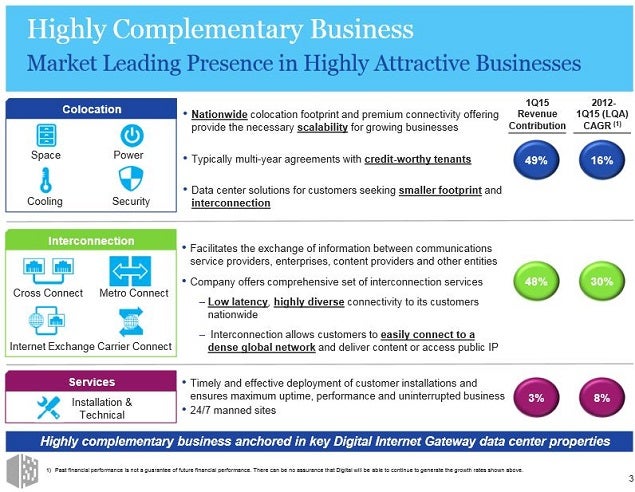 The integration challenges faced by Digital Realty and Telx will be eased by the existing long-term relationship and physical presence within Digital's Internet Gateway properties.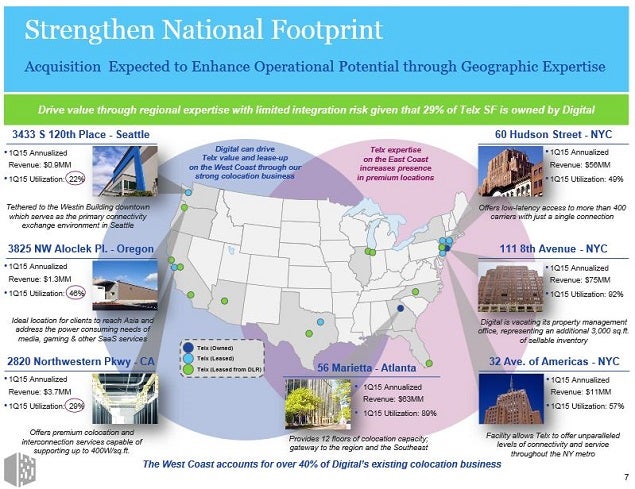 The metro-NYC Telx locations provide Digital Realty with a significant presence in the U.S. financial hub, as well as control of some irreplaceable assets in a high-barrier to entry market.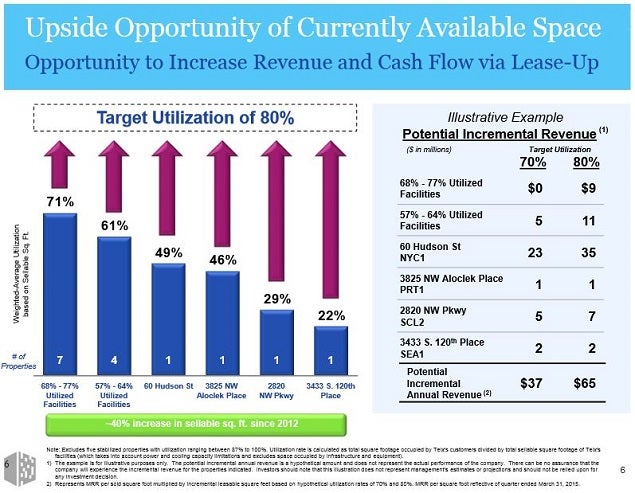 The Digital sales team now has a pipeline of 15 under-utilized Telx facilities to market to both new and existing customers, resulting in a value-add from the lease-up opportunity estimated to be worth 1,300 bps to 2,300 bps, at 70 percent and 80 percent utilization, respectively.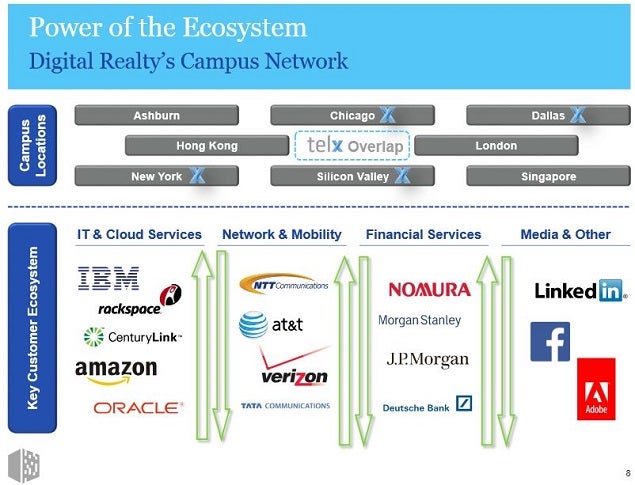 Digital Realty CIO Scott Peterson suggested that while the initial rollout of Telx products may occur at facilities located at Digital Realty campuses where Telx is already co-located, perhaps the most value will be created at London, Singapore and other campuses not marked with an "X" above.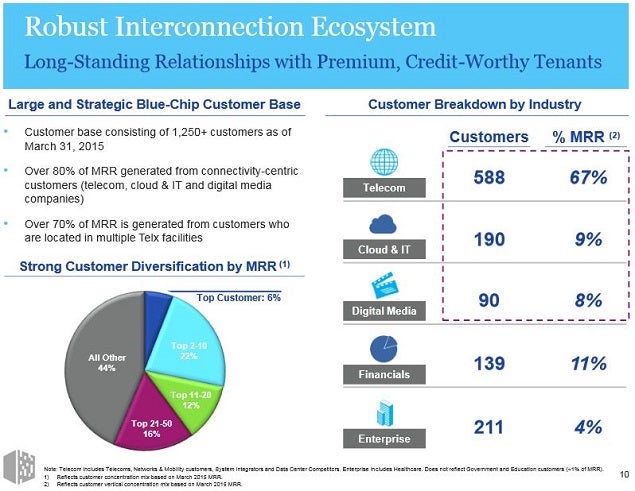 The Telx customer base of 1,250 customers is heavily weighted towards the "SMACC" vertical markets that are key to Digital Realty's core growth and presents an opportunity for Digital Realty to cross-sell and expand these customers into Digital's global footprint.
Related Link: Digital Realty CEO Bill Stein "Talks SMACC" At Citi Conference
During Q2, colocation accounted for ~10 percent of the Digital Realty signed leases.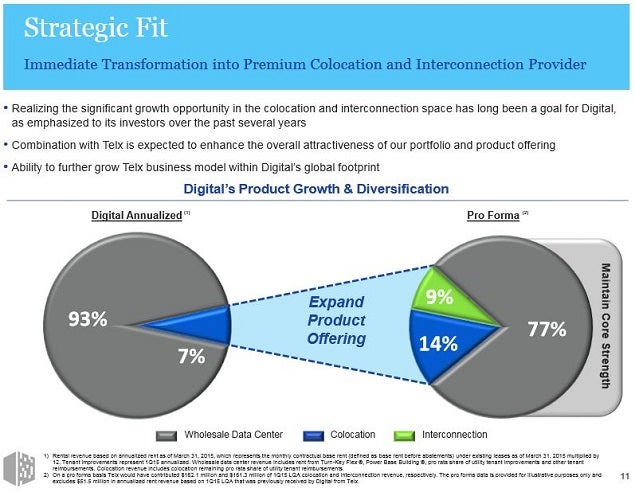 Matt Miszewski, Digital Realty senior vice president of sales and marketing, added leasing color: "We haven't traditionally called out colocation re-leasing spreads in our earnings, but it is worth noting that the mark-to-market on colo renewal leases was up 10 percent on a cash basis during the quarter, and re-leasing spreads were positive on over 90 percent of the colocation deals we executed during the second quarter."
Peterson also pointed out that, while the Telx leases are for shorter duration than the Digital Realty core leases, they are quite "sticky" with an average duration of nine years.
Investor Takeaway
Digital Realty's pro forma colocation revenues will double immediately upon the close of the Telx transaction.
The colocation and interconnection marketing efforts for Digital Realty will be shifting into a higher gear as new products are rolled out for 2016 and beyond.
The other players in the space are now put on notice that Digital Realty plans on being a serious competitor in this higher margin business.
Image Credit: Public Domain
View Comments and Join the Discussion!
Posted-In: Bill SteinLong Ideas M&A REIT Top Stories Tech Trading Ideas Real Estate Best of Benzinga