Are Alcoa's Earnings Really A Bellwether For The S&P 500?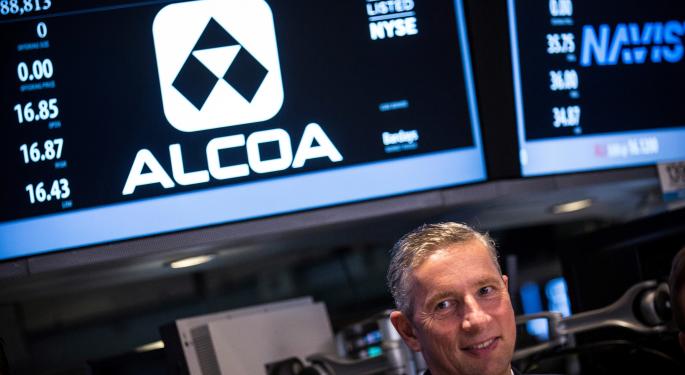 Alcoa Inc (NYSE: AA)'s earnings have long been seen as a bellwether for earnings season, as the aluminum producer is always the first big-name stock to report each quarter.
With the company kicking off Q2 earnings season Wednesday, Benzinga took a look back to see how Alcoa's stock has traded following its last 12 earnings reports and what that action has meant for the S&P 500.
Recent Disappointments
Unfortunately for Alcoa shareholders, earnings reports have produced little good news for the stock in the past three years. On the day following the company's last 12 earnings reports, the stock has traded down 9 out of 12 times.
Alcoa's stock has demonstrated that earnings can be a strong catalyst for the stock. The stock has averaged a 3.1 percent move in magnitude on the day following its past 12 earnings reports. Unfortunately, those moves have averaged out to an overall return of -1.2 percent.
Related Link: New Earnings Season Kicks Off: Alcoa, PepsiCo, Walgreens
Alcoa As A Bellwether
How good of an indicator is Alcoa's post-earnings move when it comes to predicting how the quarter will play out for the S&P 500? Not very good.
The three times Alcoa's stock has risen on the day following earnings during the past 12 quarters, the S&P 500 has produced positive overall returns for investors in the quarter that followed. Unfortunately for traders looking for a pattern, the S&P 500 also produced gains in eight of the nine quarters following a negative Alcoa reaction to earnings.
Look For Extremes
Although it appears hard to gain much insight into the market from Alcoa's earnings, extreme positive reactions in Alcoa's share price have been followed recently by relatively strong quarters for the S&P 500. The three times that Alcoa's stock has climbed at least 2.0 percent on the day after earnings, the S&P 500 has gained an average of 5.8 percent in the quarter that followed.
In its newest report Wednesday afternoon, Alcoa reported adjusted earnings of $0.19 per share versus consensus estimates of $0.23. Shares are close to flat in after-hours trading.
Posted-In: S&P 500Earnings Commodities Previews Top Stories Markets Trading Ideas Best of Benzinga
View Comments and Join the Discussion!