Food & Beverage Giants Highlight This Week's Earnings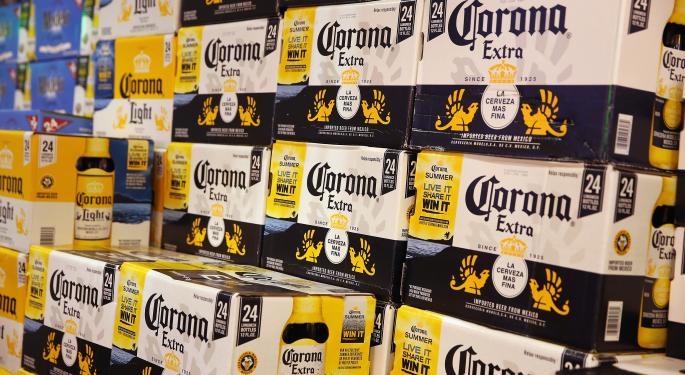 The week leading up to the Fourth of July holiday will be another quiet one on the earnings front. The new earnings season does not kick off until Alcoa and PepsiCo report their second-quarter results after Independence Day.
But first, there are a few notable off-season reports to watch for this week. Wall Street analysts are looking for year-over-year earnings growth from ConAgra Foods Inc (NYSE: CAG), Constellation Brands, Inc. (NYSE: STZ), General Mills, Inc. (NYSE: GIS) and Paychex, Inc. (NASDAQ: PAYX). But the consensus forecast calls for a decline in the earnings of Apollo Education Group Inc (NASDAQ: APOL) when it shares its latest results.
Below is a quick look at what is expected from these results, as well as a peek at the week's other most prominent reports.
See also: SunTrust, CBRE Bullish On Industrial Real Estate Through 2017
Apollo Education
While Wall Street analysts are looking for earnings per share (EPS) of $0.48, the consensus estimate of 11 Estimize respondents calls for a penny less. Both forecasts see significantly lower revenues for the three months that ended in May: $698.57 million from Wall Street and $699.12 million from Estimize.
Note that per-share earnings were better than Wall Street analysts forecast in the previous four periods, by as much as 37 percent. Look for this Phoenix-based private education services provider to release its latest results Monday after the regular trading session ends.
ConAgra Foods
In its report early Tuesday, this prepackaged foods giant is expected to say that its EPS gained six cents from a year ago to $0.61, according to 11 Estimize estimates. Wall Street analysts are slightly more pessimistic, placing earnings at $0.59 per share for the fiscal fourth quarter.
The Estimize forecast also has quarterly revenues down more than 6 percent to $4.17 billion for the most recent quarter, compared to Wall Street expectations of $4.14 billion. Wall Street also sees revenues that are fractionally higher year over year for the current period.
Constellation Brands
The consensus of 12 Estimize estimates has EPS at $1.24 and revenue of almost $1.62 billion for the fiscal first quarter, when this wine, beer and spirits giant reports Wednesday morning. That would be up from the $1.07 per share earnings and revenue of $1.53 billion reported in the same period of last year.
Wall Street analysts see a slightly bigger gain in revenue for the current period, more than 6 percent to $1.71 billion. But the year-on-year growth in EPS will be about the same as in the first quarter, if expectations are correct, though the analysts underestimated EPS by nine cents in the past two periods.
General Mills
This cereal, snacks and baking goods giant will report $0.72 per share earnings for its fiscal fourth quarter, up a nickel from the year-ago period, according to eight Estimize estimates. The Wall Street consensus estimate is about the same, though they underestimated EPS in the past two quarters.
Revenue for the three months that ended in May will be almost 6 percent higher to $4.53 billion, says Estimize. Both Wall Street and Estimize have overestimated revenues in recent periods. Look for General Mills to share it latest quarterly results before Wednesday's opening bell.
See also: 4 Gold Stocks Paying Big Dividends
Paychex
When it shares its results first thing Wednesday, this payroll processing company is expected to say its earnings for the most recent quarter came in at $0.45 per share, according to seven Estimize estimates. That compares with the $0.40 per share posted in the same quarter of last year.
The Estimize forecast for nearly $683.70 million in revenue is higher than the year-ago $639.00 million but less than the consensus Wall Street estimate of $690.53 million for the fiscal fourth quarter. Note that Estimize respondents underestimated revenue in the previous quarter.
And Others
Earnings growth is also anticipated from Acuity Brands, Greenbrier Companies and McCormick, which are also scheduled to report their latest results this week.
Upcoming earnings to watch for include those from Alcoa, Family Dollar Stores, PepsiCo and Walgreens Boots Alliance.
View Comments and Join the Discussion!
Posted-In: Apollo Education conagra foods Constellation Brands General MillsEarnings Previews Top Stories Trading Ideas Best of Benzinga