Key Takeaways From The WP Carey Q1 Earnings & Conference Call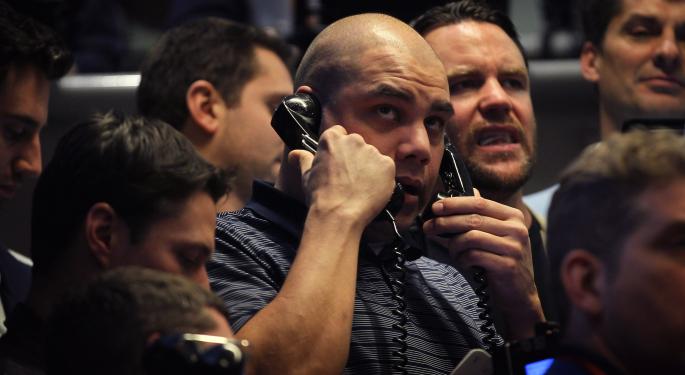 On May 18, W.P. Carey Inc. (NYSE: WPC) reported earnings, reaffirmed FY guidance and declared another dividend increase, pretty much business as usual.
W.P. Carey is a member of the single-tenant, triple-net REIT family, but trades at a notable discount to its better known peers Realty Income (NYSE: O) and National Retail Properties (NYSE: NNN), who are both "pure-plays."
Tale Of The Tape - Past Year
A More Complicated Story
In contrast the W.P. Carey business model includes non-traded REITs fee income, a model which has come under scrutiny: 1) because of an accounting scandal and business practices at American Realty Capital Properties (NASDAQ: ARCP); and 2) the U.S. Dept. of Labor (DOL) fiduciary standard proposal, which raises the bar on disclosure of fees and conflicts by investment advisors.
While no irregularities were found with ARCP's Cole Capital managed REITs, the delays in ARCP financial reporting, along with government investigations and related legal issues, did impact fund raising and related fee income for the ARCP non-traded REIT business.
ARCP also suspended its dividend, which it intends to reinstate in 2H 2015.
W.P. Carey - Dividend Consistency
Many REIT investors believe that the safest dividend is the one that has just been raised.
That said, W.P. Carey has raised its dividend every year since going public, with the 2012 -2013 spike reflecting its REIT conversion.
W.P. Carey - CEO Bond On Regulatory Environment
CEO Trevor Bond made it clear on the conference call that W.P. Carey does not view fees associated with raising capital for its managed REITs and funds to be a substantial source of earnings.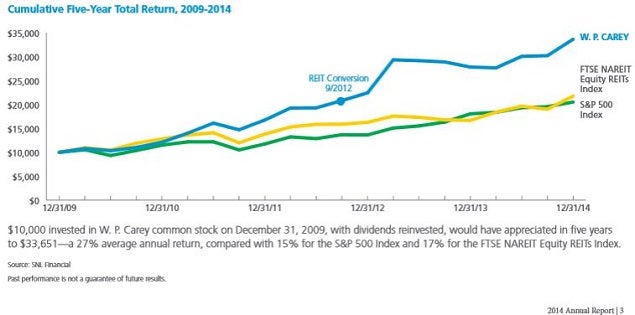 Therefore, the new DOL fiduciary standards, when adopted, should not impact WPC's AFFO significantly moving forward.
W.P. Carey - Q1 Highlights
Revenue: Net revenues of $204.8 million, comprised of net revenues from real estate ownership of $170.5 million and net revenues from the Managed REITs of $34.4 million
AFFO: $130.0 million, equivalent to $1.22 per diluted share
Guidance: Reaffirmed 2015 AFFO guidance range of $4.76 to $5.02 per diluted share
Dividends: Quarterly dividend raised to $0.9525 per share, equivalent to an annualized dividend rate of $3.81 per share
Occupancy: Net-lease portfolio occupancy of 98.4 percent
Balance Sheet: "Issued €500 million of 2.000% Senior Unsecured Notes due 2023; Issued $450 million of 4.000% Senior Unsecured Notes due 2025; Increased maximum borrowing capacity of Senior Unsecured Credit Facility Revolver from $1.0 billion to $1.5 billion."
W.P. Carey - Conference Call Takeaways
Reporting Delay: Installation and integration of a new Oracle/JD Edwards/Hyperion enterprise resource planning (ERP) system delayed reporting of Q1 earnings; however, will benefit WPC tax, accounting and financial reporting moving forward.
G&A: Increase in Q1 due to larger portfolio and ERP system implementation; investors can use Q1 to model G&A for FY 2015.
Revenue Breakdown: 35 percent of revenues were derived outside of the U.S., mainly Western and Northern Europe.
FX Headwinds: In Q1, the strong dollar vs euro resulted in an AFFO reduction of ~$0.02 per share; active hedging program, and funding European acquisitions with euro denominated debt reduced the effects.
Debt Update: Net-debt to enterprise value of 36.5 percent; weighted average rate on unsecured debt was 5.3 percent, with overall weighted average of debt of 4.3 percent.
Acquisition Pipeline/Guidance: Given YTD acquisitions and existing deal pipeline for both balance sheet and managed REITs, WPC anticipates coming in at the high end of FY 2015 acquisition range; however, since the majority of closing will be toward year-end, WPC is not raising guidance at this time.
WPC - Big Picture
The competition for U.S. net-lease assets has made it difficult to grow the WPC balance sheet portfolio domestically.
However, the joint U.S. and European strategy benefits WPC shareholders due to being "two non-correlated assets," discussing lower European borrowing costs, and attractive cap rates vs. U.S. cap rate compression at this point of the cycle.
Once CPA: 18 Global is fully invested (~$300 million of "dry power), all future net-lease acquisitions will be on behalf of WPC balance sheet.
While Bond aspires to a higher FFO multiple for WPC, he alluded to being "cognizant" of the reasons why the shares don't trade up with top peers -- without mentioning the managed REIT business directly.
View Comments and Join the Discussion!
Posted-In: Long Ideas News REIT Dividends Eurozone Management Top Stories Markets Best of Benzinga