Apple Earnings Live Blog: Q2 Conference Call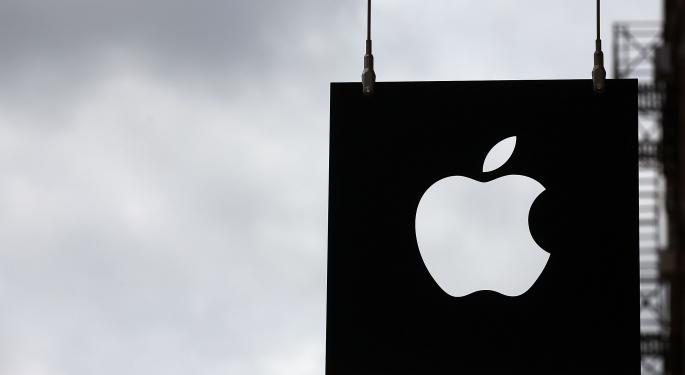 Apple Inc. (NASDAQ: AAPL) reports earnings Monday afternoon. The company's conference call is expected to begin at 5:00pm ET; below is a live blog of the events.
06:00:02pm: Apple conference call has concluded. The Beatles, Free As A Bird, is playing on stream.
05:59:17pm: Cook on media: "We're in the early stages of changes in media...and I think Apple can be a part of that."
05:59:17pm: Cook on future growth of HBO partnership, TV: "It's about giving the customers something they want, and giving it to them in Apple's classic ease-of-use...in the user interface they're used to working in. There's a lot of traction in there."
05:56:16pm: BRIC revenue up 64% year over year....Cook: "It's clear to me that it has to be coming from middle class, because the upper income earners, there's only so many of those. You can't grow those kind of numbers without getting significantly into the middle class. I hope we're also beyond the middle class, but I don't have the data."
05:53:12pm: Cook when asked about iPhone upgrades: "There's a lot of people who haven't updated...when I look at it, it screams: There's a lot of opportunity there."
05:52:53pm: Apple says it will raise some debt to address capital return program.
05:51:34pm: "We believe there's great value in the stock."
05:51:04pm: Analyst asks about debt and Apple's desired debt rating. Logic on this "has not changed," company says.
05:50:50pm: iPad still "an extremely good business over the long-term." Cook still won't predict when precisely it will begin to grow again.
05:49:12pm: Cook: First-time buyer percentages for iPad indicate "markets are not saturated." Usage numbers are so far above competition, "it's not even in the same planet."
05:45:59pm: Cook: "Enormous momentum building in developer community in China...I've never seen as many people coming into the middle class as they are in China; that's where the bulk of our sales are going."
05:45:16pm: 21 stores in China currently; on track to have 40 stores in country next year.
05:45:12pm: iPad in China "grew in a market that contracted." Cook: We had been working on "significantly expanding our ecosystem there." iPhone point of sales increased, "we are in many more cities than we were before."
05:41:59pm: Cook says he's never seen a third-party/media product cost breakdown estimate that's accurate. He suggests analyst "dig on the data" before using it to make any assumptions about Watch success.
05:41:39pm: Cook: "We've had this with every product we've ever done."
05:41:39pm: Cook: "We're not going to guide or give projections of gross margins outside of the current quarter...what we have right now, which is...that the Watch gross margins for the current quarter [guidance] are lower than the company average. That, to us, is intuitive to us."
05:41:34pm: Analyst asks why Apple Watch margins are lower than company average.
05:39:59pm: Cook: "When demand is much greater than supply, it's difficult to gauge exactly what it is. We don't make long-term forecasts, I don't want to make any comment on consensus numbers."
05:39:34pm: Analyst: Consensus expects Apple will ship more Watches in its first two quarters than the iPad...analyst asks Cook to put these expectations into context, given the aforementioned supply issues.
05:35:47pm: Cook: 20% of active install base has upgraded to a 6 or 6 Plus; "As I look at that number, that suggests there's plenty of upgrade headroom [and] we want to keep inviting as many switchers as we can. Between that and the first time buyers [in the iPhone segment], things are really good right now."
05:33:33pm: When you look at expense to revenue ratio, "it's lower than it was a year ago. Definitely something we consider extremely competitive and we're really proud of."
05:31:15pm: Response: "We're spending ahead of some of the products that will generate revenue in the future." Executives also mention Apple is developing more smartphones annually than it used to.
05:30:59pm: Analyst asks what's driving R&D spend. "Are you making bigger bets?"
05:30:49pm: Cook: We're making adjustments on Watch configurations to align with demand. "I'm happy enough that we're looking to expand into more countries into late June."
05:29:57pm: Cook: We're "far ahead" on Watch where we expected to be from an application point of view.
05:29:49pm: Cook: "We're filling orders completely online at the moment. The customer response has been overwhelmingly positive."
05:29:45pm: Cook: We should be able to sell Apple Watch in additional countries by late June.
05:27:26pm: Analyst asks if Watch "ramp" is slower than iPhone. Cook: Watch demand is greater than supply..."we've made progress over the last week or so, we were able to deliver more customers the Watch over the weekend than we initially anticipated."
05:25:25pm: Cook: "We continue to see a higher rate of switchers [to iPhone] than we've seen in previous cycles...we also continue to see a reasonable percentage of first-time buyers, particularly in some of the emerging markets. If you look at EM in general..the revenue just for the March quarter was up 58% year on year. A big piece of what is driving that is iPhone...those results would have been higher without some of the FX headwinds."
05:23:15pm: Apple verbally commits to regular dividend increases "going forward." Next update will be provided this time next year.
05:23:09pm: "We also understand that a dividend is important to many of our investors." Will grow to 52 cents per share, an increase of 11%. Next ex dividend date is May 11, 2015.
05:21:21pm: Existing capital return program set to end this year; now it is extended five quarters through March 2017. Share repurchases indicate "our strong confidence" in future of Apple.
05:19:23pm: Now through $112B of capital return program. "Creating value for shareholders by developing great products...will always be our top priority, and the key factor driving our investments and capital allocation plans."
05:18:46pm: App Store generated 70% more traffic than Google Play. That pct. was 60% in September quarter.
05:18:34pm: Services revenue hit $5B, growth of 9% year over year, an all-time record. Growth driven by App Store.
05:18:02pm: iPad sales in Japan hit quarterly record; all-time high in China. Sales "more muted" in other areas.
05:17:14pm: Mac growth was 10% year over year; strong considering declining PC market.
05:15:16pm: iPhone 6 and 6 Plus demand is "incredibly strong," up 80% or more in Canada, Mexico, Germany and Turkey.
05:14:15pm: Greater China revenue was all-time high; gross margins were ahead of expectations due to stronger than expected iPhone sales.
05:13:33pm: Already 3,500 Apple Watch apps available. "We can't wait to see more of the inspiring Watch Apps heading into WWDC."
05:11:34pm: Cook: "The June quarter is off to an exciting start with great new products and services."
05:11:11pm: Undertaking "groundbreaking" partnership to build a solar farm in China; will generate enough energy for all China-based stores combined.
05:10:45pm: Cook: "We feel great about the economic contributions we're making in Europe."
05:10:01pm: Apple building datacenters in Ireland and Denmark; will be its largest in the world.
05:09:46pm: Cook mentions HealthKit partnership with LA's Cedars-Sinai, reaching over 80K patients.
05:08:34pm: Over 1,000 HealthKit apps have already been developed.
05:07:47pm: Cook touts Apple Pay's eventual presence in all Best Buy stores.
05:06:46pm: Capital return program expanded to $200B through March 2017.
05:05:55pm: Cook: We're making many strategic investments in Apple's future; in R&D, supply chain and infrastructure. "We've made 27 acquisitions in the past six quarters."
05:05:14pm: The App Store had its best quarter ever.
05:04:11pm: Cook: This is our strongest March quarter ever. We're seeing "fantastic growth" for iPhone...."we're seeing the highest rate of switchers."
05:02:11pm: Conference call is about to begin.
04:35:31pm: Apple Q2 Americas Rev Up 19% to $21.3B, Q2 Europe Rev Up 12% to $12.2B; First Time This Year Greater China Sales Have Trumped European Sales
04:34:38pm: Apple Reports Q2 Sales to Greater China $16.82B
04:33:09pm: Apple Shares Trading At All Time Highs Following Earnings Beat, Increased Buyback, And Raised Dividend
04:32:26pm: Apple Q2 iPad Rev Down 29% to $5.43B, Q2 Mac Rev Up 2% to $5.62B, Q2 iPhone Rev Up 55% to $40.28 Billion
04:32:10pm: Apple Shares Spike to High of $136, Now Trading Around $133.74, Up Slightly
04:31:25pm: Apple Expecting Q3 Sales $46B-$48B vs $47.1B Est.
04:31:19pm: Apple raise QTR Dividend From $0.47 To $0.52
04:30:45pm: Apple Reports Q2 iPhone Unit Sales 61.17M, Up 40%
04:30:40pm: Apple Increases Buyback Plan from $90B to $140B
04:30:14pm: Apple Reports Q2 EPS $2.33 vs $2.16 Est., Sales $58.01B vs $56B Est.
04:28:00pm: Apple Shares Moving Higher After Hours To $133.20, All-Time High Is $133.60, Results Due Out Around 16:30 EDT
Related Links
Posted-In: Apple Apple Earnings Apple live blogEarnings News Best of Benzinga
View Comments and Join the Discussion!