Forget Amazon's EPS And Revenue: The Market Is Watching These 2 Numbers Instead
With Amazon.com, Inc. (NASDAQ: AMZN)'s Q1 earnings report due out after the closing bell on Thursday, many shareholders are on the edge of their seats waiting for earnings per share (EPS) and revenue numbers for the quarter.
However, while these two numbers might be the potential key share price drivers in most companies' earnings reports, Amazon's shareholders should probably focus their attention more on two other numbers instead.
Lessons From Netflix
Amazon shareholders can look to a very recent example of how earnings and revenue numbers can be little more than an afterthought to the market.
Related Link: 7 Amazon Innovations Since Its Last Earnings Report
Shares of Netflix Inc (NASDAQ: NFLX) have surged more than 18 percent in the week since the company reported its Q1 earnings.
However, Netflix's share price spike didn't result from earnings or revenue numbers, both of which fell short of consensus predictions. Netflix's share priced jumped on the company's addition of 4.9 million subscribers during the quarter, a number which investors seem to have deemed more important for the long-term success of the company than quarterly EPS.
Prime Subscriptions
How important are earnings when it comes to Amazon's share price? Amazon's share price is up nearly 18 percent in the past year, despite the fact that the company has operated at a net loss during the past four quarters.
Instead, Amazon's version of Netflix's subscription growth is Prime membership growth. Last quarter, Amazon reported a 53 percent year-over-year increase in Prime membership, a number that drove Amazon's share price up 12 percent.
Cloudy Numbers
Another critical number that makes this Amazon earnings report different from recent quarters is the first-time (legally-required) disclosure of Amazon Web Services' (AWS) sales numbers.
The staggering cost of building infrastructure for AWS has been used as an excuse for Amazon's poor earnings for quite some time, and many have very high expectations for the size and growth numbers for AWS.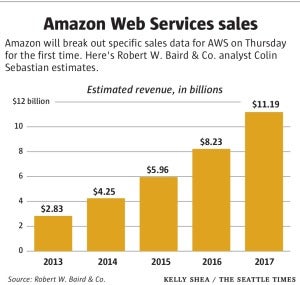 Robert W. Baird & Co. recently estimated $4.25 billion in sales for AWS in 2014 and $5.96 billion in sales for 2015. More importantly, analysts also predicted that sales will nearly double to $11.19 by 2017.
The AWS numbers that Amazon discloses today will be the first real insight into the true size of the company's position in the global cloud computing market.
Disclosure: the author holds a short position in Amazon.
Posted-In: Amazon Earnings Amazon EPS Amazon first quarterEducation Previews Tech Trading Ideas General
View Comments and Join the Discussion!