It's Going To Be A Big Earnings Week For These Retailers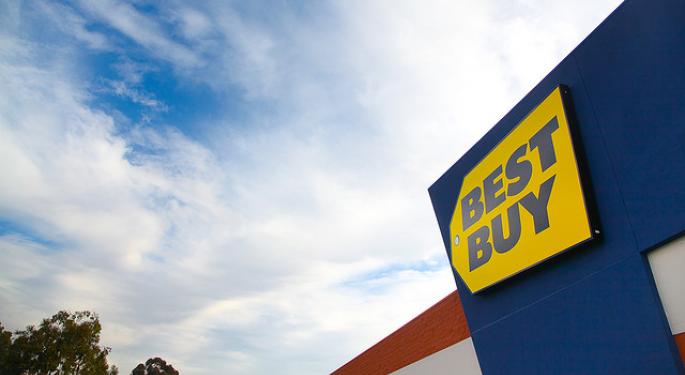 Retail will once again be the focus of earnings this week. Quarterly reports are due from Best Buy Co Inc (NYSE: BBY), Costco Wholesale Corporation (NASDAQ: COST) and Kroger Co (NYSE: KR), which are forecast to post earnings growth.
However, analysts anticipate earnings declines from Abercrombie & Fitch Co. (NYSE: ANF) and Staples, Inc. (NASDAQ: SPLS).
Let's take a quick look at the numbers for these and at what is expected from some of this week's other most prominent quarterly reports.
Abercrombie & Fitch
The fiscal fourth-quarter forecast for this retailer of casual apparel calls for the earnings per share (EPS) to have fallen from $1.34 in the year-ago period to $1.16. Revenues for the period that ended in January are expected to have declined more than 10 percent to $1.17 billion in Wednesday morning's report.
For the full year, EPS are expected to have declined almost 18 percent to $1.57 on revenue that was about 8 percent lower to $3.79 billion. Both the quarterly EPS estimate and the full year figure have slipped by nearly $0.03 in the past 60 days.
See also: 11 Key Quotes From Warren Buffett's New Shareholder Letter
Best Buy
When it shares its results first thing Tuesday, this big-box consumer electronics purveyor is expected to say earnings for the most recent quarter came in at $1.35 per share. That would be up from $1.24 in the year-ago quarter. However, note that analysts underestimated EPS in the previous three quarters.
The consensus forecast for the Minnesota-based company also calls for revenue to be down almost 1 percent from a year ago to $14.35 billion for the fiscal fourth quarter. So far, the consensus forecast calls for declines on the top and bottom lines for the current quarter, relative to the same period of last year.
Costco
In its report early Thursday, this membership warehouse operator is expected to say that per-share earnings rose about 11 percent year over year to $1.18 for the three months that ended in February. That consensus EPS estimate is the same as 60 days ago, and in the previous quarter the beat was by three cents.
Revenues for the fiscal second quarter are predicted to be more than 5 percent higher than a year ago to $27.74 billion. Revenue for the current quarter is so far estimated to be less than 5 percent higher, while EPS will have gained less than 9 percent to come in at $1.17, if the forecast is accurate.
Kroger
Analysts expect the largest U.S. supermarket chain by revenue to say that its top line swelled more than 8 percent from a year ago to $25.13 billion for the fiscal fourth quarter. A profit of $0.90 is also forecast, which would be up from $0.78 a year ago. EPS topped estimates by around 13 percent in the previous period.
The anticipated earnings of $3.40 per share for the full year would be a gain of more than 16 percent, while revenue is predicted to be more than 10 percent higher to $108.50. The Cincinnati-based company is scheduled to report its results Thursday before the regular trading session begins.
Staples
The forecast for this office products superstore operator calls for a profit of $0.30 per share and for revenue to come to $5.76 billion for its fiscal fourth quarter. In the year-ago period, the company posted EPS of $0.33 and sales totaled $5.87 billion. Yet, EPS beat consensus estimates by a penny in the previous two quarters.
Full-year EPS are estimated at $0.96, which would be down more than 17 percent, on revenue of $22.57 billion, which would be more than 2 percent lower. Look for the company, which recently announced plans to acquire rival Office Depot, to release its results Friday before the opening bell.
See also: Weekly Analyst Highlights: Oil, Tesla On Readers' Minds
And Others
Other companies that analysts anticipate will show earnings growth this week include the following:
Ambarella
Canadian Solar
Dick's Sporting Goods
Endo International
Mylan
Palo Alto Networks
PetSmart
Trina Solar will say that EPS were the same as in the year-ago period, if the consensus estimate is correct. However, EPS at the following are expected to be lower than a year ago:
Ciena
JinkoSolar
Smith & Wesson
Stratasys
Joy Global
Also, analysts are looking for net losses from Arena Pharmaceuticals, Caesars Entertainment, Halozyme Therapeutics, H&R Block, Quiksilver and ReneSola.
Image credit: Tim Wang, Flickr
Posted-In: abercrombie & fitch best buy Costco KrogerEarnings News Previews Trading Ideas Best of Benzinga
View Comments and Join the Discussion!