Salesforce.com Earnings Live Blog: Q4 Conference Call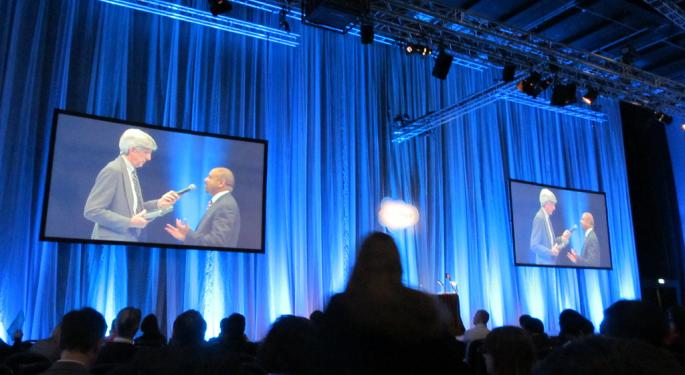 salesforce.com, inc. (NYSE: CRM) reports earnings this afternoon. Below is a live blog of the events.
06:02:22pm: The conference call has concluded.
05:47:47pm: "Oracle Corporation (NYSE: ORCL) and SAP SE (ADR) (NYSE: SAP) have just not delivered."
05:34:40pm: Benioff: The analytics market is bigger than the CRM market.
05:32:22pm: Benioff: We want to give customers analytics, analytic ecosystems..."that's our [biggest] opportunity going forward."
05:32:22pm: JPMorgan analyst asks: What else could "logically" fit into the portfolio in the future? Will Salesforce get into e-commerce?
05:31:31pm: Q&A begins
05:21:59pm: Last quarter, the number of eight-figure transactions increased by 30 percent from a year ago
05:21:55pm: "Customers are...betting their businesses on our vision"
05:21:21pm: Block: Not only are the number of large transactions increasing, but they're growing -- on average -- in size too
05:20:11pm: Keith G. Block: Q4 was a "capstone"
05:15:34pm: Salesforce is crossing over from the CRM industry to the analytics industry
05:13:34pm: Benioff: We're set for another year of "strong operating cash flow" despite the FX headwinds "everyone is going through"
05:11:12pm: This is the fastest software company to reach $5 billion in annual revenue
05:09:55pm: Marc R. Benioff: "We had a monster quarter..."
04:22:22pm: Salesforce stock now up 8.8 percent after hours.
04:07:45pm: Salesforce Sees FY Adj. EPS $0.67-$0.69 vs $0.69 Est.
04:06:23pm: Salesforce.com Sees Q1 Adj. EPS $0.13-$0.14 vs $0.15 Est., Sales $1.485B-$1.505B vs $1.5B Est.; Sees FY Sales $6.475B-$6.52B vs $6.5B Est.
04:05:23pm: Salesforce.com Reports Q4 EPS $0.14 Vs Est $0.14, Sales $1.44B Vs Est $1.44B
Further Reading
Image credit: Clive Darra, Flickr
View Comments and Join the Discussion!