Earnings Expectations For The Week: Retailers On Parade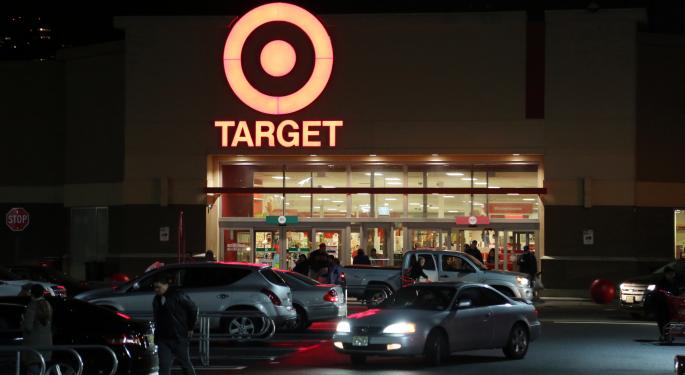 Wal-Mart Stores, Inc. (NYSE: WMT) kicked off retail earnings season last week, though its strong quarterly earnings were overshadowed by news of its wage hike.
More big retailers take turns in the earnings spotlight this week, including Home Depot Inc (NYSE: HD), J C Penney Company Inc (NYSE: JDP), Macy's, Inc. (NYSE: M), Office Depot Inc (NASDAQ: ODP) and Target Corporation (NYSE: TGT). Analysts expect year-on-year earnings growth from all these operators of big-box stores and shopping mall standbys.
Other highlights on the earnings front this week will include reports from Chesapeake Energy Corporation (NYSE: CHK), Comcast Corporation (NASDAQ: CMCSA), Hewlett-Packard Company (NYSE: HPQ) and Transocean LTD (NYSE: RIG).
Here is a brief day-by-day run down of what analysts expect from these and some of the week's other most prominent reports.
See also: 3 Ways You're Making Trading Much Harder Than It Needs To Be
Monday
Dish Network is expected to kick off the week in earnings by a posting year-over-year decline on the bottom line before the opening bell, followed by ONEOK later in the day. However, the consensus forecast for Express Scripts suggests it profits will have grown in its most recent quarter.
Tuesday
Home Depot, Macy's and Office Depot kick off the week's retail earnings parade first thing in the morning. Per-share earnings and revenue growth is anticipated from all three, with EPS coming in at $0.89, $2.40 and $0.04, respectively. Note that all three have a mixed record on earnings beats in recent quarters, although consensus estimates have risen in the past 60 days at Macy's.
The fourth-quarter forecast for Comcast calls for earnings per share (EPS) of $0.78 on revenue of $17.70 billion. In the same period of last year, the media giant posted EPS of $0.66 and revenue of $16.93 billion. Note that analysts underestimated EPS by more than 39 percent last quarter. Watch for the report before the markets open.
Later Tuesday, Hewlett-Packard will post per-share earnings of $0.91 on revenue of $27.35 billion, if the consensus forecast for the fiscal first quarter is correct. That would compare to EPS of $0.90 and $28.15 billion in revenue posted in the year-ago period. EPS matched analysts' estimates in the previous three periods.
Also on Tuesday, American Tower and Toll Brothers are expected to offer up earnings growth, while First Solar, SunPower and Windstream Holdings are believed to have shrinking earnings. DreamWorks Animation and VIVUS are each expected to a report a net loss.
Wednesday
Before the regular trading session begins, Lowe's and Target step onto the earnings stage. The consensus forecast calls for EPS from the home improvement superstore operator to have risen more than 25 percent to $0.44 in the fiscal fourth quarter. From Minneapolis-based retailer, earnings of $1.46 per share are anticipated, which would be up from the $0.90 per share posted in last year's fourth quarter.
Quarterly revenue at Lowe's is expected to be $12.31 billion, a gain of less than 6 percent from a year ago. A fractional revenue rise to $21.64 billion is predicted for Target. For the full year, top line gains of less than 5 percent and less than 1 percent, respectively, are forecast.
The forecast for Chesapeake Energy calls for earnings to have retreated about 11 percent to $0.24 per share, but for revenue of $4.83 billion, which would be an increase of more than 6 percent from the same period of last year. Just 60 days ago, the consensus EPS estimate was $0.30, and the natural gas giant will share its results before the opening bell as well.
Furthermore, analysts on average believe that Dollar Tree, Salesforce.com and TJX Companies will report earnings growth in the middle of the week. However, quarterly EPS are expected to be lower than a year ago at Cablevision Systems, Campbell Soup and Concho Resources.
See also Barron's Recap: America's Top Financial Advisors
Thursday
Offshore driller Transocean is scheduled to share its results before the markets open, and per-share earnings are expected to have risen more than 6 percent to $0.78. That estimate has ticked up by two cents in the past 60 days. Revenue for the fourth quarter is forecast to be almost percent lower to $2.10 billion.
On the schedule for post-session reports Thursday are Gap and JC Penney. The former will report EPS of $0.73 (up less than 7 percent) and sales of $4.71 billion (up almost 3 percent), while the latter posts $0.11 EPS (versus a net loss of $0.76 a year ago) on $3.86 billion in revenue (up about 2 percent), if forecasts are accurate.
Consensus EPS estimates have risen in the past 60 days for both companies, for both the fourth quarter and the full year. However, JC Penney is still expected to show a net loss for the fiscal year that ended in January.
Also on Thursday, look for anticipated earnings gains from Kohl's and 3D Systems, relative to the same period of last year. However, Anheuser-Busch InBev and Herbalife are expected to have EPS that are lower. The forecasts for Frontline and Sears Holdings call for another net loss.
Friday
Goodrich Petroleum will show a smaller net loss than in recent quarters, while Isis Pharmaceuticals will have swung to a small profit, if the consensus forecasts are on target. Both companies are set to report before the markets open.
Keep up with all the latest breaking news and trading ideas by following Benzinga on Twitter.
View Comments and Join the Discussion!
Posted-In: chesapeake energy Comcast hewlett-packard home depot J.C. PenneyPreviews Top Stories Trading Ideas Best of Benzinga