7 Times Jeff Bezos' Words Moved Amazon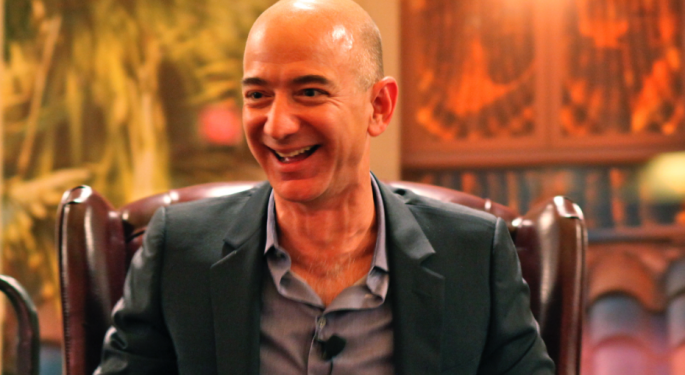 Amazon.com, Inc. (NASDAQ: AMZN) shareholders are enjoying the company's earnings beat on Friday, as shares of the eCommerce giant are up big. Investors seemed to like what visionary CEO Jeff Bezos had to say on the company's conference call on Thursday.
Here's a list of seven times Jeff Bezos' words have moved the stock market.
1. "For a short-term investor or for a small investor, I wouldn't invest in Internet stocks." (March 12, 2001)
Bezos's history of telling it like it is goes back more than a decade, and when he spoke these words to the BBC back in 2001, Amazon stock tanked 12.8 percent.
2. "If we could rewrite that bit of history, we would." (April 2, 2001)
These comments by Bezos, an admission of the mistakes that Amazon made by investing in other internet companies such as Pets.com and Living.com during the dot com bubble, drove Amazon shares down 11 percent.
3. "We have this beautiful, elegant, high-I.Q. part of our business that we have been working hard on for many years… We've gotten good at it. Why not make money off it another way?" (April 24, 2007)
Bezos was referring to Amazon opening up Fulfillment by Amazon services to vendors who list items elsewhere on the internet, such as on eBay (NASDAQ: EBAY) or Google (NASDAQ: GOOG) (NASDAQ: GOOGL).
Related Link: AMZN Earnings: A Chronological Recap
Shares of Amazon spiked 40 percent after Bezos spoke, although a large part of the move probably resulted from Amazon's 32 percent quarterly revenue increase.
4. "We don't think of the Kindle Fire as a tablet. We think of it as a service," (September 28, 2011)
There's no question that Amazon's line of Kindle products ended up being a huge success. These comments back in 2011 only moved Amazon shares higher by three percent.
However, shares of Barnes & Noble Inc (NYSE: BKS), makers of the Nook eReader, dropped seven percent after Bezos spoke.
5. "I'm excited to announce that we now have more than 130,000 new, in-copyright books that are exclusive to the Kindle Store - you won't find them anywhere else." (April 27, 2012)
Bezos boasted of the Kindle's success on Amazon's Q1 2012 conference call. Bezos' comments, along with another quarter of strong revenue growth, lifted Amazon's share price 14 percent in after-hours trading.
6. "What if there were a thousand artists standing by to redraw the picture every time you moved your head?" (June 18, 2014)
The Fire Phone sure sounded spectacular when Bezos described it, and Amazon shares climbed 2.5 percent after he announced the phone in 2014. Unfortunately, the device didn't live up to expectations in the market.
7. "When we raised the price of Prime membership last year, we were confident that customers would continue to find it the best bargain in the history of shopping. The data is in and customers agree." (January 29, 2014)
Bezos spoke these words on Amazon's conference call just yesterday, extinguishing all fears that Amazon's recent Prime price hike would hurt membership growth. Amazon's stock is up more than 10 percent in early trading on Friday.
Jeff Bezos certainly has a history of speaking his mind, and while the market may not always like what he has to say, it always seems to listen.
Disclosure: the author holds a short position in Amazon.
Image Credit: Steve Jurvetson, Wikimedia
Posted-In: Education Topics Tech General Best of Benzinga
View Comments and Join the Discussion!