Tiffany Shares Sprinkle Some Sparkle On These 2 Funds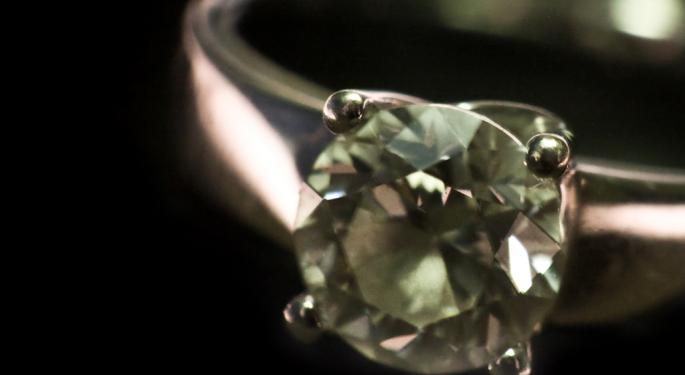 Recessions or not, people keep buying stuff.
And some of the stuff they buy glitters, sparkles, shines and carries a hefty price tag.
Tiffany & Co. (NYSE: TIF) has been steadily growing its sales and earnings in recent quarters. With a market cap just south of $14 billion, Tiffany is considered a large cap, but it's on the smaller side of that classification. More than 1,000 funds own shares of the jeweler, which, as an S&P 500 component, is owned by numerous large-cap funds and those that track the index.
Tiffany beat consensus estimate earnings views in three of the past four quarters.
Related Link: 2 Mutual Funds Loving GoPro
Harbor Capital Appreciation Fund
The largest mutual fund owner of Tiffany is the Harbor Capital Appreciation Fund Institutional Class (MUTF: HACAX), which holds 2.22 percent of Tiffany shares, accounting for 1.13 percent of fund assets.
This fund, which falls into the large-cap growth category, focuses on blue-chip stocks with superior sales and earnings growth. Its net assets total $25.3 billion, and its one-year return is 17 percent.
Top sectors represented are technology, consumer cyclical and healthcare.
The fund is open to new investors but requires a minimum investment of $50,000.
American Funds New Perspective Fund
Another actively managed fund with a significant stake in Tiffany is the American Funds New Perspective Fund Class A (MUTF: ANWPX). American Funds are often on the larger side and are popular choices for corporate retirement plans. This fund's net assets total more than $52 billion.
It owns 1.46 percent of Tiffany shares, although that constitutes only 0.35 percent of fund assets.
Managers have a global approach, investing in regions including Africa and Asia, in addition to North America. Fund manages have no global targets and are free to roam the world in search of investments.
Managers seek companies whose valuations are​ on the lower side, in comparison to their long-term growth potential.
This fund has a low hurdle for investors wanting a piece; minimum investment is just $250. Its one-year return is 7.4 percent.
Image credit: Ian Low, Flickr
Posted-In: anwpx hacax Tiffany & Co.Topics General Best of Benzinga
View Comments and Join the Discussion!