The Saga Shaking The REIT World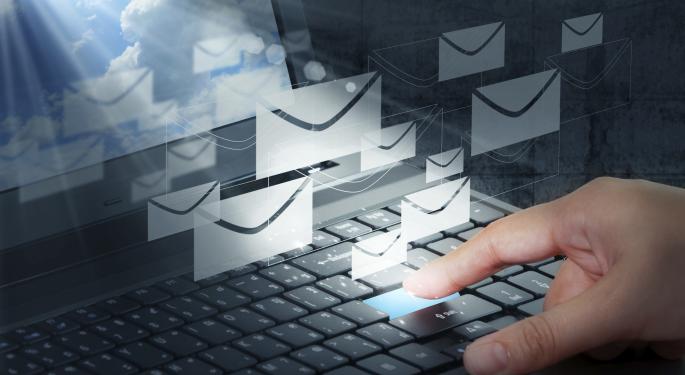 Who knew REITs could be so exciting?
Here's what investors need to know in order to appreciate the significance of the lack of one e-mail review.
First, a small accounting scandal and related cover-up was announced on October 29 by American Realty Capital Properties Inc (NASDAQ: ARCP), which ultimately shook investor confidence at the largest publicly traded single-tenant triple-net lease REIT.
Shortly thereafter, government investigations by the SEC and FBI were reported to be underway.
The following week, fireworks began when RCS Capital Corp (NYSE: RCAP) unilaterally canceled its "definitive agreement" to purchase the Cole Capital non-traded REIT advisory and management business from American Realty Capital.
Worth noting: Both of these companies have the same board chairman, Nicholas Schorsch.
A Quick 'ReCAP'
On October 1, Schorsch stepped down from his role as CEO of American Realty Capital while remaining executive chairman. In theory, that should have helped to simplify matters a bit, but the day that David Kay took over as the new CEO the company, he announced American Realty Capital and RCS Capital had negotiated the terms to the Cole Capital sale.
Related Link: Why Is ARCP Sliding Lower?
Kay negotiated with executives of RCS Capital to sell Cole Capital for $700 million, plus a potential $130 million earn out. American Realty Capital would then continue to acquire new net-lease assets and manage them for Cole Capital, splitting the fees 50/50.
The transaction would have also resulted in a significant reduction in G&A expenses for American Realty Capital beginning in 2015.
Shares slid on the news of the sale, while RCS Capital rose. Cole Capital looked like a great fit for RCS Capital; Mr. Market wasn't so sure it was the greatest deal for American Realty Capital.
Why Cole Capital Was A Great Fit For RCS Capital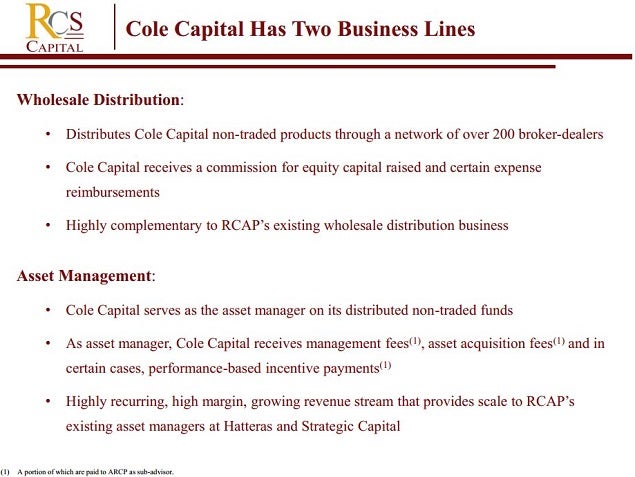 Why Cole Was A Great Deal For RCAP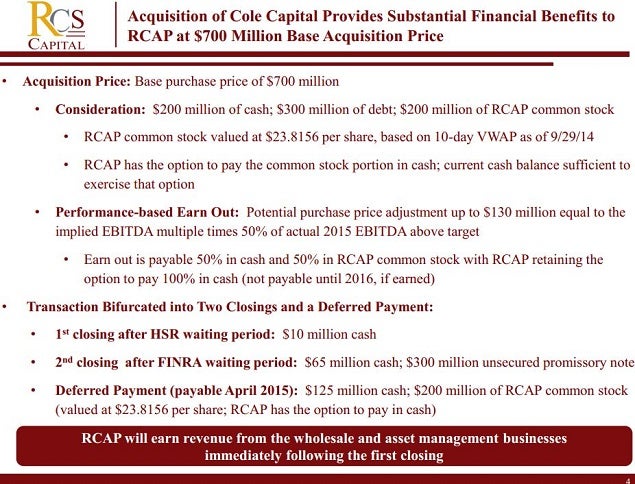 The fees to be generated by the Cole deal were estimated by Kay on the American Realty Capital call to be near $800 million over a five to seven year period. RCS would also be receiving the same amount based on a 50/50 fee split.
Problems Snowball For RCS Capital Prior To Q3 Earnings Call
On November 3, RCS Capital announced that it had unilaterally canceled its "definitive agreement" to acquire Cole Capital as well as related advisory and management agreements.
On November 4, large competitor LPL Financial Holdings Inc. (NYSE: LPLA) announced it was suspending the sales by its broker-dealers of all of the non-traded REITs controlled or sponsored by Schorsch-led entities.
On November 5, RCS Capital continued to try and distance itself from American Realty Capital accounting issues by issuing a press release clarifying:
• Separate Management Teams: Both companies have no overlapping members of management. Furthermore, American Realty Capital employees accused of wrongdoing are not employed by RCS Capital.
• Separate and Distinct Boards of Directors: Each have distinct boards of directors with no overlapping independent directors.
• Separate and Distinct Accounting Functions: Each have independent accounting teams and accounting and control systems with no overlap.
• Competitors in Non-Traded REIT Distribution: RCS Capital does not distribute any of Cole Capital's non-traded REIT securities through its wholesale distribution network.
The Commonwealth of Massachusetts weighed in on November 7, with Secretary William Galvin's office launching an investigation into Boston-based RCS Capital.
By November 9, Investment News reported an estimated 25 percent of the 160,000 licensed Independent Broker-Dealers in the U.S. had suspended sales of Cole Capital, RCS Capital and ARC non-traded REIT products.
On November 11, American Realty Capital filed suit in Delaware, attempting to compel RCS Capital to go through with the Cole Capital transaction publishing this announcement on November 12:
"We continue to believe that RCS's attempt to terminate the Purchase Agreement constitutes a breach of the Purchase Agreement. Under the circumstances, the independent members of the ARCP Board of Directors and ARCP had no choice but to file this litigation in order to preserve and protect the interests of ARCP's shareholders under the Purchase Agreement."
What's Next?
On November 13 at 11:00 AM, RCS Capital hosted its conference call to discuss Q3 operating results, including this notable quote from CEO Michael Weil:
"[O]ur audit committee retained independent external counsel to conduct a review in accordance with specified procedures that were determined prudent and appropriate by our audit committee, but that did not include email review."
Given the lawsuit, it is possible that e-mails between Schorsch and the management teams of both organizations could become a point of focus moving forward.
View Comments and Join the Discussion!
Posted-In: Cole Capital Nick SchorschNews REIT Management Real Estate Best of Benzinga