Earnings Expectations For The Week Of November 3: Disney, QUALCOMM And More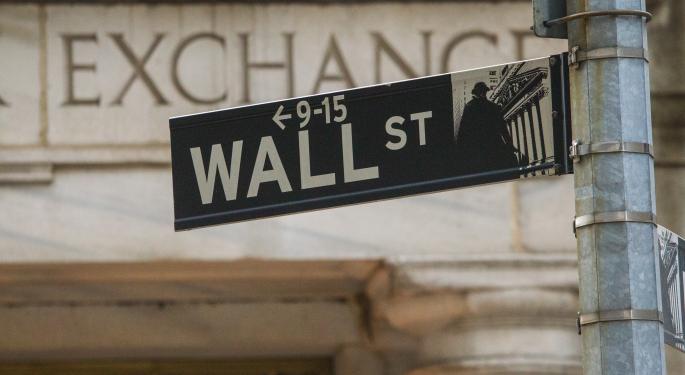 October's jobs numbers are due at the end of the week, but before then there are plenty more earnings reports on the docket.
Analysts are looking for year-on-year earnings growth from the likes of:
However, the forecasts for Chesapeake Energy Corporation (NYSE: CHK), Frontier Communications Corp (NASDAQ: FTR) and Mondelez International Inc (NASDAQ: MDLZ) call for shrinking earnings. FireEye Inc (NASDAQ: FEYE) and Zynga Inc (NASDAQ: ZNGA) will post net losses, unless analysts are off the mark.
Here is a quick day-by-day run down of analyst expectations for these and some of the week's other more prominent reports.
See also: The Global Impact Of Decentralized Banking
Monday
Among Monday's highlights will be the after-hours reports from AIG and Frontier Communications. Consensus forecasts have earnings per share (EPS) up about 12 percent to $1.09 for the former and down $0.02 to $0.04 for the latter. Third-quarter revenue for AIG is expected to be up marginally to $8.57 billion, while for Frontier it is down less than 4 percent to $1.14 billion. Note that AIG handily beat EPS estimates in recent quarters.
Monday's other anticipated earnings gainers include Herbalife, MannKind and Sysco. The forecasts for Loews, Marathon Oil and Tenet Healthcare include an earnings decline. Arena Pharmaceuticals is expected to post a net loss.
Tuesday
Software makers Activision Blizzard and FireEye step into the earnings spotlight after Tuesday's closing bell. Analysts are looking for EPS from the former to have increased from $0.08 a year ago to $0.13 in the third quarter. The forecast for the latter calls for a net loss of $0.56 per share, compared to the per-share net loss of $1.21 a year ago.
Revenue growth is expected to be strong for both: up about 53 percent to $1.01 billion for the video game maker and up about 172 percent to $116.02 million for the cybersecurity firm. FireEye is forecast to have more strong revenue growth in the current quarter and for the full year as well.
In addition, Archer Daniels Midland, Burger King Worldwide, CVS Health, Emerson Electric, EOG Resources, Michael Kors, Office Depot and Pioneer Natural Resources are expected to show earnings gains on Tuesday. EPS will be lower at Dish Network, HCP, International Paper, Motorola Solutions and PPL, if analysts are correct, and Goodrich Petroleum is expected to post a net loss.
Wednesday
The forecast for Chesapeake Energy calls for a more than 23 percent decline in earnings to $0.33 per share, as well as for revenue of $4.84 billion, which is essentially flat with the same period of last year. The consensus EPS estimate has dropped $0.06 in the past 60 days. The natural gas giant will share its results before the opening bell.
Also in a pre-market report, Mondelez will post per-share earnings of $0.39 on revenue of $8.39 billion, if the consensus forecast for the snack food maker is correct. That would be down from EPS of $0.41 and $38.47 billion in revenue in the year-ago period. EPS fell short of expectations in just one of the past four periods.
After the markets close, the earnings spotlight will fall on Qualcomm, for which earnings of $1.31 per share are forecast. That would be up almost 20 percent from a year ago, and note that it beat EPS estimates by 18 percent in the previous period. Analysts also expect revenue of $7.02 billion for the most recent quarter, or growth of more than 8 percent.
Analysts on average believe Cognizant Technology Solutions, Duke Energy, Tim Hortons, Time Warner and Toyota will report earnings growth in the middle of the week too. However, quarterly EPS are expected to be lower than a year ago at CBS, Devon Energy, Kinross Gold, Prudential Financial and Symantec.
If analysts are right, EPS will be flat year-on-year at Continental Resources, News Corp. and Whole Foods Market. Elon Musk's SolarCity and Tesla are each expected to post a net loss for the most recent quarter.
Thursday
Late in the day, Disney is expected to post a profit of $0.88 per share, which would be $0.11 more than in the same quarter of last year. Note that its earnings easily topped consensus estimates in the previous three periods. The anticipated quarterly revenue of $12.37 billion would be almost 7 percent higher year-over-year.
The forecast for Zynga calls for a per-share net loss of $0.01, as well as for revenue of $171.67 million. In the same period of last year, the game maker posted a net loss of $0.02 per share and $152.11 million. Zynga also is scheduled to share its latest results after the markets close.
Also on Thursday, look for earnings gains from DirecTV, Lions Gate Entertainment, Medivation, Molson Coors Brewing and Wendy's, as well as for lower EPS from AOL, Apache, AstraZeneca, Cablevision Systems, First Solar, Melco Crown Entertainment, Transocean, TRI Pointe Homes and Windstream Holdings. Analysts are looking for another quarterly net loss from Sarepta Therapeutics.
See also: This Startup Wants To Replace Microsoft, IBM
Friday
ArcelorMittal and Humana are expected to show growth on the top line Friday morning, though earnings from the latter are expected to have declined from a year ago.
Though Warren Buffet is no big believer in the importance of quarterly results, look for the latest from strong>Berkshire Hathaway Inc. (NYSE: BRK-A) after the markets close on Friday.
Keep up with all the latest breaking news and trading ideas by following Benzinga on Twitter.
View Comments and Join the Discussion!
Posted-In: Activision Blizzard American International Group Berkshire Hathaway chesapeake energy FireEyeEarnings Previews Trading Ideas Best of Benzinga