What Has Happened To Macau?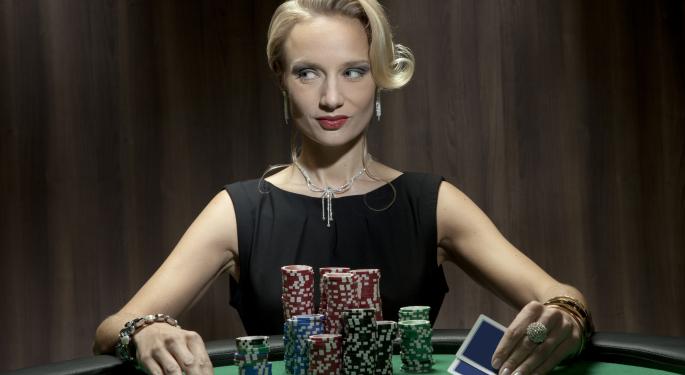 A few short months ago, the exploding gambling market in Macau, China seemed like a realm of limitless potential, profits and growth. The share prices of the four biggest players in the region, however, tells the story of a turning tide.
Shares of MGM Resorts International (NYSE: MGM), Wynn Resorts, Limited (NASDAQ: WYNN), Las Vegas Sands Corp (NYSE: LVS) and Melco Crown Entertainment Ltd (NASDAQ: MPEL) are all down year to date: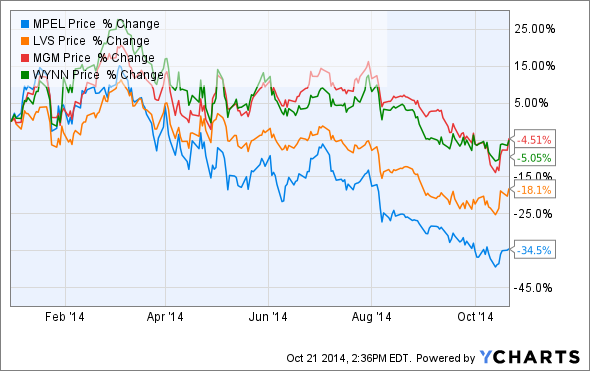 Related Link: Is Apple A Growth Stock, A Value Stock, Or Neither?
What Happened In Macau?
The best answer is sometimes the simplest: gaming revenue in Macau, which has been growing at a blistering pace for years, started to shrink in 2014. Here's a chart of the first nine months of Macau gaming revenue for 2013-2014 (in millions of Macau Pataca).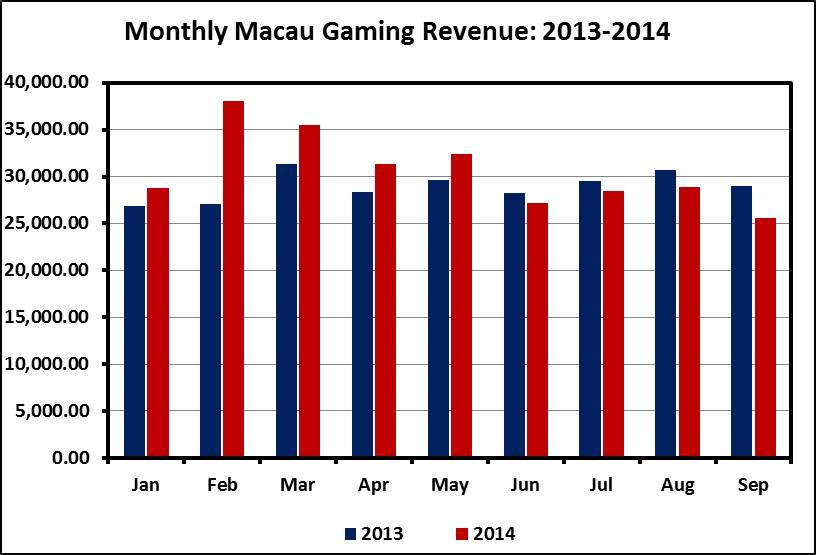 Notice that the first five months of 2014 produced year-over-year increases in revenue from 2013.
June was the first year-over-year monthly drop in Macau gaming revenue in five years. In fact, the last four consecutive months have produced similar drops. Are the Chinese getting bored with gambling? It's a little more complicated than that.
Closing The Loopholes
Unbelievably, over the past several years, two-thirds of Macau's gaming revenue has come from high rollers that are funneled to Macau via VIP junket operators commissioned by the casino operators. While these high rollers might make up a small percentage of the total visitors coming to Macau, they are the ones spending (and losing) all of the money.
The recent problem in Macau seems to be stemming from a crackdown on some of these junket operations, particularly revolving around high rollers' access to cash while in Macau.
Visitors to Macau from mainland China are allowed to bring 20,000 yuan with them and withdraw up to 10,000 yuan per day from cash machines. However, gamblers have been exploiting a loophole in the law by buying expensive merchandise at local pawn shops and then immediately trading the merchandise for local currency. Some pawn shops even directly lend local currency to gamblers.
There seems to be some dispute as to whether the recent crackdown is permanent or just a temporary political show, but an August indictment of Melco Crown Entertainment's Taiwan branch for alleged foreign-exchange violations suggests that the casino operators should be taking this threat seriously.
Either way, the high rollers are backing off for the time being, as VIP revenue has fallen from about 66 percent of Macau gaming revenue to about 60 percent as of late.
Chinese Instability
Outside of the gambling arena, China's economic growth has slumped lately. China's 7.3 percent quarterly GDP growth for Q3 was the lowest number the economy has produced since 2009. In addition to economic troubles, unprecedented political protests in Hong Kong may have many wealthy Chinese gamblers uneasy for the time being.
Last Friday, Las Vegas Sands produced quarterly earnings that fell short of already lowered expectations for both EPS and revenue. With the general trend in Macau looking as dreary as it has lately, investors in Wynn, MGM and Melco Crown are likely in for some low numbers as well.
Wayne Duggan owns shares of Melco Crown Entertainment.
Posted-In: China Macau Resorts And Casinos IndustryEarnings News Education Global General Best of Benzinga
View Comments and Join the Discussion!