Benzinga Weekly Preview: Global Economy In Focus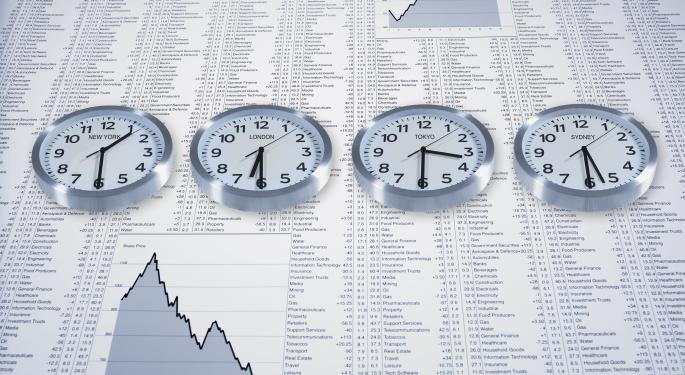 This week, the global economy will be in focus as central bankers from around the world meet in the U.S. to discuss their policies.
European Central Bank President Mario Draghi will also deliver a much anticipated speech that markets will be watching closely for any indication about his plans to implement a quantitative easing program.
Also on the radar will be the International Monetary Fund and the World Bank's annual meetings, during which the IMF will release its forecast for the global economy.
Key Earnings Reports
Investors will be waiting for several key earnings reports including Costco Wholesale Corporation (NASDAQ: COST), Pepsico, Inc. (NYSE: PEP), Alcoa Inc. (NYSE: AA) and Family Dollar Stores, Inc. (NYSE: FDO).
Costco Wholesale Corporation
Costco is expected to report fourth quarter EPS of $1.52 on revenue of $35.33 billion, compared to last year's EPS of $1.40 on revenue of $32.49 billion.
On October 3, Oppenheimer gave Costco a Perform rating with a $120.00 price target, noting that the company has a solid business model, but is fairly priced.
"Costco has grown to represent one of the world's largest and most powerful retailers. For a long while we have looked very favorably on the operating prowess of COST. Clients have reached out lately to discuss our most up-to-date thinking on COST and our views on the upcoming Q4 (Aug.) report (10/8/14). Herein we detail the conclusions of our latest analysis of COST. We expect EPS growth at the chain to step up as recent transitory pressures somewhat abate. Street earnings forecasts, however, appear aggressive, and we are hard-pressed to envision further multiple expansion for COST from already historically high levels. Our price target on shares goes to $120 from $105," it said.
PepsiCo, Inc.
PepsiCo is expected to report third quarter EPS of $1.29 on revenue of $17.16 billion, compared to last year's EPS of $1.24 on revenue of $16.91 billion.
On September 30, BTIG gave PepsiCo a Buy rating with a $108 price target, noting that the company will likely have a profitable quarter due to better pricing and productivity gains.
"Recall Pepsi delivered better than expected profits last quarter (Q2 core EBIT +6% y/y) on the back of pricing gains in D&E markets and margin improvement across most segments. We expect momentum to continue, particularly behind key markets in Latin America, Eastern Europe, and Asia & Mid-East where we estimate pricing gains around double-digit rates," the firm wrote.
Alcoa Inc.
Alcoa is expected to report third quarter EPS of $0.18 on revenue of $5.69 billion, compared to last year's EPS of $0.11 on revenue of $5.76 billion.
On September 30, Merrill Lynch gave Alcoa a Buy rating with an $18.00 price objective, saying that the company is expecting improved cash-flow in the coming year.
"We upgrade Alcoa shares to Buy, noting: 1) a better cash flow outlook; 2) improved aluminum fundamentals; and 3) additional positive catalysts. With much of the costs related to closing high-cost operations now behind it and associated pension costs expected to also fall nearly $100M y/y, we expect FCF of $986B in 2015E and $1.3B in 2016E from an anticipated $288M in 2014E and $385M in 2013," it said.
On October 1, Deutsche Bank gave Alcoa a Hold rating with a $16.00 price target, saying that the upside for the stock is largely price in.
"We expect Alcoa to report adjusted diluted EPS of $0.20 in 3Q14 (up 2c QoQ), after marking-to-market this quarter's 15-day lagged trailing LME aluminum price ($0.90/lb, +13% QoQ) and premia pricing (including shape premia) to a realized price of $1.15/lb (+11% QoQ). Aluminum premiums are estimated to increase 12% QoQ to a weighted average of $0.19/lb mainly driven by Japanese (+39%) and European (+16%) and Midwest (+7%) premiums. Alcoa is likely to record non-recurring charge of $175m ($0.15 per share) on closure of Portovesme smelter in 3Q14. Excluding this charge, we expect adjusted diluted EPS to increase 9% QoQ to $0.20. Our 3Q14E EPS of $0.20 is 1c above Thomson One consensus of $0.19. We expect Alcoa's net debt to decline 18% QoQ to $5.6bn on issue of depository shares worth $1.4bn (7% dilution). Focus will likely be on timeline for closure of Firth Rixson acquisition, details on Boeing supply deal, capacity curtailments by Alcoa and Alcoa's forecasts for global aluminum trends," the firm said.
On September 23, Tigress Financial Partners gave Alcoa a Buy rating, citing increasing global demand for aluminum:
"AA is benefiting from higher aluminum prices as global demand for aluminum outpaces global production. Growing aluminum demand from the automotive, aerospace, packaging and building and construction industries is driving increases in AA's Key Business Performance Indicators. AA's focus on improving its position in the downstream, margin-rich fabricated segment while jettisoning lower margin upstream businesses. We expect this transition to meaningfully contribute to a higher EBITDAR margin, increasing both ROC and Economic Profit over the mid-to long-term."
Family Dollar Stores, Inc.
Family Dollar is expected to report fourth quarter EPS of $0.77, compared to last year's EPS of $0.86 on revenue of $2.50 billion.
On September 29, Deutsche Bank gave Family Dollar a Hold rating, noting that the triangle between Family Dollar, Dollar General and Dollar Tree leaves a lot of uncertainty for the future.
"While it is largely perceived that FDO is doing everything possible to protect the brand and avoid a merger with DG, the company is adamant that they want to maximize shareholder value. The issue with the DG offer is that while the current language may provide enough coverage on divestitures, there is enough of a probability in their mind (say 20%-25%) that 1,500 stores is not enough. With DG only offering $500M in a reverse break-up fee (or $4.40 per share) and having the option of walking away from the deal, FDO is at risk of a material loss of market cap (we have a $59 price target on fundamentals) if DLTR doesn't come back to the table. FDO is looking for protection from DG (hell or high water) or will continue down the road with the DLTR deal. DG is unwilling to provide this type of guarantee yet (despite their view that only 500-700 stores will need to be divested), as it would lower their negotiating power with the FTC. DG hopes to have more clarity on the HSR process in early October when the initial 30 day review is complete," it wrote.
Economic Releases
Economic will be thin next week, but investors will be focused on the release of Federal Reserve meeting minutes, set to be released on Wednesday. The bank has been vague about its plans to raise interest rates, so markets will be looking for any clues about whether a sooner than expected rate hike is on its way.
Daily Schedule
Monday
Earnings Expected: Team, Inc. (NYSE: TISI), Container Store Group (NYSE: TCS), Qualstar Corporation (NASDAQ: QBAK), IDT Corporation (NYSE: IDT)
Economic Releases Expected: Hong Kong manufacturing PMI, German factory orders
Tuesday
Earnings Expected: Yum! Brands, Inc. (NYSE: YUM), Landec Corporation (NASDAQ: LNDC), Acuity Brands Inc. (NYSE: AYI)
Economic Releases Expected: Japanese current account, U.S. consumer credit, U.S. rebook, British manufacturing production, British industrial production, German industrial production
Wednesday
Earnings Expected: Ruby Tuesday, Inc. (NYSE: RT), Monsanto Company (NYSE: MON), Family Dollar Stores, Inc. (NYSE: FDO), Fastenal Company (NASDAQ: FAST), Costco Wholesale Corporation (NASDAQ: COST), Alcoa Inc. (NYSE: AA)
Economic Releases Expected: Australian unemployment rate, U.S. oil inventory data, Spanish industrial production, Federal Reserve meeting minutes
Thursday
Earnings Expected: Marriot Vacations Worldwide (NYSE: VAC), Safeway Inc. (NYSE: SWY), Pepsico, Inc. (NYSE: PEP), Lindsay Corporation (NYSE: LNN)
Economic Releases Expected: Bank of England interest rate decision, French trade balance, German trade balance
Friday
Earnings Expected: Webster Financial Corporation (NYSE: WBS), Progressive Corporation (NYSE: PGR), Infosys Limited (NASDAQ: INFY)
Economic Releases Expected: British trade balance, Italian industrial production, French industrial production
View Comments and Join the Discussion!
Posted-In: Earnings News Previews Econ #s Top Stories Pre-Market Outlook Markets Trading Ideas Best of Benzinga