Bed Bath & Beyond Vaults Higher On Institutional Buying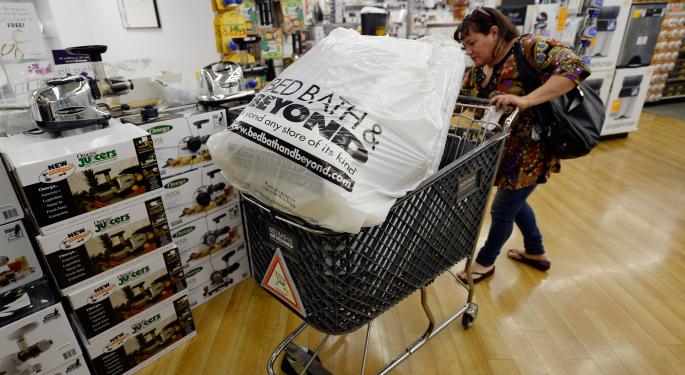 Household goods retailer Bed Bath & Beyond Inc. (NASDAQ: BBBY) gapped up nearly 7 percent Wednesday following a better than expected second quarter report. Trading volume was more than four times average.
When you see that kind of big move in heavy turnover, it's institutions at work. Mom and Pop simply don't do the kind of volume buying that would result in a move of that nature.
With both quarterly sales and earnings growth rates decelerating over the past two years, Bed Bath & Beyond has become more attractive to value buyers. In addition, the stock's technical performance has been lackluster throughout 2014. While momentum buyers may shun such a stock, value shoppers have no doubt been eyeing it.
Related Link: Could European Funds Offer An Opportunity Now?
Active Investors
Managers of active funds -- those who are picking stocks rather than simply tracking an index -- look closely at earnings reports for stocks they own. If they see reason for optimism about future price appreciation, they often grab the opportunity to add more shares to an existing position.
The Fidelity Low-Priced Stock Fund (MUTF: FLPSX) owns more than 3 percent of the Bed Bath & Beyond outstanding shares. The stock accounts for 0.86 percent of total fund assets.
The fund was launched in 1999 as a haven for out-of-favor small- and mid-cap stocks, although it has gradually expanded its scope to include large caps. Bed Bath & Beyond's market cap is now at $13.52 billion, just barely into the lower-end of what could be considered large cap territory.
The Davis New York Venture Fund Class A (MUTF: NYVTX) owns about 2.68 percent of Bed Bath & Beyond shares. That constitutes 1.67 percent of fund assets, a hefty amount. Nonetheless, the fund has been gradually divesting itself of the retailer's shares.
The Artisan Mid Cap Value Fund Investor Class (MUTF: ARTQX) holds 1.69 percent of Bed Bath & Beyond, or 1.63 percent of total fund assets. As with most managed funds, the Artisan Mid Cap has a higher expense ratio, in this case 1.2 percent, than you would find in an index fund.
As an S&P 500 component, Bed Bath & Beyond is widely held by large-cap U.S. index funds, so it's not difficult to get exposure to this stock with mutual funds. However, keep in mind: With a fund such as the Vanguard 500 Index Fund Investor Class (MUTF: VFINX), Bed Bath & Beyond will not be represented nearly as much as a larger S&P component such as Apple Inc or Exxon Mobil Corporation.
In other words, you would never buy an S&P index fund for exposure to this particular stock.
View Comments and Join the Discussion!
Posted-In: Bed Bath & BeyondMutual Funds Education General Best of Benzinga