S&P 500 Gives Up 2,000 On Volume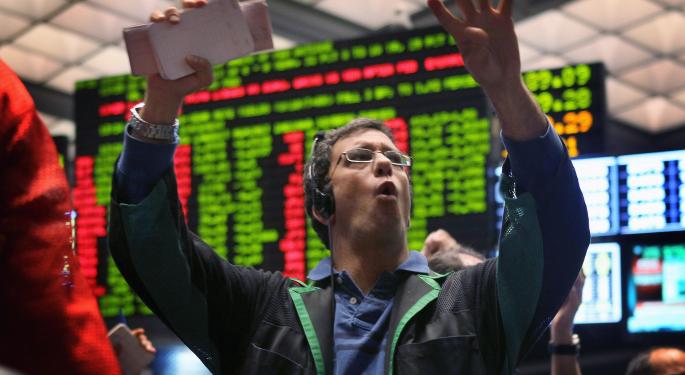 Equity markets started the week sharply lower. The S&P 500 fell below the key 2,000 point level on strong strong volume as the U.S. dollar was once again rejected near 85 on the U.S. Dollar Index.
The Dow Jones Industrial Average plummeted 107.7 points, or 0.62 percent, to close at 17,173.
The S&P 500 dropped 16.1 points, or 0.80 percent, to close at 1,994.
The Nasdaq gave up 52 points, or 1.14 percent, to close at 4,528.
Top Stories
The SEC awarded the largest whistleblower reward it has ever given. An anonymous insider will be receiving $30 million for reporting fraud that would be difficult for regulators to detect, said the SEC. Whistleblowers can be paid between 10 and 30 percent of funds they help recover.
RadioShack (NYSE: RSH) reported that discussions with creditors and a major vendor to modify a "commercial relationship" have been unproductive. This comes shortly after the company suggested it may have to declare bankruptcy, a course of action Wall Street has speculated on for years.
Apple (NASDAQ: AAPL) announced it sold more than 10 million units of the iPhone 6 and iPhone 6 Plus in the device's opening weekend. CEO Tim Cook said that sales were constrained by supply and that, "We are working hard to fill orders as quickly as possible."
Stock Movers
Sigma-Aldrich (NASDAQ: SIAL) shares shot up 33.2 percent to $136.40 after Germany's Merck KGaA (OTC: MKGAY) announced its plans to acquire Sigma-Aldrich for $140 per share in cash.
Shares of Viasystems Group (NASDAQ: VIAS) got a boost, shooting up 35 percent to $15.80 after TTM Technologies (NASDAQ: TTMI) announced its plans to buy Viasystems for a total value of $16.46 per share.
Dresser-Rand Group (NYSE: DRC) shares were also up, gaining 2.6 percent to $81.97 after Siemens AG (OTC: SIEGY) announced its plans to acquire Dresser-Rand for $7.6 billion.
Shares of TriMas (NASDAQ: TRS) were down 10 percent to $26.59 after the company cut its full-year profit outlook. The company also announced its plans to buy Allfast Fastening Systems for around $360 million.
CARBO Ceramics (NYSE: CRR) shares tumbled 16.1 percent to $70.91 after the company provided an update concerning marketplace conditions and related impact to sales volumes.
Yahoo! (NASDAQ: YHOO) was down, falling 5.6 percent to $38.65 after Bank of America downgraded the stock from Buy to Neutral.
Commodities
Precious metals are mostly unchanged at the close of equities, a contrast to last week's weakness. Gold futures were last trading 0.02 percent higher at $1,216.80 while silver futures gave up 0.11 percent to $17.83.
Although precious metals were able to hold some ground, this was not the case for energy. Crude futures dropped 0.96 percent to $91.52 with gasoline down 1.1 percent. Natural gas, however, rose 0.42 percent to $3.85.
Global Markets
Like the U.S., Asian markets started the week with a sharp downturn. The Shanghai index fell 1.7 percent with Hong Kong's Hang Seng down 1.4 percent. Japan's Nikkei fared slightly better, giving up just 0.7 percent.
Europe also finished lower. The Euro Stoxx index, which tracks 50 blue chips, sold off 0.5 percent, London's FTSE dropped 0.9 percent and France's CAC lost 0.4 percent.
Currencies
The U.S. dollar may have run into some resistance around 85 on the U.S. Dollar Index. The index made a high of 85 in July 2013 before falling as low as 79. Monday is the third trading day that the index has run into trouble around this level.
Posted-In: GoldEarnings News Econ #s Economics After-Hours Center Markets Movers Best of Benzinga
View Comments and Join the Discussion!