CVS Shrugs Off $2 Billion In Cigarette Sale Losses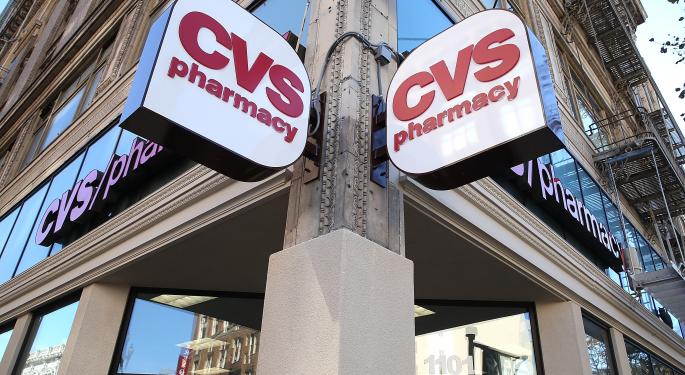 In February of this year, CVS Caremark Corp. (NYSE: CVS) made headlines –- and acclaim from anti-smoking activists –- when it announced the company would phase out the sale of cigarettes, cigars and chewing tobacco in more than 7,600 drugstores by October 2014.
Investors worried the move would hurt revenues. Although investors' fears were confirmed -- the pharmacy giant is on pace to lose $2 billlion in annual sales -- it didn't matter.
On Tuesday, CVS beat out Wall Street expectations by reporting a net revenue increase of nearly 11 percent in its second quarter results. At least part of that increase, according to the company's statement, was "driven by net new business growth" in specialty pharmacy products.
Related Link: Ignored Rental Car Warnings To GM Result Of Poor Managerial Communication
"Specialty drugs typically are used to treat complex, often rare conditions," Peter Abair, director of economic and global affairs at the Massachusetts Biotechnology Council, told the Boston Herald. "And while they may have a high cost, these drugs help keep patients out of hospitals."
The bottom line: the loss of tobacco sales has made its impact known at CVS. The company reported its front store, same-store sales down 0.4 percent for the quarter. However, as Barron's pointed out, investors "had little reason to complain" about the front-store sales data.
The tobacco industry, meanwhile, is feeling the pinch as the number of smokers decline. Last month Reynolds American (NYSE: RAI) unveiled plans to acquire its smaller rival Lorillard (NYSE: LO) for a reported $25 billion.
The deal, which still has to get past U.S. anti-trust investigators, would give Reynolds American access to Lorriard's growing e-cigarette market at a time when traditional cigarette sales are declining, while the battery-powered "e-cigs" are rising in popularity.
According to Reuters, a study released this past March reported that 10 percent of U.S. high school students had used e-cigarettes.
Posted-In: anti-smoking CVS tobacco announcement drug store chains E-Cigarettes Pharmacies smokingHealth Care General Best of Benzinga
View Comments and Join the Discussion!