Sci-Fi Smash Hit 'Guardians of the Galaxy' Sets Up Sweet Merchandising Curve At Disney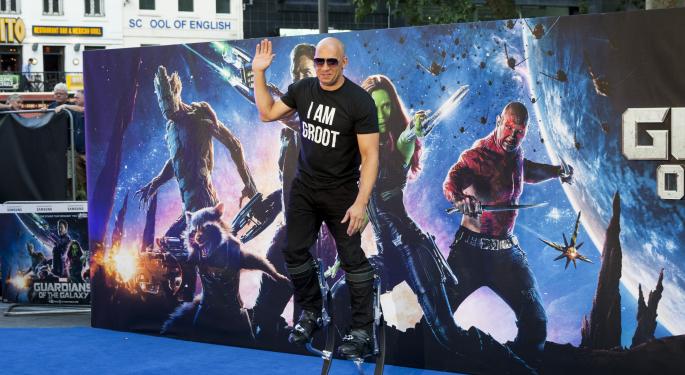 Guardians of the Galaxy earned $11.2 million during its opening night and $94 million so far, creating expectations that the film will rake in loads of money. Audiences are lighting up the Internet with sentiments that mirror the critical praise that the film has received.
With Guardians roaring in before a big Star Wars Episode VII release, Disney (NYSE: DIS) has proven that it can deliver science fiction packed with everything right, from the perfect blend of likable screen presences, humor, action and heart to the beautiful use of polished high-budget effects.
Guardians makes any future products related to space or Marvel extremely hot.
According to TheWrap's ''Guardians of the Galaxy': Rocket Raccoon Could Be Marvel's Money Maker," Disney is poised to earn big bucks in merchandising. Senior vice president of licensing for Marvel, Disney Consumer Products Paul Gitter said about the already popular Rocket Raccoon:
"You can never fully predict a breakout character, but we knew he was funny and that kids especially would respond to him, since, like many kids, he is underestimated because of his size," said Gitter.
"Rocket is unlike anything we have in Marvel merchandise, and licensees have risen to the expected demand with a range of Rocket-inspired products."
Related Link: Comic-Con 2014: Cosplay Slideshow - Characters That Reflect Class-Act Stocks
Voiced with impeccable comedic grit by Bradley Cooper, Rocket has taken the spotlight away from the boyishly badass Chris Pratt as Star-Lord, the extremely believable-as-an-alien Zoe Saldana as Gamora, the muscly, awkwardly funny Dave Bautista as Drax the Destroyer, and the verbally limited, darling plant-man Groot, played by Vin Diesel.
With stuffed animals, a variety of action figures varying in detail, material and size, a line of Legos and clothing and accessories on top of that, Rocket and the rest of the memorable characters from Guardians will build on last year's successful merchandising by Disney of its plethora of properties.
TheWrap also included comments from industry analyst and content director of Time to Play Media Chris "The Toy Guy" Byrne, who predicts that Guardians of the Galaxy will sell well to both adult collectors and children, which share a 40/60 toy market split respectively. He noted that Disney did $40.9 billion in merchandising last year.
"Due to the response and demand, we are working closely with licensees on additional product assortments for 'Guardians of the Galaxy,' led by Rocket-inspired offerings," said Gitter.
The record-setting Guardians is pulling in repeat viewers and pushing out merchandise at warp speed, but one can't help but think that it foreshadows something even bigger from the highly anticipated new set of Star Wars films. The first in that new series is in the hands of science fiction ace J.J. Abrams, who reinvented Star Trek with a sleek and stunning big-budget spectacle that didn't compromise the franchise's cherished legacy.
For a series that's made merchandising history and quite possibly a culture out of toy collecting, Star Wars is due to make a tidal wave of earnings on goods if Episode VII comes close to matching the Guardians. Maybe Disney will even score big with their own cute mascot for Star Wars. Perhaps we'll get a glimpse of what happened to the Ewoks post-Return of the Jedi, and just maybe they'll carry a little more edge and attitude like their in-demand cousin Rocket Raccoon over in the Marvel universe.
Jason Cunningham had no position with the mentioned entities while writing this article. Visit Jason on Twitter at @JasonCunningham and @Benzinga.
Posted-In: Bradley Cooper Comic Con Guardians of the Galaxy J.J. Abrams MarvelTopics Top Stories General Best of Benzinga
View Comments and Join the Discussion!