L'Oreal Gives Other Personal Beauty Product Names a Boost
L'Oreal reported results this morning, and in response beauty product names like Revlon (NYSE: REV), Avon Products (NYSE: AVP) and Estee Lauder (NYSE: EL) were able to outperform the Standard & Poor 500 on the Thursday session.
L'Oreal mentions in its press release that it grew its Non-GAAP EPS by 7.5 percent year-over-year. The non-GAAP EPS excludes the impact from charges related to a transaction with Nestle.
Revenue also grew by 3.8 percent year-over-year, and it was driven by an improving Western European economy (2.8 percent year-over-year growth in this geography), for the first half of 2014.
With Western European growth, L'Oreal communicates to investors in other personal household & products companies that the macro story may not be as bad.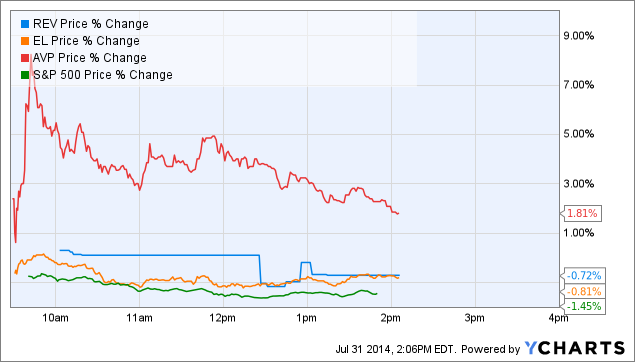 Avon Products is up by 1.81 percent on the sessions, Estee Lauder is down by 0.72 percent, and Revlon is down by 0.81 percent. However, the three stocks are performing better than the S&P 500, which is down by 1.45 percent on the Thursday session.
View Comments and Join the Discussion!