Market Wrap for May 19: Markets Finish Higher On M&A Monday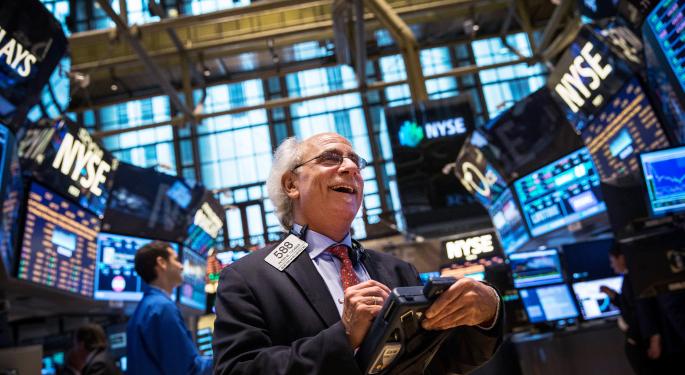 Markets moved higher Monday after a weak morning to recover lost ground from last week's sharp sell off.
Major Averages
The Dow Jones Industrial Average rose 20.55 points, or 0.12 percent, to 16,512.00.
The S&P 500 climbed 7.22 points, or 0.38 percent, to 1,885.00.
The Nasdaq Composite gained 35.23 points, or 0.86 percent, to close at 4,126.00.
Top Stories
Sunday night AT&T (NYSE: T) and DirecTV (NYSE: DTV) officially announced intentions for AT&T to acquire DirecTV. The deal assigns DirecTV a $67.1 billion enterprise value. DirecTV shareholders will receive most of the payout in AT&T stock and about a third in cash.
The United State Attorney General Eric Holder announced indictments against five Chinese officers for online espionage. These are the first charges of their kind and have gotten a mixed response from domestic markets.
Stock Movers
Ryanair Holdings plc (NASDAQ: RYAAY) shares were up nearly 6.97 percent into the close to $54.53 after the company reported full-year results. Ryanair's net profit for the year ended March 31 slipped to 522.8 million euros ($716 million), versus a year-ago profit of 569.3 million euros.
Shares of InterMune (NASDAQ: ITMN) got a boost, shooting up 12.82 percent to $38.71 after the company presented Phase 3 ASCEND study of Pirfenidone in idiopathic pulmonary fibrosis. Leerink upgraded the stock from Market Perform to Outperform.
Shares of AstraZeneca PLC (NYSE: AZN) were down 12.01 percent to $70.64 after the company's board rejected the new $119 billion takeover offer from Pfizer (NYSE: PFE).
LifeLock (NYSE: LOCK) was also down, falling 17.57 percent to $10.70 after the company announced Friday that it had halted its mobile wallet service, shocking the street.
Provectus Biopharmaceuticals (NYSE: PVCT) was also down, falling 3.38 percent to $3.01, letting out some air after the company's opening on the NYSE Friday.
Commodities
Energy prices were mostly down Tuesday, with WTI and Brent mixed. Near the close of equities, WTI crude futures were up 0.59 percent to $102.62. Brent futures dropped 0.36 percent to $109.36. Natural gas was last up 1.36 percent on the day.
Precious metals were mostly flat for the day. At last check, COMEX gold futures were up 0.06 percent to $1,294.20. Silver contracts gained just 0.16 percent to $19.36 near the close of equities.
Global Markets
Asian markets were mostly down last night. The Shanghai index fell 1.05 percent with Hong Kong's Hang Seng down 0.04 percent. Japanese markets were also down, with the Nikkei dropping 0.64 percent.
European markets were mixed on the day. The Euro Stoxx index, which tracks 50 eurozone blue chips gained 0.09 percent percent. London's FTSE gave up 0.16 percent, and France's CAC added 0.30 percent.
Currencies
The US dollar once again tanked on the expectation that the Federal Reserve will not reduce its stimulus. The PowerShares ETF (NYSE: UUP) that tracks the performance of the greenback versus a basket of foreign currencies fell 0.02 percent to 21.39.
The closely watched EUR/USD pair gained 0.712 percent to $1.371. The other big mover on the day is the USD/RUB, which fell 0.6 percent.
Volume and Volatility
After a week of heavy volume, trading normalized Tuesday. Only 50.89 million shares of the S&P 500 ETF (NYSE: SPY) traded hands, compared to a three month average of 117.16 million.
After leaping higher mid-morning, volatility died down for the day. The CBOE measure of S&P 500 (VIX) fell 0.32 percent to 12.40.
Posted-In: Earnings News Commodities Forex Econ #s Economics After-Hours Center Markets Best of Benzinga
View Comments and Join the Discussion!