SunEdison Earnings Preview: Still In The Red?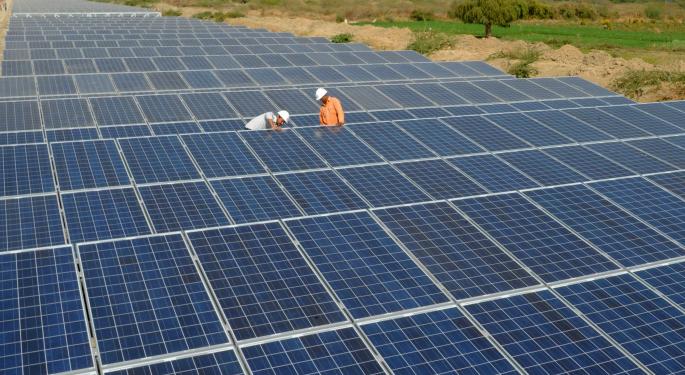 Solar company SunEdison (NYSE: SUNE) -- which just announced the completion of eight solar power plants in the United Kingdom -- is scheduled to report its first-quarter 2014 results on Thursday, May 8, before the markets open.
Investors will be interested in updates on how the company is doing in terms of closing the gap with competitor First Solar in project deployments. There is also the question of increasing competition from Chinese solar companies and the spin-off of its underperforming semiconductor business.
See also: Short Sellers Retreat From First Solar and SolarCity
Expectations
Analysts on average predict that SunEdison will report its revenue for the quarter rose more than 37 percent year-over-year, coming in at $593.88 million. But a net loss of $0.17 per share is also in the consensus forecast. That would compare with a reported net loss of $0.16 per share in the comparable period of last year.
Note that 60 days ago that consensus earnings per share (EPS) estimate called for a net loss of $0.13. Also note that analysts had expected a profit in the previous period, instead of the surprise net loss of $0.48 per share. Earnings results have been better than expected in only one of the past four quarters.
SunEdison attributed its larger fourth-quarter net loss to sales of fewer solar projects and declining sales in its semiconductor business. It also announced plans to spin off some solar power plants into a publicly listed company. The share price rose more than 17 percent in the week following the report.
Looking ahead to the current quarter, the forecast currently calls for a net loss that is narrower both sequentially and year-over-year. But that consensus per-share net loss estimate has widened by two cents in the past 60 days. Revenue is expected to have jumped almost 33 percent, relative to a year ago.
The Company
SunEdison is a manufacturer of silicon wafers and solar PV modules, and it owns and operates power plants in North America, providing solar-generated energy to commercial, government and utility customers. The company was formerly known as MEMC Electronic Materials
The company was founded in 1984, and its headquarters are in St. Peters, Missouri. SunEdison has a market capitalization of more than $5 billion. Ahmad R. Chatila has been president and chief executive officer of the company since March 2009.
Competitors include First Solar and SolarCity. The former just reported that its profit almost doubled, and it raised its full-year guidance. The latter is expected to say Wednesday that its net loss widened, but that revenues surged around 78 percent, relative to the same period of last year.
During the three months that ended in March, SunEdison shuttered a facility in Italy, announced the completion of a plant near Tucson, closed a financing deal with Deutsche Bank, unveiled a $50 million solar partnership for California and announced that it completed a plant that provides power to San Diego.
See also: Axiom Capital's Gordon Johnson Discusses Solar Stocks, U.S. Steel
Performance
SunEdison has a long-term earnings per share growth forecast of about 15 percent and its forward earnings multiple is greater than that of First Solar. Note that SunEdison's operating margin and return on equity are both in negative territory. And the company does not offer a dividend.
The number of SunEdison shares sold short, as of the most recent settlement date, represents more than 21 percent of the float. Short interest is higher than it has been in the past year, more than twice the number of shares short at the end of 2013. It would take more than four days to close out all of the short positions.
All 12 analysts surveyed by Thomson/First Call who follow the stock recommend buying shares, with four of them rating the stock at Strong Buy. The analysts' mean price target, or where they expect the stock to go, is about 19 percent higher the current share price and would be a new multiyear high.
At the time of this writing, the share price is more than 45 percent higher year to date, as well as up more than 286 percent from a year ago. Over the past six months, SunEdison has outperformed not only the competitors mentioned above, but the S&P 500 and the Dow Jones Industrial Average as well.
At the time of this writing, the author had no position in the mentioned equities.
Keep up with all the latest breaking news and trading ideas by following us on Twitter.
Posted-In: First Solar SolarCity SunEdisonEarnings News Previews Trading Ideas Best of Benzinga
View Comments and Join the Discussion!