Caterpillar Earnings Preview: Looking For A Turnaround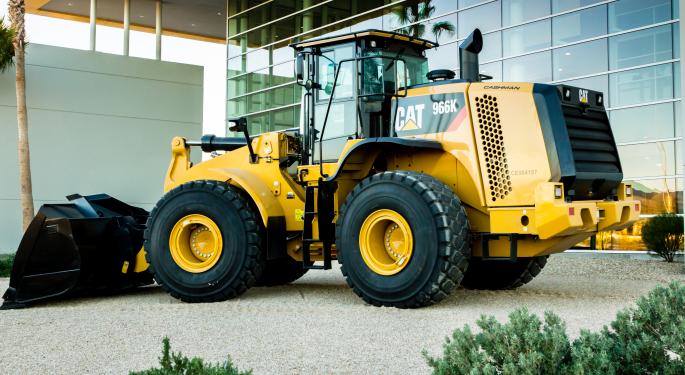 Heavy equipment maker Caterpillar (NYSE: CAT) -- which just announced that its CEO's compensation was slashed due to the stock's underperformance last year -- is scheduled to report its first-quarter 2014 results on Thursday, April 24, before the markets open.
Investors will be watching for signs that the company's long-suffering mining business has bottomed, as at least one analyst has suggested, and that cost cutting efforts have paid off. There is also the question of how much Caterpillar may have been affected by inclement weather in the first quarter.
See also: Morgan Stanley Feels Cautious on Caterpillar Ahead of 1Q14 Earnings
Expectations
Analysts on average predict that Caterpillar will report its revenue for the quarter was essentially flat year-over-year, coming in at $13.24 billion. Earnings of $1.24 per share are also in the consensus forecast. That would be down from a reported profit of $1.31 per share in the comparable period of last year.
That consensus earnings per share (EPS) estimate slipped by two cents in the past 60 days. Note as well that analysts have overestimated Caterpillar's EPS in three of the previous four quarters by as much as 14.7 percent. But its beat in the fourth quarter was by 30 cents, or more than 23 percent.
In the fourth-quarter report, management warned of further reductions in capital expenditures among mining companies in 2014. It also announced a new $10 billion stock repurchasing program. The share price rose less than three percent in the days following the report.
Looking ahead to the current quarter, the forecast currently calls for sequential and year-over-year growth of EPS, though that consensus EPS estimate has also dropped two cents in the past 60 days. Revenue is expected to have slipped marginally, relative to a year ago.
The Company
Caterpillar is a manufacturer of construction and mining equipment, diesel and natural gas engines, industrial gas turbines and diesel-electric locomotives worldwide. It also offers retail and wholesale financing for its products, as well as insurance brokerage services.
The company was founded in 1925, and its headquarters are in Peoria, Illinois. Caterpillar is a component of the S&P 500 and the Dow Jones Industrial Average, and it now has a market capitalization of more than $66 billion. Doug Oberhelman has been chief executive officer of the company since July 2010 and chairman of the board since November 2010.
Competitors include Deere and Joy Global, which are both are expected to report a year-over-year decline in earnings and revenues for the current quarter ending in April. Analysts have tended to overestimate quarterly earnings for both companies as well.
During the three months that ended in March, Caterpillar maintained its quarterly dividend rate, renamed its Power Systems segment to Energy & Transportation and announced the completion of is $7.5 million share buyback program. And one contrarian analyst predicted 50 percent upside in its shares in 18 months.
See also: Barclays Sees 50% Upside for Caterpillar
Performance
Caterpillar has a long-term earnings per share growth forecast of more than 13 percent and a price-to-earnings (P/E) ratio less than the industry average. Its operating margin is in line with the industry average, and it has a return on equity of more than 20 percent. The dividend yield is near 2.3 percent.
The number of Caterpillar shares sold short, as of the most recent settlement date, represents about four percent of the total float. Short interest has been dwindling since mid-February. It would take more than four days to close out all of the short positions.
Ten of the 25 analysts surveyed by Thomson/First Call who follow the stock recommend buying shares. None of them recommend selling. The analysts' mean price target, or where they expect the stock to go, is less than the current share price, meaning they see no upside potential at this time.
The share price reached a new 52-week high on Monday, after climbing more than 14 percent since the beginning of the year. Over the past six months, Caterpillar has outperformed not only the competitors mentioned above, but the S&P 500 and the Dow Jones Industrial Average as well.
At the time of this writing, the author had no position in the mentioned equities.
Keep up with all the latest breaking news and trading ideas by following us on Twitter.
Posted-In: Caterpillar Deere Doug Oberhelman joy globalEarnings News Previews Trading Ideas Best of Benzinga
View Comments and Join the Discussion!