Analysts React to LinkedIn's Positive Quarter and Lowered Guidance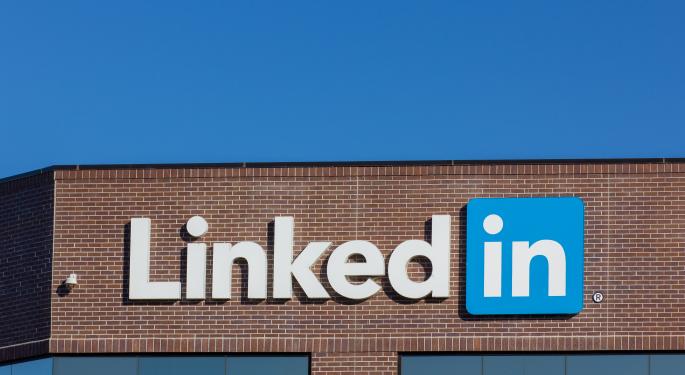 After the closing bell on Thursday, LinkedIn (NYSE: LNKD) reported its fourth quarter results.
The company announced an EPS of $0.39, beating the consensus estimate of $0.38. Revenue of $447.2 million beat the consensus estimate $438.28 million. Net income for the quarter fell from $11.5 million in 2012 to $3.8 million. Adjusted EBITDA for the quarter rose from $78.6 million in 2012 to $111.4 million.
LinkedIn issued first quarter guidance and sees its revenue to be $455 million to $460 million -- with its full year 2014 revenue to be $2.02 billion to $2.05 billion, below the consensus estimates of $470.3 million and $2.16 billion, respectively.
"Solid fourth quarter performance capped another successful year where improvements in scale and relevance across our platform led to strong member engagement," said Jeff Weiner, CEO of LinkedIn, in a press release. "Moving forward, we are investing significantly in a focused number of long-term initiatives that will allow us to realize our vision to create economic opportunity for every member of the global workforce."
During LinkedIn's conference call, management cited ComScore data that showed its site traffic fell in the quarter. Unique visitors dropped by three million from the third quarter to total 139 million. Page views of 10.6 billion in the quarter was one billion less than it recorded in the third quarter.
Morgan Stanley: In it for the Long-Term
Scott Devitt, analyst at Morgan Stanley, said LinkedIn reported strong fourth quarter results and recognizes the long-term picture the company is trying to paint, despite a conservative guidance.
"Despite this conservatism, we see significant positive catalysts ahead of LinkedIn in 2014E from its Marketing Solutions turnaround (Sponsored Updates are ramping quickly) and an aggressive push in Sales Solutions (expected to become a "core component" of the business this year)," he said in a research note to clients.
Devitt holds a long-term bullish stance, and notes the company has many growth initiatives in the coming years. 
Related: Pandora Earnings: What the Analysts are Saying
"LinkedIn plans to invest aggressively in 2014E / 2015E starting with the ~$120MM acquisition of Bright, a company specializing in data-driven matching technology that can improve the relevancy of LinkedIn's candidate recommendations," he added.
"LinkedIn also plans on investing in its China expansion (mostly on the consumer side), data centers (a 2nd in 2014E followed by a 3rd in 2015E), Sales Solutions (significant R&D / sales HC increases), and increasing its share of customers' job postings to 50 percent."
Shares are Overweight rated with a price target of $250.
Bank of America: Solid Quarter, 2014 Growth a Question Mark
Justin Post, analyst at Bank of America said LinkedIn reported a strong quarter--  but thinks the company is facing a period where it could experience decelerating growth.
"The company continues to see strong user (31 percent) and user engagement growth, but internal page view growth decelerated to 48 percent from 72 percent in 3Q on tougher comps," said Post in a note to clients.
"Several new products have gained strong traction, with Endorsements surpassing 3bn and Sponsored Update customers over 2,000. Corporate solutions (LCS) customers were up 49 percent  y/y to 24.4K, but growth decelerated from 57 percent. We expect continued deceleration in 1Q, and possibly some stability in 2H'14."
Post holds a below-the-street revenue estimate of $2.08 billion, and lowered his EBITDA estimate to $508 million from $555 million. Post, however, sees the potential for strong EPS growth post 2015 and increased his 2015 revenue estimate to $2.66 billion from $2.63 billion.
Shares are Neutral rated with a price target lowered to $232 from a previous $240.
Wunderlich: Making the Right Investments for the Future
Blake Harper, analyst at Wunderlich Securities. said LinkedIn is making positive investments for long-term growth which will result in a continued upside.
"The company has been investing its capex in building its own data centers and 2014 should also see elevated levels around the mid-teens percentage of revenue," said Harper in a note to clients.
"The company is also planning to invest aggressively in R&D and Sales, as well invest in a dedicated Sales Navigator product, an enhanced mobile experience, and the Chinese market in 2014," he continued. "We expect the company to get a positive ROI from these investments, especially from its Sales Navigator and China potential."
Harper commented that LinkedIn's acquisition of Bright "makes strategic (sense) and should help LinkedIn move closer to building its economic graph while also acquiring a potential competitive threat. On the downside, the company has no revenues and should add ~$25 million in operating expenses in FY14, although the investment should ultimately be worth it."
Shares are Buy rated with a price target of $280.
Topeka: No Near-Term Catalyst
In a short but direct to the point note to clients, Victor Anthony, analyst at Topeka Capital Markets, said LinkedIn's guidance of 16 percent below consensus implies zero margin expansion.
"LinkedIn has effectively reset Street expectations, perhaps providing room for future beat and raise quarters," he noted.
Shares are Hold rated with a $230 price target.
FBN: Solid Quarter, Weak Guidance
Shebly Seyrafi, analyst at FBN Securities, said LinkedIn reported a nice revenue and EPS beat for the quarter, but that the lowered guidance is of concern.
LinkedIn "reported a nice revenue/EPS beat, but it is guiding FQ1 and F2014 results to be below consensus, and is guiding for Adjusted EBITDA margin to decline in F2014 to ~24.1 percent from 24.6 percent in F2013 (we had modeled Adjusted EBITDA margin to increase further to 27.8 percent in F2014.)," Seyrafi said in a note to clients. "The guided decline in EBITDA in FQ1 and in F2014 is due to the heavy investment that LNKD will undertake in F2014."
Shares are Outperform rated, with a price target lowered to $250 from a previous $275.
Posted-In: Bank of America Blake HarperEarnings News Guidance Analyst Ratings Tech Media Best of Benzinga
View Comments and Join the Discussion!