GM's Fourth-Quarter Earnings Disappoint, But Are Not The End Of The Story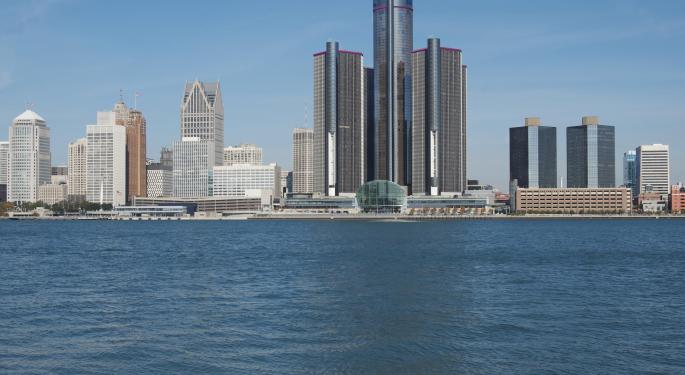 A mixed bag Thursday, for number-one U.S. automaker General Motors (NYSE: GM).
The company announced its fourth-quarter earnings rose 2 percent compared to the same time period last year. But its 2013 net calendar income dropped 22 percent compared to a year earlier, to $3.8 billion, disappointing investors.
GM said some of that downturn was due to the "exit" of its Chevrolet brand from Europe, and charges related to its ending manufacturing operations in Australia.
"Launches of some of the best vehicles in our history combined with significant improvements in our core business led to a solid year," new CEO Mary Barra said in a press statement. "The tough decisions made during the year will further strengthen our operations. We're now in execution mode and our sole focus will be on delivering results on a global basis."
Industry observers, meanwhile, remain optimistic about General Motor's prospects for 2014.
Related: Tesla Moves Into Top 5 Of Consumer Reports List Of Auto Brands
"GM seems to have stabilized in the past 12 months, not just in the U.S. but globally," Karl Brauer, a senior analyst at Kelley Blue Book, tells Benzinga.
"Transaction prices, sales and market share all indicate moderate growth except in Europe, where ongoing losses also appear to be stabilizing," he added.
Brauer notes the automaker's fourth quarter performance, while disappointing to some investors, reflects steady growth. And while average transaction prices and incentive spending were up in the fourth quarter, GM was still able to remain competitive in a very competitive market.
And another KBB senior analyst, Alec Gutierrez, says that staying power is testament to the strength of GM's redesigns and introductions on its popular Silverado, CTS and Impala brands.
"GM has been able to hold their own with top notch products in nearly every segment in which they compete," he said. "Cadillac is now viewed as a viable alternative to BMW and Mercedes while GM's portfolio of small cars are among the best in the business."
Gutierrez believes the company's biggest challenge in North America will remain production and incentives, "especially if industry sales volume falls short of expectations.
"Thus far, they have remained disciplined and have kept incentives in check for key models such as the new Silverado and Sierra," he continued, "despite pressure from their cross town rivals."
"GM remains focused on growing their business without sacrificing profitability," he added, "a good sign for investors."
Posted-In: Earnings News Eurozone Commodities Travel Economics Markets Media Best of Benzinga
View Comments and Join the Discussion!