Anheuser Busch Or Molson Coors: Which Is The Better Bet?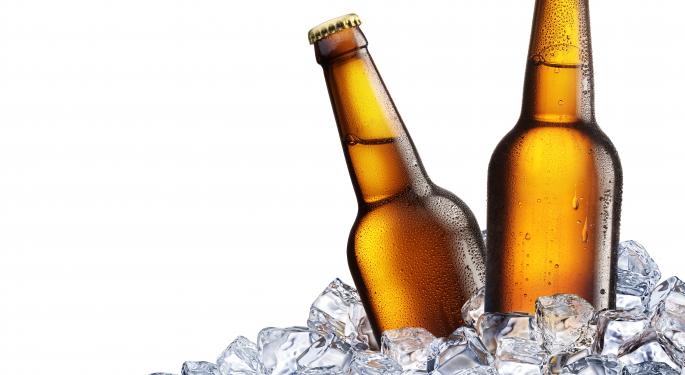 Beer is one of the oldest drinks known to man. Researchers have found evidence of the beverage as far back as the 5th millennium BC, in the regions of Egypt and Mesopotamia.
Americans also have a long and storied history with their beers, and it's no surprise many beer breweries are publicly traded companies. Let's take a look at a couple of the largest producers of beer consumed by Americans, Anheuser Busch Inbev (NYSE: BUD) and Molson Coors (NYSE: TAP).
Once one of the largest American owned beer breweries, Anheuser Busch is now owned by the Belgian-Brazilian multinational, Inbev.
2013 was a stellar year in the stock markets in general, and Anheuser Busch Inbev tried to benefit from the upward momentum. Starting 2013 at $89 per share, Anheuser Busch Inbev stock saw plenty of ups and downs throughout the year, but ended 2013 on a high note. Investors who stuck with the stock as it traded in the $85-$98 range for most of the year were rewarded with an end-of-year pop, with the stock closing 2013 at the yearly high of $106. This 19 percent gain was nice, but seriously lagged the markets as a whole.
Molson Coors is listed as being the world's seventh largest brewing company, and also includes a former American company gone multinational. Molson Coors began 2013 priced at $43 per share. Investors had plenty of opportunities to sell the stock at a 20 percent plus gain during the year, as the stock topped $53 per share several times in 2013. The stock was only able to make a sustained move to the upside of $53 in October.
The stock finished 2103 on a yearly high of $56, putting the yearly return at 30 percent. This was just ahead of the S&P and a few points ahead of the Dow.
The beer business is extremely competitive. This is doubtlessly one of the main factors which influenced two of America's most popular breweries to consolidate with foreign companies. But, as can be seen by the 2013 returns of Molson Coors as compared with those of Anheuser Busch Inbev, not all beer companies are made equal. The big brewers face numerous challenges in the near future, from the increasing popularity of "craft" beers, to possible fluctuations in the cost of commodities used to make beer. One positive, however, could be the U.S. and global economies. With a continuing recovery, even at an admittedly slow pace, consumers will find themselves with the disposable cash needed to buy the world's oldest intoxicating drink.
Posted-In: Earnings News Emerging Markets Commodities Restaurants Economics Markets Media Best of Benzinga
View Comments and Join the Discussion!