Halliburton Earnings Preview: Conditions Are Improving?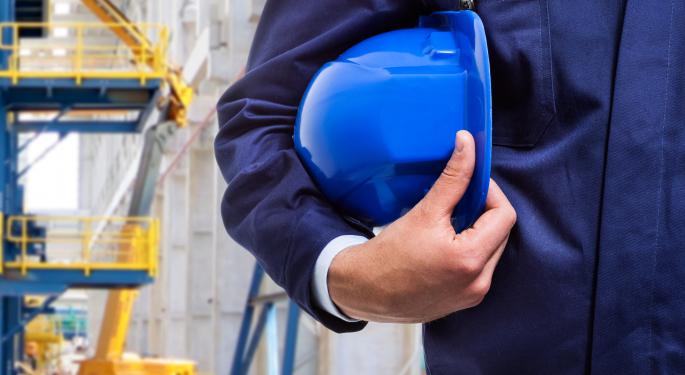 Halliburton (NYSE: HAL), the world's second largest oil field services firm and the world's largest provider of pressure pumping services used for fracking shale gas and oil wells, is scheduled to report its fourth-quarter and full-year 2013 results Tuesday, January 21, before the markets open.
Schlumberger recently reported a 22 percent increase in fourth-quarter net income and an eight percent gain in revenue, due in large part to strong results from operations outside North America. Investors will be looking for Halliburton to keep up with its larger rival. The improving conditions in the United States could benefit Halliburton more than it did Schlumberger.
See also: Oil And Gas Stock Outlook -- Jan. 2014
Expectations
Analysts on average predict that Halliburton will report that revenue for the quarter totaled $7.55 billion, which would be up less than four percent from the year-ago period. Earnings of $0.89 per share are also in the consensus forecast. That would be up from a reported profit of $0.83 per share in the previous quarter and $0.63 fourth quarter of last year.
Note that the consensus earnings per share (EPS) estimate has slipped in the past 60 days from $0.91. But Halliburton has not fallen short of consensus EPS estimates in the past four quarters. Back in the third quarter, EPS beat expectations by a penny.
"I am pleased with our third quarter results; total company revenue of $7.5 billion was a record quarter for Halliburton," the CEO said in the report. "Consistent with prior years, we expect the fourth quarter in the Eastern Hemisphere to be our strongest quarter of the year, due to seasonal year-end software and equipment sales, with margins in the high teens." The share price rose more than two percent following the third-quarter report.
The analysts' consensus full-year forecast calls for $3.19 per share earnings on revenue of $29.32 billion. That would be up from $2.99 per share and $28.50 billion in the previous year. That consensus EPS estimate has risen in the past 60 days from $3.12.
The Company
Halliburton provides a range of services and products to companies worldwide for the exploration, development and production of oil and natural gas. Its Completion and Production segment offers various production enhancement services. The Drilling and Evaluation segment offers drill bits and various services.
The company was founded in 1919, and its headquarters are in Houston. Halliburton is a component of the S&P 500, and it now has a market capitalization of about $43 billion. David J. Lesar has been chief executive officer and executive chairman of the company since August 2000.
Competitors include Baker Hughes and Schlumberger. The former is expected to report EPS about the same as a year ago but solid revenue growth when it shares fourth-quarter results this week. The latter is expected to report growth on the top and bottom lines for the current quarter.
During the three months that ended in December, Halliburton hiked its dividend by 20 percent and announced a replacement for its retiring general counsel. U.S. Supreme Court agreed to hear a Halliburton case that could dramatically change securities class action litigation.
See also: Halliburton Declares 20% Dividend Increase
Performance
Halliburton has a long-term earnings per share growth forecast of more than 22 percent and a price-to-earnings (P/E) ratio that is less than the industry average. Its operating margin also is less than the industry average, and it has a return on equity of less than 14 percent. The dividend yield is near 1.2 percent.
The number of Halliburton shares sold short, as of the December 31 settlement date, represents almost two percent of the float. Short interest has been shrinking since mid-November. It would take less than two days to close out all of the short positions.
For the past three months, the consensus recommendation of analysts surveyed by Thomson/First Call who follow the stock has been to buy shares. Eleven of the 31 analysts rate the stock at Strong Buy. The analysts' mean price target, or where they expect the stock to go, is about 22 percent higher than the current share price. That would be a new multiyear high.
The share price is more than three percent lower than 90 days ago, though it is still about 35 percent higher than a year ago. It is below the 50-day moving average. Over the past six months, Halliburton has outperformed Baker Hughes and the Dow Jones Industrial Average but narrowly underperformed Schlumberger.
At the time of this writing, the author had no position in the mentioned equities.
Keep up with all the latest breaking news and trading ideas by following us on Twitter.
Posted-In: Baker Hughes halliburton SchlumbergerEarnings News Previews Trading Ideas Best of Benzinga
View Comments and Join the Discussion!