Would You Invest in a Solar Power Utility?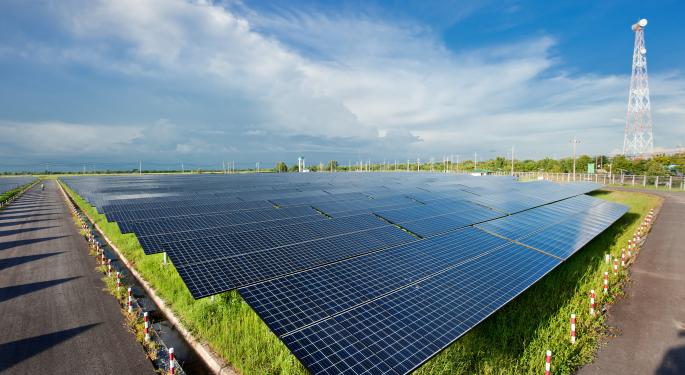 Here's something to consider, if you're looking at investment in alternative energy suppliers: Every four minutes in 2013, according to a Solar Energy Industry Association report, a solar energy project was installed on a U.S. rooftop.
Solar energy is still in its infancy, reportedly providing just two-tenths of one percent of the total energy consumed in the U.S. But solar power installations also reached a record high of 13 percent this year, compared to just five percent in 2008.
With all these new solar panels popping up on people's homes and businesses, there's been some pushback from traditional power utilities – who have seen their customber base diminish as a growing number of people get "off the grid."
Earlier this year, the Edison Electric Institute (EEI) – an assocation representing U.S. investor-owned electric companies – warned those firms of the financial risks they face from alternative energy's "disruptive challenges," including lower utiliity revenues, higher costs and "lower profitability protential, particularly over the long-term."
Related: China Lunar Probe Launches New Discussion Of Private Space Companies
But growing use of alternative energy, especially solar power, is also creating new investment opportunities.
The Dallas Business Journal recently took a look at Principal Solar (OTC: PSWW), a Texas-based group that is working to create the world's first solar utility. Principal Solar plans to begin acquiring large-scale solar farms in 2014 – and has asked Carlyle Capital Markets (CCMI) to guide its funding strategy.
"As we move our business activities into high gear and prepare for the acquisition of many solar projects, CCMI will provide the financial services necessary to build the capital structure required to fuel significant growth," Principal Solar (PSI) CEO Michael Gorton, said in a press statement. "PSI is building its business at a time when the bankability of solar has never been greater."
With Carlyle's backing, Principal Solar is reportedly looking to invest up to $100 million next year in solar utilities across the country.
"That's where we've got our eye, where we intend to do large scale utility projects," Dan Bedell, Principal's executive vice president of strategic and corporate development, told the Dallas Businesss Journal. "If we could do that tomorrow, we would do that tomorrow."
National Geographic, meanwhile, reports some traditional utilities want larger fees from solar powered homes – contending that solar power users aren't paying their fair share for access to the electric grid they must still use, as well as the long-term investments made towards upgrading that grid.
"It's not about lost revenue," David Owens, The EEI's executive vice president of business operations at the Edison Electric Institute (EEI), told the magazine. "We want to make sure the grid is maintained, that it can be enhanced, and that cost shifting does not occur."
View Comments and Join the Discussion!
Posted-In: Alternative Energy Caryle Capital MarketsEarnings News Guidance Economics Trading Ideas General Best of Benzinga