Market Wrap For November 13: Markets Await Janet Yellen's Big Day Thursday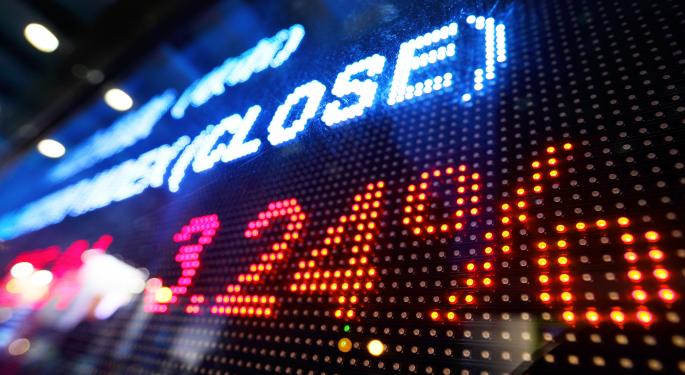 U.S. markets were mostly lower during Wednesday's trading session as details coming out of China's recent four-day meeting were iffy at best. The country's leaders recently convened to discuss its economic future.
Barclays economists were quoted as saying "While the [Plenum] communiqué may have disappointed some, it is normal practice for the post-event statement to cover only broad principles." A final document dubbed the "Decision Document" is due out next week.
Equities picked up in mid afternoon trading following rumors of a bullish statement within Janet Yellen's prepared confirmation speech. Yellen is prepared to testify at tomorrow's Senate confirmation hearing. Her prepared remarks that will be released this evening.
The Dow closed the day up 0.45 percent to 15,821.63.
The S&P 500 closed the day up 0.81 percent to 1,782.00.
The Nasdaq closed the day up 1.16 percent to 3,965.58.
Gold gained 0.11 percent to trade at $1,272.60 an ounce.
Crude oil gained 0.81 percent to trade at $93.79 a barrel.
Silver lost 1.23 percent to trade at $20.58 an ounce.
News Of Note
Applications for U.S home loans declined as the Mortgage Bankers Associations seasonally adjusted index of mortgage application activity fell 1.8 percent.
PIMCO's Bill Gross, never shy to express his feelings tweeted: Markets beginning to resemble a casino. If so, investors may be gambling. Some games better than others. Short-term bonds best.
As previously mentioned, and definitely worth a reminder, Janet Yellen will testify before the Senate Banking Committee tomorrow at 10:00AM EST.
Equities-Specific News of Note
Analysts at JPMorgan (NYSE: JPM) initiated Lululemon (NASDAQ: LULU) with an Overweight rating and $84 price target. Shares of the popular yoga pants designer closed the day up 3.03 percent at $68.98.
Qualcomm (NASDAQ: QCOM) received a boost today as its shares were re-added to Goldman Sachs (NYSE: GS) "Conviction-Buy List." Shares closed higher by 2.22 percent at $70.03.
Chinese giant PetroChina (NYSE: PTR) is increasing its footprint in Latin America with a $2.6 billion acquisition of the Peruvian oil and gas assets of Petrobas. (NYSE: PBR) Shares of PetroChina were unmoved by the news, declining by 0.43 percent to $110.58.
Starbucks (NASDAQ: SBUX) updated its fourth quarter GAAP results following its arbitration with Kraft Foods Global (NYSE: K) which resulted in a $2.12 loss. The change is a result of a $2.7 billion fine in relationship with Kraft. Shares of Starbucks, surprisingly, closed the day higher by 1.05 percent at $81.46.
Related: Starbucks Will Show Q4 Loss of $2.12 Billion Following $2.7 Billion Fine
U.S. Steel (NYSE: X) was upgraded to Overweight from Equal Weight at Morgan Stanley (NYSE: MS) with a price target of $35 and a "bull target" of $55. Shares closed the day closed higher by 2.15 percent to $27.60.
Gilford Securities is still a believer in the J.C. Penney (NYSE: JCP) story. The analysts are confident of a 10+ percent gain in comparable store sales during the company's fourth quarter. Shares of the retailer closed the day higher by 3.58 percent at $8.67
Shares of Crocs (NASDAQ: CROX) spiked higher by 9.76 percent to $13.89 after it was reported that the company is exploring strategic options why may include a sale to a private equity firm. Throughout the day several reports were circulating around trading desks suggesting a leveraged buyout offer could come in the $16 to $18 range.
IBM (NYSE: IBM) will acquire Fiberlink Communications, a company engaged in the mobile device management. Terms were not disclosed. Shares were little changed, up 0.26 percent for the day at $183.55.
Amazon.com has unveiled "WorkSpaces", a PC virtualization that offers business the ability to host virtual desktops on Amazon.com's cloud infrastructure. Shares of Amazon.com finished the day higher by 1.9 percent at $356.16. But the real story here is the immediate and large drop in Citrix Systems (NASDAQ: CTXS) following the news report. Citrix will see tremendous competition against the much larger Amazon.com. Shares of Citrix closed lower by 4.81 percent at $58.02.
The Food and Drug Administration has approved Pharmacyclics (NASDAQ: PCYC) ibrutinib therapy to combat forms of cancer. Shares of the pharmaceutical company rose 3.47 percent at $123.82.
Related: The U.S. Food and Drug Adminstration Approves Pharmacyclics Product For Treatment of Disease
Herbalife (NYSE: HLF) received a boost today as Bill Stiritiz, the company's fourth largest shareholder with a 5.2 percent stake indicated he would be willing to take part in an leveraged buyout offer. Shares rose 3.11 percent to $64.64.
OTR Global noted that Green Mountain Coffee Roasters (NASDAQ: GMCR) is losing market share in the K-cup segment at the expense of private label brands. Shares of Green Mountain finished the day higher by 1.42 percent at $60.67.
Related: OTR Global: Green Mountain Coffee Losing K-Cup Share
Facebook (NASDAQ: FB) has offered $3 billion to buy Snapchat. The 23 year old co-owner declined the offer stating he wants to focus on building the company's user base to command an even higher valuation in the future. Facebook closed the day up 4.52 percent to $48.71.
Noting the success of the Ford (NYSE: F) pickup truck line, Elon Musk hinted that pickup trucks might be part of Tesla's (NASDAQ: TSLA) future lineup. In unrelated news, three workers at a Tesla factory were injured in an "industrial accident." Shares of Tesla were unaffected, trading up 0.37 percent to $139.22 in after hours trading.
Winners Of Note
Shares of Extended Stay America, Inc. (NYSE: STAY) debuted this morning on the New York Stock Exchange. With an IPO priced at $20, shares gained 17.75 percent to close at $23.55.
Shares of Riverbed Technologies (NASDAQ: RVBD) spiked 8.48 percent closing at $19.07 after Bloomberg reported the company is working with Goldman Sachs for a possible sale.
Decliners of Note
Perry Ellis International (NASDAQ: PERY) plunged after the company announced preliminary third quarter revenue of $222 million versus a consensus of $235 million. Management also guided full year EPS in the $0.95 to $1.01 range, well below its prior views of $1.50 to $1.60. Shares closed the day losing 22.96 percent at $15.00
Earnings of Note
Due to time zone difference, Chinese based NQ Mobile (NYSE: NQ) released its much anticipated quarterly results. The company reported earnings per American Depository Share (ADS) of $0.28 in line with consensus estimates, while revenues of $54.2 million also came in above the consensus of $51.2 million. Shares of NQ Mobile finished the day down 8.81 percent at $13.05.
Premarket, Canadian Solar (NASDAQ: CSIQ) announced its third quarter results. Gross margin of 20.8 percent exceeded guidance of 18 to 20 percent, and was up from 12.8 percent a quarter. Shares closed the day higher by 13.35 percent to $32.00 and are up nearly 800 percent year to date.
Macy's (NYSE: M) surprised the market with a huge beat. EPS of $0.47 came in $0.08 higher than expected on $6.27 billion in revenue. Shares closed the day up 9.39 percent at $50.68.
Aftermarket, tech giant Cisco (NASDAQ: CSCO) reported $12.09 billion in revenue, short of the $12.34 billion expected. EPS came in at $0.53, above the estimated $0.51. The company also announced a $15 billion buyback program. Shares were trading lower by 2.8 percent at $23.30.
Posted-In: Bill Gross Janet YellenEarnings News Econ #s Economics After-Hours Center Reviews Best of Benzinga
View Comments and Join the Discussion!