Settle into These Hotel Stocks, as We Head into 2014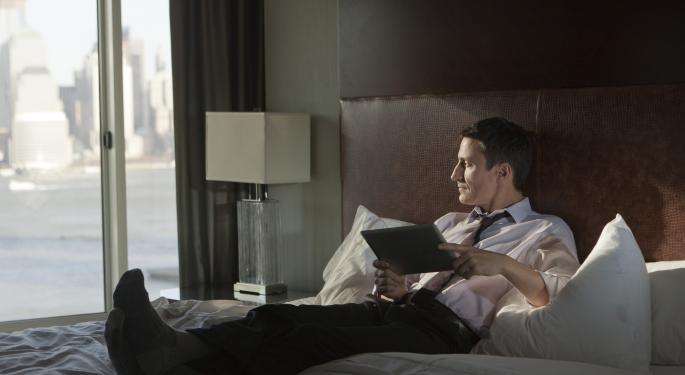 The travel industry in general has seen tremendous growth over the past few years in virtually all sectors. It's also expected to continue that growth in 2014.
Pricing and occupancy numbers for hotels went up almost four percent in 2012 and have risen nearly 4.5 percent so far this year. This means, in part, that hotel stocks are expected to be among the strongest performing stocks in the travel market  -- and the ones that hedge funds have been raving about for some time now.
The following are some of the hotel stocks that have become extremely popular with hedge funds, and that might deserve some serious consideration:
Hyatt Hotels (NYSE: H), In the year between October 2012 and October 2013 Hyatt has seen consistent growth in its stock price. The company's international operations in particular are expected to see growth in the upcoming year. Not only that but analysts expect that, over the course of the next five years, Hyatt's earnings-per-share will increase as much as 15 percent.
The company has built its cash-on-hand to almost $1 billion and there is no reason to believe that cash flow will not continue to grow during 2014.
Starwood Hotels & Resorts Worldwide (NYSE: HOT). As one of the largest and most prominent hotel companies in the world, Starwood recently saw its dividends increase by 150 percent, to yield stock at 2.4 percent. The company has made significant headway into the luxury market, which is expected to lead to greater levels of visitation and an increase in room rates.
Increased expansion into international markets is expected to fuel growth long-term, with more than 90 percent of Starwood's development occurring internationally.
InterContinental Hotels Group (NYSE: IHG). Even laypersons and rookie investors can surmise that InterContinental is often a strong bet; but heading into 2014 it should be given particular consideration. It trades at one of the lowest price earnings ratios in the entire market at 13x and its long-term growth in earnings-per-share is expected to hit 15 percent.
Marriott International (NYSE: MAR). Marriott's per-available-room revenue was almost 7 percent in 2012, up from 6.4 percent in 2011. The company opened 25,000 rooms heading into 2013 and leads the North American market in terms of exposure. Earnings per share in the last quarter of 2012 was $0.44, up from $0.29 the year before. 2013 saw steady growth in the company's stock price, which analysts expect to continue well into 2014.
Wyndham Worldwide (NYSE: WYN). Wyndham is another favorite among hedge funds. Revenue per available room was up 8 percent in 2013, a 2 percent increase over 2012 numbers. A weaker-than-expected European market caused vacation exchange revenue to slow down considerably, but the company's stock price was for the most part unaffected.
The long-term earnings growth rate is expected to reach 18 percent with attractive valuation. Uncertainty in the global hotel market, as in virtually all markets, has put pressure on these stocks -- which has led to lower travel numbers for both personal as well as business travel.
But global economic recovery and lower pricing across the board for hotels will likely mean a strong 2014 for entire hotel market in general and the stocks listed in this article in particular.
Posted-In: Earnings News Dividends Eurozone Travel Economics Markets Trading Ideas Best of Benzinga
View Comments and Join the Discussion!