Four Companies 'Back From The Dead' In Time For Halloween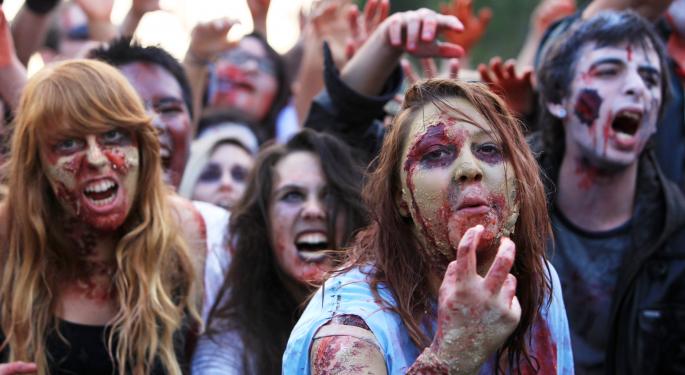 Halloween is only a few days away.
Maybe you're planning to dress up like Miley Cyrus, a Twinkie or a Wall Street banker, but in the spirit of zombies and all-things-undead, Virtual data room company, Firmex compiled a list of companies that have come back from the dead.
Here are a few of note:
Apple (NASDAQ: AAPL)
Apple didn't exactly wow the street with its earnings report Monday but it's basically flat in premarket trading early Tuesday—a win based on the run its had lately. Remember when Steve Jobs was forced out of the company and the company spent 12 years losing money? Jobs returned and made the company the largest in the world. A stock that IPOed at $22 per share is not a $520 stock.
eBay (NASDAQ: EBAY)
eBay's online auction model that made it an innovator in the tech space soon became commonplace. The stock fell from $59 in 2004 to $26 in 2008. It was looking like the next tech firm that would soon die at the hands of innovation. The company shifted its focus to fixed-price sales and created a more user friendly sales experience including one-click shopping. The stock is now trading near $52—near January 2006 levels.
Related: Apple Down 2% After Q4 Earnings Beat, 33.8 Million iPhones Sold
General Motors (NYSE: GM)
A victim of the financial crisis that began in 2008, General Motors filed for bankruptcy and was largely bought up by American taxpayers. As part of the reorganization process, the company said goodbye to brands like Pontiac and Hummer, created a new company culture, and re-emerged leaner and more efficient. It was a true horror story for taxpayers, though. The government sold shares for about $27.50. It needed around $53 to break even.
Netflix (NASDAQ: NFLX)
Billionaire investor Carl Icahn will brag about his more than 400 percent profit in this company as long as he lives. It hiked prices, tried to split its DVD by mail business into something called Qwikster, and was unable to pen licensing deals with major studio for its streaming service. The company was on death's door.
Nobody expected it to double down and pour a bunch of money into making its own content. That content is now taking major industry awards away from the studios that once turned the company down. A gain of 313 percent over the past year is definitely something to brag about.
Disclosure: At the time of this writing, Tim Parker was long Apple.
Posted-In: Apple eBay Inc General Motors HalloweenEarnings News Asset Sales Tech Best of Benzinga
View Comments and Join the Discussion!