Market Wrap For Thursday, October 10: Dow Leaps 323 Points On Potential Debt Deal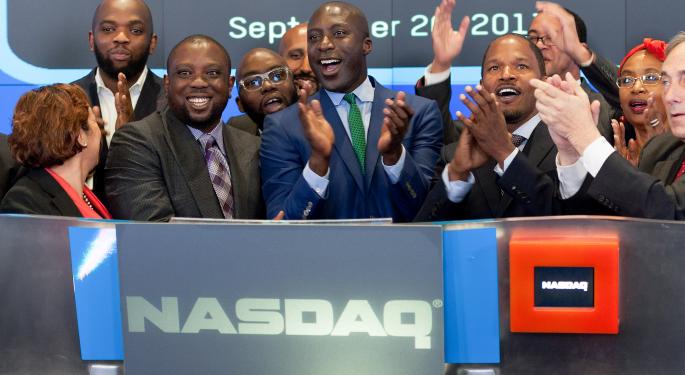 Markets leapt higher as investors anticipate an increase in the debt ceiling. President Obama is set to meet with Republicans this afternoon and Treasury Secretary Jack Lew recommended the increase.
Major Averages
The Dow Jones Industrial Average spiked 323.09 points, or 2.18 percent, to 15,126.07.
The S&P 500 climbed 36.16 points, or 2.18 percent, to 1,692.56.
The Nasdaq Composite gained 82.97 points, or 02.26 percent, to close at 3,760.75.
The Russell 3000 added 21.75 points, or 2.19 percent to finish at 1,016.01.
Jobless Claims
Continuous claims for the week ended September 14 came in as expected at 2.9 million, down from 2.92 million the week before. This correlates with low initial claims recently. However, initial jobless claims for the week ended October fifth were a whopping just 374,000 while economists were looking for 310,000.
Stock Movers
Vonage Holdings (NYSE: VG) was up early on in Thursday's session, gaining 16.07 percent to $3.54 after news broke that the company would acquire Vocalocity for $130 million.
Questcor Pharmaceuticals (NASDAQ: QCOR) shot up 9.18 percent to $59.62 after the company lifted its quarterly dividend by 20%.
Shares of Citrix Systems (NASDAQ: CTXS) dropped 11.87 percent to $58.75 after the company lowered its forecast for the third quarter.
Sears Holdings (NASDAQ: SHLD) fell 7.22 percent to $55.27 after a report came out that management turnover at the company is increasing.
Commodities
Crude oil moved jumped along with the equity markets Thursday. Near the close, WTI crude futures were up 1.24 percent to $102.87. Brent futures gained 2.55 percent to $111.84. Gasoline also had a big day, gaining 2.75 percent.
Conversely, precious metals took a hit Thursday. At last check, COMEX gold futures were down 1.11 percent to $1,292.70. Silver contracts dropped just 0.46 percent to $21.79.
Global Markets
Asian markets were mixed overnight. The Shanghai index fell 0.94 percent with Hong Kong's Hang Seng down 0.36 percent. Japan's volatile Nikkei moved up 1.12 percent on the day.
European markets recorded big gains on the day. The Euro Stoxx index, which tracks 50 euro zone blue chips rose 2.23 percent percent. London's FTSE jumped 1.46 percent, and France's CAC added 2.21 percent.
Currencies
The U.S. dollar was higher on the day, on news that the government shutdown is coming to an end. Near the close of equity trading, the PowerShares ETF (NYSE: UUP) that tracks the performance of the dollar versus a basket of foreign currencies, was up 0.18 percent to $21.70.
The EUR/USD pair was almost unchanged Thursday and still sits near its one year high at $1.3536. Other big movers included the USD/JPY, which rose 0.87 percent after bouncing higher near August's low.
Volume and Volatility
Volume was heavy Thursday, adding conviction to the move. 173 million shares of the SPDR S&P 500 ETF (NYSE: SPY) traded hands, compared to the three month average of 127 million.
After approaching the 52-week high, the VIX has once again pulled back. The CBOE measure of S&P 500 volatility was down 16.07 percent to 16.45.
Posted-In: Earnings News Guidance Emerging Markets Eurozone Futures Commodities Forex Best of Benzinga
View Comments and Join the Discussion!