Starbucks Squeezing its Way into a Larger Market Share of the Fresh Juice Craze (SBUX)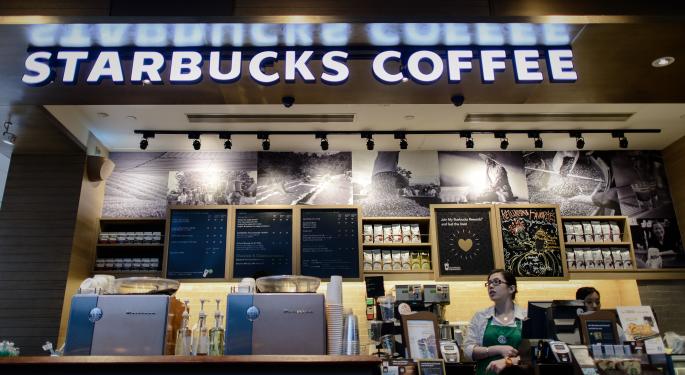 Coffee giant Starbucks (NASDAQ: SBUX) has never been shy about keeping a spare finger on the public's pulse.
The company's been quick to capitalize on the current government shutdown. President CEO Howard Schultz announced that, for part of this week, when a Starbucks customer buys someone else their favorite beverage, the company will give that customer a free tall coffee in return.
The campaign, he said, is to help people support and connect with each other, "even as we wait for our elected officials to do the same for our country."
And Starbucks is tapping into another trend that's apparently on many consumer's minds – a growing interest in fresh juice beverages.The company notes the shift by many customers away from old-school colas and carbonated soft drinks to supposedly healthier fresh juice drinks has evolved into a $1.6 billion business.
The Los Angeles Times, meanwhile, quotes data from the IBISWorld research group; that the overall juice industry, worth nearly $23 billion, has grown on average by 4.3 percent over the past five years – with the market expected to rise by another 6.8 percent yearly for the next five years.
On Wednesday, Starbucks officially opened its new, $70 million, 264,000 square foot "juicery" outside of Los Angeles – which will allow the company to dramatically increase production of its Evolution Fresh beverages. A company press release notes that, since acquiring Evolution Fresh in late 2011, the brand has "exceeded its aggressive growth plans to be in more than 8,000 Starbucks and grocery retailers by the end of calendar year 2013."
And while nutritionists and organizations like the Mayo Clinic may dispute claims of greater health benefits from juicing fruits and vegetables, consumers apparently like what they're drinking.
The fresh juice trend is also making its way across the wide spectrum of retail demographics. As you might expect, Whole Foods Markets (NASDAQ: WFM) has juice bars at many of its locations. But last year, Dunkin' Brands (NASDAQ: DNKN) announced a partnership with Coca-Cola (NYSE: KO) to make the beverage giant's juice products – along with other soft drinks and energy drinks – available at its restaurants. And earlier this year Dunkin' Brands launched its own line of "not-from-concentrate orange juice" at its chain stores.
Business is also good, apparently, for stand-alone juice companies, On Monday, Jamba Juice (NASDAQ: JMBA) announced its "express smoothie units" are now open in over 1,000 food courts across the country – bringing its expansion to over 1,800 units. The company also expects its international market to grow from the current four countries to up to nine by the end of 2015.
View Comments and Join the Discussion!
Posted-In: Earnings News Commodities Movers & Shakers Retail Sales Restaurants Markets Press Releases Best of Benzinga