Blackberry Is Following the Path of Another Now-Extinct Device Maker (BBRY)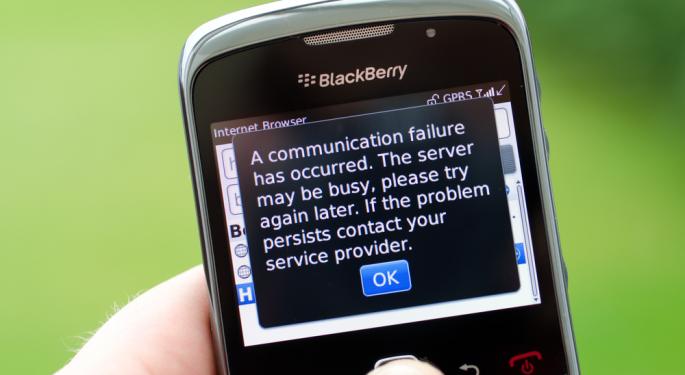 If history is any guide, the end is likely near for Blackberry (NASDAQ: BBRY)>
On Friday, the company announced what was already floating around the Wall Street rumor mill. Blackberry is laying off 40 percent or about one-third of its workforce.
Even worse, it pre-announced that it expects to announce losses of nearly $1 billion due to write downs and other factors. That equates to a loss of around 51 cents per share—much worse than analyst expectations of a 15 cents per share loss excluding items. While this isn't an apples-to-apples comparison but still represents what could be the final blow to a company struggling to survive.
Related: Blackberry Workforce May Be Cut Up to 40 Percent
That nearly $1 billion in write downs is mostly excess inventory of its model-10 phones which were supposed to be what saved the company's consumer business. An estimated 3 million are reportedly sitting in inventory and during the second quarter, the company will likely sell about 3.7 million of the phones. Apple (NASDAQ: AAPL), by comparison, likely sold five to six million iPhones over the past weekend.
In yet another round of restructuring, Blackberry will exit its consumer segment and focus on its enterprise offerings but this isn't likely to save the company, according to analysts.
BGC Partners' Collin Gillis said, "What do you expect when you announce you're up for sale? Who wants to commit to a platform that could possibly be shut down?"
Although not nearly as fierce as the consumer cellphone market, the enterprise market has formidable opponents as well—largely, the customers it caters to.
As more companies adopt a bring-your-own-device model, the devices employees are bringing to work are Apple and Samsung (OTC: SSNLF) phones. There's no reason for corporate IT departments to adopt a dying platform—especially one that is actively trying to sell itself (with very little luck so far.)
The Eerie Parallel
In its heyday, another Canadian based device maker had the highest market cap of any company on the Toronto Stock Exchange—just like Blackberry. It was the premier manufacturer of its day but as the market changed, it fell out of favor—just like Blackberry.
In response, it restructured multiple times and, at one point, laid off about one-third of its work force before filing for bankruptcy and ceasing operations as pieces and parts of the company were sold off. That company was Nortel.
There are very few reasons to be long Blackberry right now unless you believe that it will find a buyer willing to pay a hefty premium over its current stock price—now more than 20 percent lower following Friday's news.
Disclosure: At the time of this writing, Tim Parker was long Apple.
Posted-In: Apple Blackberry Collin Gillis iPhone SamsungEarnings News Tech Best of Benzinga
View Comments and Join the Discussion!