Earnings Expectations For The Week Of August 12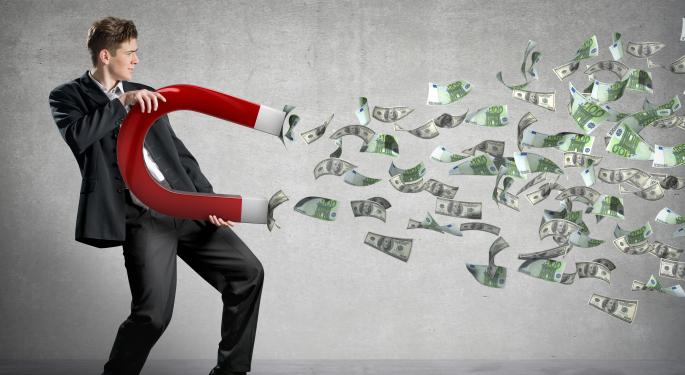 After a quiet start to the week on the earnings front, the big retailers begin to share their second-quarter results.
First up, Wal-Mart (NYSE: WMT), Macy's (NYSE: M), Nordstrom (NYSE: JWN) and Kohl's (NYSE: KSS). More big retailers are on deck the following week.
This week's highlights also include reports from Cisco Systems (NASDAQ: CSCO) and Deere (NYSE: DE). Here is a quick look at what analysts are expecting from these earnings reports.
See also: Weekly Preview: Earnings Season Wanes As Economic Data Comes Into Focus
Cisco Systems
This networking and communications company is expected to say that earnings came to $0.51 per share for its four quarter of fiscal 2013.That would be up from $0.47 per share in the year-ago period. Revenues for the quarter are estimated to be about six percent higher to $12.41 billion.
The full-year forecast calls for earnings of $2.01 per share on revenue of $48.61 billion, up from $1.85 per share and $46.06 billion in the previous fiscal year. Note that the consensus EPS estimate has risen over the past 90 days from $1.99. Look for the earnings report Wednesday afternoon.
Deere & Co.
In its report before the markets open Wednesday, Deere is expected to post fiscal third-quarter earnings that were more than eight percent higher than in the year-ago period to $2.17 per share. That consensus estimate has ticked up by a penny in the past 60 days. However, Deere fell short of EPS expectations in two of the past four quarters.
Revenues this leading global manufacturer of agricultural equipment are predicted to total $9.28 billion for the most recent quarter. That would be almost four percent higher than in the same period a year ago. Analysts so far expect revenue for the current quarter to be flat year-over-year.
Kohl's
Second-quarter earnings from this department store operator are forecast to come to $1.05 per share in Thursday morning's report. That would be up from $1.00 per share in the year-ago period. Earnings results were better than expected in the previous four periods.
The revenue forecast for the second quarter calls for marginal year-over-year growth to $4.3 billion. So far, both revenue and EPS for the current quarter are expected to be nominally higher year-over-year.
Macy's
Second-quarter 2013 earnings from this Cincinnati-based retailer are expected to be $0.79 per share, on revenues of $6.28 billion. In the same quarter of the previous year, the operator of Macy's and Bloomingdale's stores beat consensus EPS estimates when it posted $0.67 and sales of $6.12 billion.
The consensus EPS forecast has remained steady over the past 60 days. Note that earnings have exceeded consensus estimates in the past eight quarters; the beat in the first quarter was by less than four percent. Look for the earnings report early Wednesday.
Nordstrom
In its Thursday afternoon report, this upscale fashion retailer is expected to say that its second-quarter EPS grew from $0.75 a year ago to $0.88. That consensus estimate is the same as it was 60 days ago, but per-share earnings fell short of consensus estimates by almost four percent in the previous quarter.
Revenues from this Seattle-based company are forecast to total $3.29 billion for the most recent quarter. That would be up more than nine percent year-over-year. So far, revenue is predicted to have increased almost five percent in the current quarter and to be up more than five percent for the full year.
Wal-Mart
Analysts predict the largest retailer in the world will report Thursday before the opening bell that for its second quarter it had $1.25 EPS and $118.67 billion in revenue. In the same period of the previous year, it posted $1.18 per share, while revenue totaled $114.30 billion.
Wal-Mart missed consensus EPS expectations in first quarter, ending a streak of four beats. Yet, the consensus EPS estimate has not changed in the past 60 days. For the current quarter, the forecast so far calls for year-over-year EPS growth of more than seven percent and more than four percent revenue growth.
See also: Four Stocks That Could Help Recoup Your Back-To-School Losses
And Others
Others predicted to report year-over-year earnings growth this week include Estee Lauder (NYSE: EL), NetApp (NASDAQ: NTAP) and Perrigo (NYSE: PRGO).
The consensus forecast for Sysco (NYSE: SYY) has EPS about the same as a year ago.
But earnings declines are expected from Agilent Technologies (NASDAQ: A), Applied Materials (NASDAQ: AMAT), JDS Uniphase (NASDAQ: JDSU) and Silver Wheaton (NYSE: SLW).
View Comments and Join the Discussion!
Posted-In: Agilent Technologies applied materials Cisco Systems DeereEarnings News Previews Trading Ideas Best of Benzinga