Merger Speculation Increases For Both Dish And Charter Following Losses (CHTR, DISH)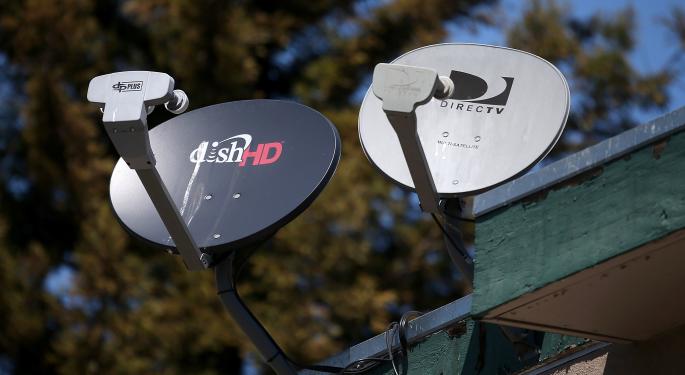 Nothing ramps up merger speculation faster than a poor quarter. Dish Network (NYSE: DISH) and Charter Communications (NASDAQ: CHTR) both reported second-quarter losses Tuesday which Bloomberg said resulted in renewed Wall Street chatter about possible mergers in both companies' futures.
In both cases, lower than expected earnings came, in part, from a combination of losing customers and higher programming costs, problems many believe that mergers might help solve.
In terms of a potential merger, Dish, the third-largest American pay television company, is most often linked to DirecTV (NASDAQ: DTV) which happens to be the second largest, according to Jaison Blair, an analyst with Telsey Advisory Group.
Related: Sprint Beats Out Dish for Clearwire Spectrum
DISH and DirecTV, in fact, did try to merge in 2002 but regulators nixed the deal. Dish CEO, Charles Ergen responded by saying that the industry was "materially different than the last time we tried to merge," during Tuesday's earnings conference call.
Bloomberg noted that Ergen was referencing the addition of new players in the space. They included AT&T (NYSE: T)'s U-verse and Verizon Communications (NYSE: VZ)'s FiOS. Online providers such as Netflix (NASDAQ: NFLX) and Hulu LLC, which is jointly owned by Comcast (NASDAQ: CMCSA), Twenty-First Century Fox (NASDAQ: FOXA), and The Walt Disney Co. (NYSE: DIS), have also played a role.
DirecTV CEO, Mike White seemed amicable to renewed merger talks saying, "Further industry consolidation does make sense to help address what I think are unsustainable cost increases for the average customer."
Charter, the eighth largest pay-tv provider, is seeking a possible merger with a larger cable company, sources told Bloomberg. Liberty Media (NYSE: LMCA), which owns 27 percent of Charter, Bloomberg said, is pushing for a union with Time Warner Cable (NYSE: TWC) or privately owned Cox Communications.
Charter CEO, Tom Rutledge was less enthusiastic but still open to a merger saying, in Tuesday's earnings call, "In terms of timing of M&A, I think Charter can be extremely successful without it and potentially with the right deal be even more successful."
In their respective quarterly earnings reports, Dish posted a net loss of $11 million or two cents a share. Charter's loss was $96 million or 96 cents a share, up from 84 cents a share a year ago.
In early trading Tuesday, shares of Dish were down slightly at $44.77. Charter was down $1.57 or 1.2 percent at $125.48.
At the time of this writing, Jim Probasco had no position in any mentioned securities.
View Comments and Join the Discussion!
Posted-In: AT&T Inc. Charles Ergen Charter Communications Inc. Comcast CorpEarnings M&A News Media Best of Benzinga