It's Official: 'The Lone Ranger' Was A Flop (DIS)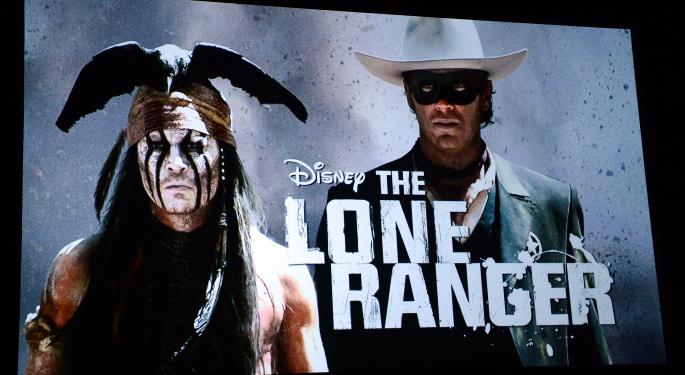 Disney (NYSE: DIS) is trading lower at the beginning of the trading day Wednesday after investors show mild disappointment in its earnings release but looking at it as a whole, it looks pretty good until you make your way to the studio section.
Studio revenue was down but more important, The Lone Ranger is now officially a flop, and Disney will pay for it next quarter.
According to the release, The company reported second quarter EPS of $1.03 versus the estimated $1.01, beating by $0.02 for a two percent increase year over year. Revenue was light at $11.58 billion versus consensus of $11.64 billion but sales were up 4 percent year over year.
Free cash flow was up 27 percent, cash provided by operations, up 18 percent and net income grew by one percent—all good metrics until you take a look at the studio line. Revenue decreased two percent year over year and operating income fell 36 percent.
The reason? The performance of Marvel's Iron Man 3 and Monsters University this quarter versus Marvel's The Avengers and Brave in the same quarter last year. In other words, "people liked our movies better last year." The company also mentioned marketing costs for The Lone Ranger that were charged this quarter.
Read: 'Despicable Me 2' Flourished While 'The Lone Ranger' Flopped Over the July 4 Weekend
But later, during the conference call, Jay Rasulo, Senior Executive Vice President and Chief Financial Officer, said,
"Needless to say we're disappointed with the performance of The Lone Ranger and in light of the film's box office results we expect to incur loss on the film in Q4 of between $160 million and $190 million."
The film cost $250 million to make but has grossed only $177 million worldwide, according to the Los Angeles Times. It has only opened in 40 percent of international markets bringing in a disappointing $86.9 million internationally.
Why did the film fail? If you ask Johnny Depp, it's the critics' fault.
Depp said, "I think the reviews were written 7-8 months before we released the film."
Co-star Armie Hammer, in the same interview, said, "[Critics] jumped on the bandwagon to try and bash it."
But others just thought it was a bad movie. Among the many twitter rants,
An open letter about film critics to the makers of 'The Lone Ranger' http://t.co/VBaRBmGe2T via @HitFix

— Drew McWeeny (@DrewAtHitFix) August 7, 2013
Disclosure: At the time of this writing, Tim Parker had no position in the mentioned equities.
Posted-In: Armie Hammer disney Iron Man 3 Jay Rasulo Johnny DeppEarnings News Media Best of Benzinga
View Comments and Join the Discussion!