A Look Ahead: This Week's ETFs to Watch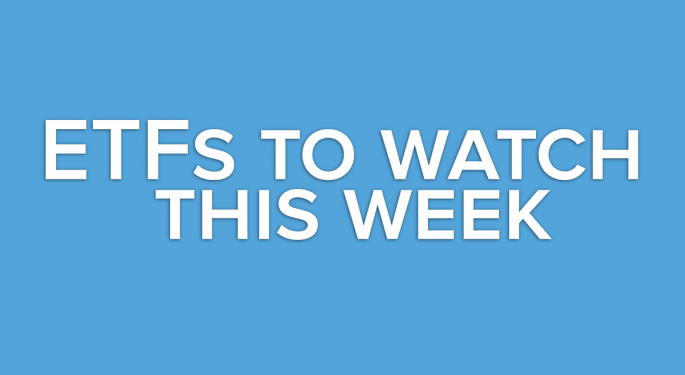 When all was said and done last week, the S&P 500 finished a solid weekly gain of about 1.1 percent, helping stocks get off to a strong start in August.
That is significant because August is not the best month to be long stocks and the first few trading days of the month are often particularly precarious for the bulls.
Even with stocks' recently sound performances, there is still plenty of cash on the sidelines. Data from TrimTabs indicate over $133 billion poured into savings accounts and money markets for the eight weeks ending July 22, according to Reuters.
As a testament to the soaring popularity of ETFs, July appears to have been one of the best months of terms of inflows on record for the industry. Of the $40.3 billion that went into equity funds last month, $31.6 billion went into U.S. equity ETFs compared to $8.7 billion for mutual funds, Reuters reported, citing TrimTabs.
Mutual funds continue to die an all-too-slow, though well deserved death, but that is a discussion for another day. These are a few of the ETFs investors need to keep an eye on this week.
Related: Biotech Mutual Funds Show ETFs Are The Place to Be.
iShares MSCI New Zealand Capped ETF (NYSE: ENZL)
At first glance, the inclusion of the iShares MSCI New Zealand Capped ETF on this week's list would appear unusual. However, it is easily explained. New Zealand has a milk powder problem. As in milk powder accounts for 15 percent of the export-dependent nation's exports and those exports are being turned away by key markets such as China and Russia due to contamination issues.
Issuer data prove ENZL is not heavily exposed to New Zealand's milk powder producers or the staples sector at all for that matter. That may not matter much. After all, we are talking about 15 percent of a country's exports being, at least for the moment, imperiled. That should crimp ENZL's style in the near-term. The ETF is up 4.1 percent in the past month.
ProShares UltraShort Australian Dollar ETF (NYSE: CROC)
Like ENZL, the ProShares UltraShort Australian Dollar ETF may appear to be an unusual choice for this week's list. In reality it is not. While strong U.S. economic is seen as supportive for the Australian dollar, there is no getting around the fact that recent data out of Australia and China has been mediocre at best.
China is Australia's largest trading partner and it is no coincidence that declining Chinese data has lead to a tumbling Aussie. Equally as important for those looking to give CROC a whirl is that inflation down under is benign, giving the Reserve Bank of Australia room to further lower interest rates. Oh yeah, RBA meets this week and bets are rising among forex traders that another rate cut is in the offing.
PowerShares NASDAQ Internet Portfolio (NASDAQ: PNQI)
The PowerShares NASDAQ Internet Portfolio has not lacked for attention in recent weeks as Internet stocks have simply been on fire.
The ETF will be in the spotlight again this week because constituent Priceline.com (NASDAQ: PCLN) reports earnings Thursday. Priceline ties with Amazon.com (NASDAQ: AMZN) to be PNQI's second-largest holding with a weight of 7.87 percent.
For more on ETFs, click here.
View Comments and Join the Discussion!
Posted-In: Sector ETFs Broad U.S. Equity ETFs Specialty ETFs New ETFs Emerging Market ETFs Currency ETFs Previews Forex Best of Benzinga