Are Hot Dogs Losing Popularity as a July 4 Favorite?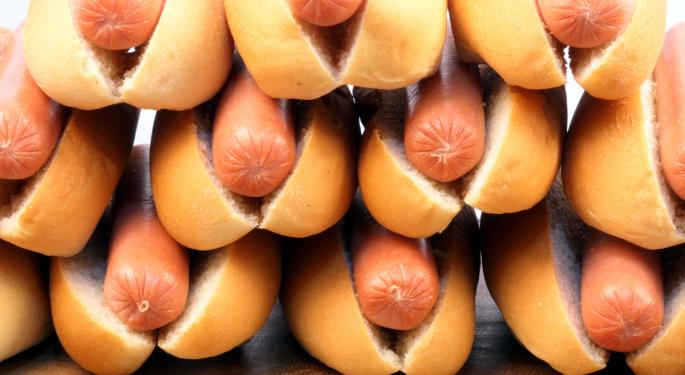 It's Independence Day week and that means fireworks, family and cook-outs, but one July 4 staple is finding itself on fewer menus as consumer demand fades.
No longer are hot dogs and hamburgers like peanut butter and jelly. The hot dog is not the American classic of old. According to Bloomberg, Americans will eat about 150 million hot dogs but those numbers are on the decline. IRI, a Chicago based research firm, reported that sales fell three percent from 2011 to 2012 and early 2013 estimates are looking soft too.
Why the downturn? There are a lot of theories, but the most plausible include the declining American birthrate (hot dogs are most popular with children), the rising cost of raw materials (particularly beef) and the expanding popularity of other junk food favorites.
However, if you ask one company about the decline of the wiener, it's likely to ask, "What decline?"
That company is Nathan's Famous (NASDAQ: NATH). You might know it as the sponsor of the July 4 hot dog eating contest that brings people from around the world to compete and is televised on Disney's (NYSE: DIS) ESPN.
Nathan's Famous reported earnings last month that included EPS of $0.35 versus consensus of $0.25. That's 46 percent higher year over year. Revenue was $15 million versus consensus of $15.2 million, and it's gross margin was 36.3 percent—520 basis points higher, year over year.
The stock is up 53 percent in 2013 and 180 percent over the past two years. For traders, the chart has formed a tight wedge that is due to break out at any time and since the stock has been in an uptrend, the bias is towards a breakout to the upside.
Despite the bullish sentiment around Nathan's, the rest of the hot dog industry isn't what it once was. Still, however, it reigns supreme at sporting events where hot dogs come with your choice of just about any toping.
Then there are the small sampling of restaurants that serve as the Starbucks (NYSE: SBUX) of hot dogs. Artisanal restaurants like Bark, a Brooklyn restaurant where the dogs are slathered with "Bark Sauce." That would be an artery-clogging perfect storm of lard whipped with butter, according to Bloomberg.
What's on your grill this Independence Day? If you're like most, you'll likely pick up a package of hot dogs (hopefully the ones with real meat) but with each passing year, the hot dog is finding less love—unless it's from Nathan's.
Disclosure: At the time of this writing, Tim Parker had no position in the companies mentioned but still loves hot dogs.
Posted-In: Earnings News Retail Sales Events Economics Best of Benzinga
View Comments and Join the Discussion!