Ethanol Industry May Benefit as Farmers Make Up Lost Ground in Corn Fields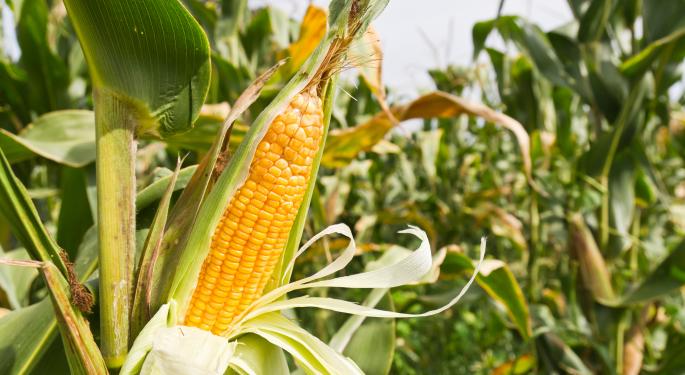 Until last week, only 15 percent of the corn crop in Iowa (the leading corn growing state in the nation) had been planted.
Then came a week of good weather. Iowa farmers responded by launching an invasion of farm machinery into their fertile fields. As of Sunday, 71 percent of the corn crop had been planted according to The Associated Press.
The same scene played out in all of the key grain states to the extent that the U.S. Department of Agriculture said in its weekly crop progress update that 71 percent of the corn crop had been sown in those states as well. This figure isn't far off from the 79 percent average farmers planted by this time over the past five years.
State by state, the numbers are impressive. In addition to the 71 percent of corn planted in Iowa, 75 percent of this year's seed has been sown in Illinois, along with 70 percent of the crop in Missouri, Kansas, and Minnesota.
Tuesday's Daily Livestock Report, commenting on the unprecedented planting of 43 percent of the anticipated corn crop in one week said, "When accounting for the increase in corn acres that are expected to be planted this year, (last week) is by far the biggest number of acres ever planted in a one-week window."
Last year 95 percent of the corn crop had been planted by now. However, last year featured a warm early spring. This year has not been nearly so favorable.
Farmers and commodity traders are not the only people paying attention to potential corn yields this year. Corn yields affect another industry in a big way. And that industry is ethanol.
Last year's drought conditions, lower corn yields, and resulting higher corn prices, along with generally moderate gasoline prices, made ethanol so expensive that producers cut back for the first time in 16 years according to Bloomberg.
As planting conditions improved this year, and the likelihood of a bumper corn crop increased, the doom and gloom surrounding ethanol has started to lift. More corn means lower prices per bushel. That translates to lower production costs and all of a sudden, ethanol is competitive again.
All good news indeed to companies like Archer Daniels Midland (NYSE: ADM), the nation's number-one ethanol producer. Revenue in the ethanol division of the company grew 7.7 percent year over year.
Another beneficiary is Valero Energy (NYSE: VLO). Valero is number-three in ethanol production with a 1.2-billion gallon annual capacity and reported gross margins of $0.42 per gallon in Q1 2013, compared with $0.34 per gallon in the same period last year.
Combined, Archer Daniels Midland and Valero are the two largest publicly traded ethanol producers in the country.
As of this writing, Jim Probasco had no position in any mentioned securities.
View Comments and Join the Discussion!
Posted-In: Earnings News Commodities Topics Events Markets Media General Best of Benzinga