Upfront Network Television Advertising Rate Hikes Could Be Better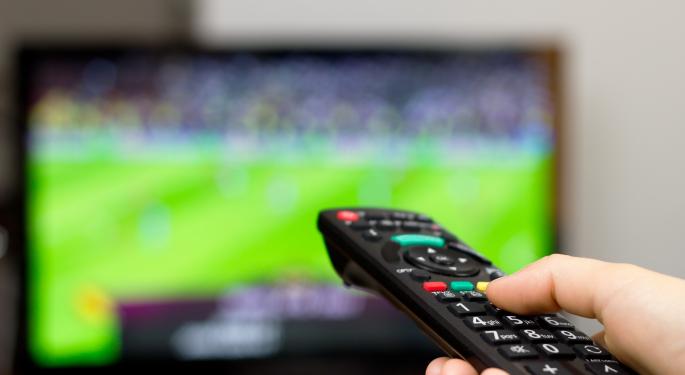 The good news is that U.S. television broadcast networks, namely The Walt Disney Co.'s (NYSE: DIS) ABC, CBS (NYSE: CBS), News Corp.'s (NASDAQ: NWSA) Fox, and Comcast's (NASDAQ: CMCSA) NBC, can expect advertising rate hikes of about six percent this week during the start of the important "upfront" selling season. The bad news is those rate hikes could be better, much better.
Reuters reported that upfront ad rates increased 7.5 percent in 2012 and a whopping 11.1 percent in 2011. The reason for the "good but not great" anticipated rate hikes for this year? Competition.
The competition comes from streaming services like Netflix (NASDAQ: NFLX), zombie-themed shows such as AMC Networks Inc. (NASDAQ: AMCX) The Walking Dead, and reality shows like the one on Hearst and Disney-owned A&E network about a bunch of hairy-faced guys in West Monroe, Louisiana, who sit around making duck calls all day. Yeah, those guys.
Upfronts week is when networks preview their fall schedules. The idea is to persuade advertisers to buy their ad space for upcoming shows in advance. Since networks still reach huge audiences – especially compared with cable - they continue to maintain a vice-like grip on ad prices. But, the grip is loosening.
Mark Fratrik, chief economist at media research company, BIA/Kelsey told Reuters, "For the networks, they probably feel very challenged that they have more competitors and are facing lower ratings."
Of the two main network competitors, cable and streaming video, cable is the most significant. AMC's, The Walking Dead, for example, averaged 10.7 million viewers this season. Those numbers best all but the top 12 on network TV.
Online video sites such as Hulu, jointly owned by NBC, Fox, and Disney, and Google Inc.'s (NASDAQ: GOOG) YouTube are also fighting for some of the same advertising dollars that traditionally went to network TV. Netflix's original show, House of Cards, is attracting viewers from network television shows that, thanks to FCC rules, are less "edgy."
Adding to network broadcasters' woes is the fact that they don't yet get full credit in Nielsen ratings for their shows when viewed online. Nielsen says it is working on software to correct that problem, but for now networks maintain their "numbers" are not accurate according to The Wall Street Journal.
So far this season, Reuters says, prime time ratings on the four main broadcast networks are down 7.5 percent. This is the largest year-over-year decline in six years, according to Nielsen. These numbers are based on both live viewing and those who record and watch the show the same day.
Advertisers say they intend to push for lower rate increases based on this year's decline while networks counter that they still deliver the largest numbers of viewers at any one time. As the viewer squeeze continues that argument may be starting to ring hollow except in one area – and that area is live sports.
Broadcast television is still home to the biggest and best live sporting events, including such annual blockbuster commercial gold mines as the Super Bowl.
At the end of the day, a six percent rate hike is still a six percent rate hike, leading Morningstar analyst Michael Corty to say, "Despite some of the chatter out there, TV advertising is holding up really well."
As of this writing, Jim Probasco had no position any mentioned securities.
View Comments and Join the Discussion!
Posted-In: AMC CBSEarnings News Topics Events Media General Best of Benzinga