McDonald's Down on Slow April – Avian Flu, Stiff Competition, Poor Customer Service All Cited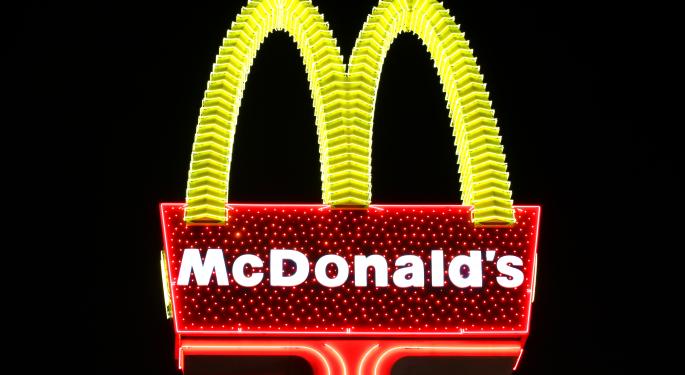 McDonald's (NYSE: MCD) certainly has a mixed bag of problems to deal with.
The company said Wednesday that sales at restaurants open more than a year slipped again in April, according to The New York Times. The company laid blame, in part at least, on declines in Asia, where fears over a new strain of avian flu have hurt revenue.
Although sales figures included an increase of 0.7 percent in the United States, that wasn't enough to overcome the combination of lower sales in China and a decline of 2.4 percent in Europe, McDonald's biggest market by revenue.
Bird flu isn't the only problem for McDonald's, according to Reuters. The company, along with Wendy's (NASDAQ: WEN) and other U.S. restaurants is battling for the attention of deal-seeking coupon-toting customers checking out limited time offers and other promotions before deciding where to spend their fast food dollars.
Fortunately, overall food costs remain stable, giving McDonald's and other fast food operators "more ammunition to play the promotional and value game if they want to," according to Edward Jones analyst Jack Russo. And, for its part, McDonald's has promised to roll out more limited-time offers and other special deals in order to attract and retain customers. The company is even willing to shave profit margins to win market share.
Slack sales, however, might also emanate from something imminently more fixable than avian flu or competition. It might have something to do with customer service. Or, the lack thereof.
Somebody at McDonald's thinks so. That somebody is Steve Levigne, McDonald's vice president of business research who conducted a recent webinar for franchisees, according to The Wall Street Journal. In the webcast, McDonald's noted that 20 percent of customer complaints are due to "unfriendly service."
Levigne even went so far as to say in the webcast that McDonald's "service is broken," citing "rude or unprofessional employees" as the root cause.
McDonald's spends an estimated $2 billion annually on advertising to attract customers. When rude or indifferent counter personnel alienate them, many decide to choose another fast food restaurant next time they eat out.
With razor-thin margins, stiff competition, and avian flu all cutting into profits, McDonald's knows any customer service problems must be fixed. The webinar is a start.
In fast food world, shares of McDonald's ended Wednesday down 1.3 percent at $100.95, while Wendy's stock fell 5.6 percent to $5.78. U.S.-traded shares of Tim Hortons Inc. (NYSE: THI) finished down 2.4 percent at $56.95. Yum! Brands Inc. (NYSE: YUM) shares closed up 1.4 percent at $69.58 on the day.
At the time of this writing, Jim Probasco had no position in any mentioned securities.
Posted-In: Earnings News Wall Street Journal Retail Sales Restaurants Management Events Media Best of Benzinga
View Comments and Join the Discussion!